Krispy Kreme Launches Limited Edition Spooky Season Doughnuts
Ryan Nadolny | Ryan Eats Everything

Morphing into Krispy Skreme in October, the doughnut empire will feature haunted house inspired doughnuts.
The crisp air is making a permanent stand here in the Midwest, which can mean only one thing - Halloween season is officially upon us!
It also means it's a season for hot spiked cider, bonfires, and apple fritters the size of your head. And spooky doughnuts, according to Krispy Kreme!
Whether you love the spooky season or not, it's hard not to be excited about all the sweet treats available everywhere you look in the fall months.
To celebrate, Krispy Kreme is dressing up as Krispy Skreme in October, offering limited edition Halloween season treats you don't want to miss.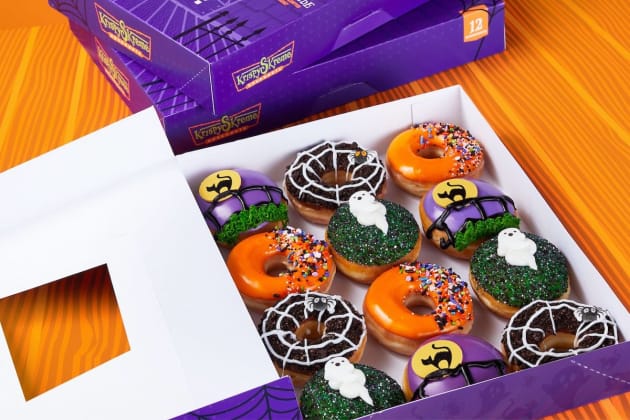 Announcing New Krispy Skreme Treats for 2022
When it comes to seasonal treats, who better to turn to than Krispy Kreme?! After all, they have been giving us free hot doughnut samples for decades.
There's only one thing better than a doughnut and that's a free hot doughnut. Krispy Kreme never disappoints with their promotions, and this is no different.
Following the unveiling of Churrodoughs last month, they're now getting into the Halloween spirit as Krispy Skreme featuring treats for all ghouls and goblins.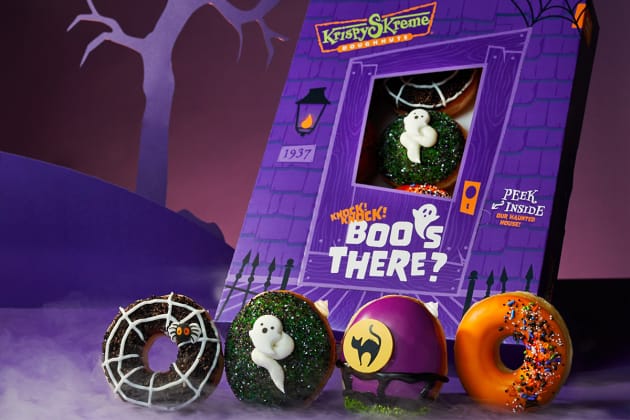 The appropriately spooky doughnuts come packed in a themed, limited edition haunted house box for maximize spooky season fun. 
The four new hauntingly delicious doughnuts for Halloween 2022 include:
Spooky Spider - a glazed doughnut dipped in chocolate icing and topped with cookie pieces, an icing spider-web, and a spider sugar piece.
Scaredy Cat - a shell doughnut filled with "kreme," dipped in purple icing and decorated with green buttercream and chocolate icing and topped with a chocolate cat.
Boo Batter - a shell doughnut filled with cake batter, topped with green icing, sugar sprinkles, buttercream, and a ghost sugar piece.
Neon Orange Sprinkle - a glazed doughnut with orange icing and Halloween sprinkles.
Guests can also sip on a Freaky Frozen Chiller in either wild grape or green apple flavors with a tart green apple drizzle this month only.
When Can You Buy Krispy Kreme's Halloween Doughnuts?
If you're looking to add a little Halloween fun to your life, the Krispy Skreme haunted house doughnuts are available now! But it doesn't end there.
Saturday October 15th, 22nd, and 29th will be Saturday Scary Sharies, where guests can receive a dozen original Krispy Kreme glazed doughnuts for just 2 bucks, with the purchase of any other dozen doughnuts.
But wait, there's more! On Halloween, anyone that stops into any Krispy Kreme dressed in costume gets a free doughnut of their choice, with no purchase necessary. Now, that's a freaky good deal.
Planning a dinner party and need some inspiration?
How about looking for a new slow cooker dinner idea?
We've got you covered in our ever-growing Facebook group! If you're not a member yet, why not?!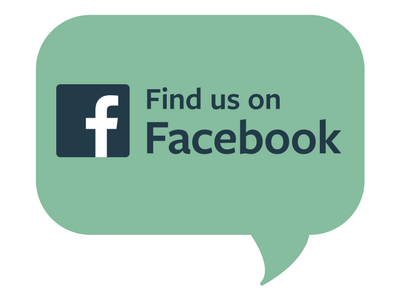 We're chatting cooking techniques, dessert ideas, and everything in between. If you're already a member, invite your friends to join us too!

Ryan is a food and writer from Toledo, Ohio where he's had a love affair with food since 1984. When he's not cooking or writing, he's planning the next he wants to eat.

Tags: Food News, Halloween, Donuts