Arby's Is Launching a Smoked Bourbon and It's Available Tomorrow
Ryan Nadolny | Ryan Eats Everything

Available Wednesday October 19th, Arby's is releasing a unique smoked bourbon inspired by their brisket and ribs.
You may remember last year when Arby's presented the world with not one, but two different French fry vodkas - vodka that exactly no one asked for. Ever.
While it seemed really silly and entirely unnecessary, the company with the meats sold out of their vodka in all of two minutes. Nobody saw that coming.
And now? Now it's the recently announced Arby's Smoked Bourbon and it's officially available tomorrow, October 19th. Here we go again!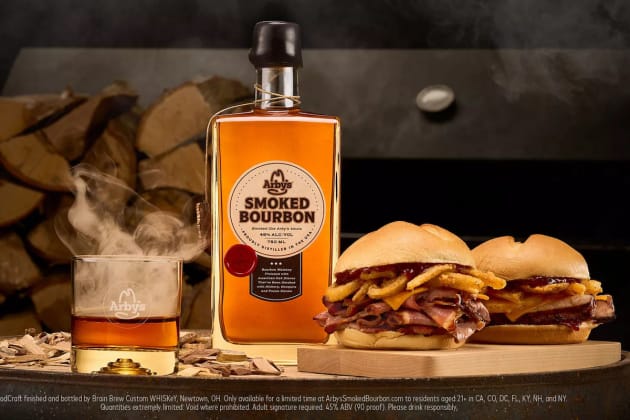 What Is Arby's Smoked Bourbon?
Stunt marketing has become a popular way for large companies to advertise a new product. If it flops, they can easily recover without much issue, but as they say, there's no such thing as bad publicity.
In recent years, Arby's has made it well known that they will never go plant based, changing their slogan to "we have the meats" and even going as far as making a carrot entirely out of meat. They are committed to staying in their lane.
With bourbon being so popular, it makes sense to get in on the trend. Seriously, even Dr. Pepper released a bourbon-flavored soda sans alcohol.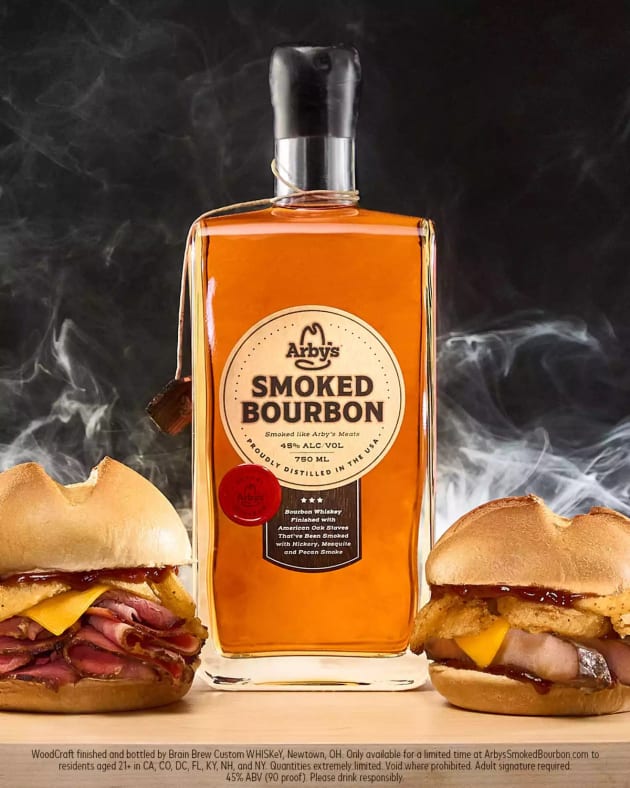 The marketing may be a stunt, but this is a serious bourbon, created by the professionals at Brain Brew Custom Whiskey in Newton, Ohio.
The bourbon uses the same types of wood as Arby's uses to smoke their meats, hickory, pecan and mesquite, intended to create a flavor profile that pairs well with everything on their menu.
The bourbon is then heated and cooled to mimic the variations in temperature throughout the changing of the seasons, creating a robust, flavorful bourbon.
Where Can You Buy Arby's Smoked Bourbon?
If curiousity gets the best of you and you're planning to buy a bottle of Arby's Smoked Bourbon, it will be available exclusively at ArbysSmokedBourbon.com.
The bottles go on sale at noon tomorrow, Wednesday October 19th retailing for $60 plus tax. There is expected be a second release to be named at a later date.
Remember, Arby's sold out of their Curly Fry and Crinkle Vodka in under two minutes. No joke. So, you'll need to be ready to keep smashing that refresh button.
Lastly, we do have some bad news. Arby's Smoked Bourbon will only be for sale in California, Colorado, Florida, Kentucky, New Hampshire, New York and Washington, DC.
Planning a dinner party and need some inspiration?
How about looking for a new slow cooker dinner idea?
We've got you covered in our ever-growing Facebook group! If you're not a member yet, why not?!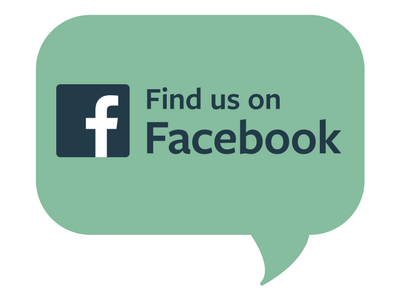 We're chatting cooking techniques, dessert ideas, and everything in between. If you're already a member, invite your friends to join us too!

Ryan is a food and writer from Toledo, Ohio where he's had a love affair with food since 1984. When he's not cooking or writing, he's planning the next he wants to eat.

Tags: Bourbon, Food News, Smoked