How to Make Enfrijoladas
Nicole Austin

A delicious and quick go-to south of the border, enfrijoladas will become a favorite in your home once you try them!
I love Mexican food - especially homemade Mexican food! It's so versatile and the flavor combinations and options are endless.
Mexican food is wonderfully versatile and knowing how to make enfrijoladas and similiar easy dishes is a win on busy weeknights.

While enfrijoladas aren't as well known as other common Mexican dishes, they've become a real favorite in our house for that very reason!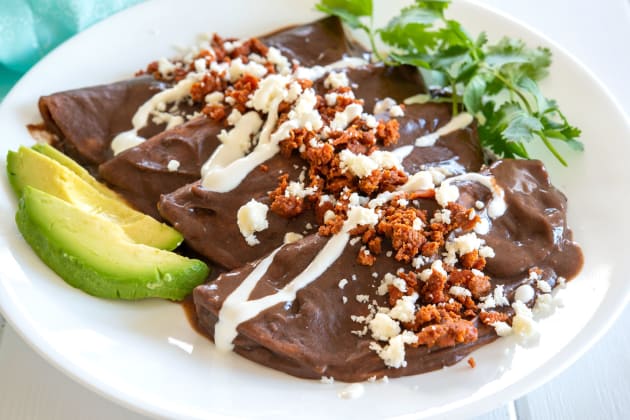 I have kids who love spice and kids who love food that is more mild and Mexican dishes allow me to cater to them all without a hassle.
My oldest daughter is a vegetarian, which means that we need to consider her also, and Mexican food always fits the bill with beans being so prevalent.
Why We Love Enfrijoladas 
One of my favorite things about Mexican food, and enfrijoladas in particular, is that you can easily get several meals out of one dinner prep.
I love to keep ingredients separate and set them aside for the next day's lunch, where I can toss it together with some rice for a hearty bowl.
As a busy mom with fall sports starting up, I am always looking for ways to save time and money on dinner without compromising health.
These enfrijoladas are, start to finish, about fifteen minutes worth of effort - that's exactly right for my family's needs.
You can also prep ingredients in advance or buy things that are prepped and sliced already to make it even quicker to get dinner on the table.
Time savers such as buying jalapeños in a can or jar, and chicken, steak, or ground beef that you've cooked ahead of time all make meal prep fast.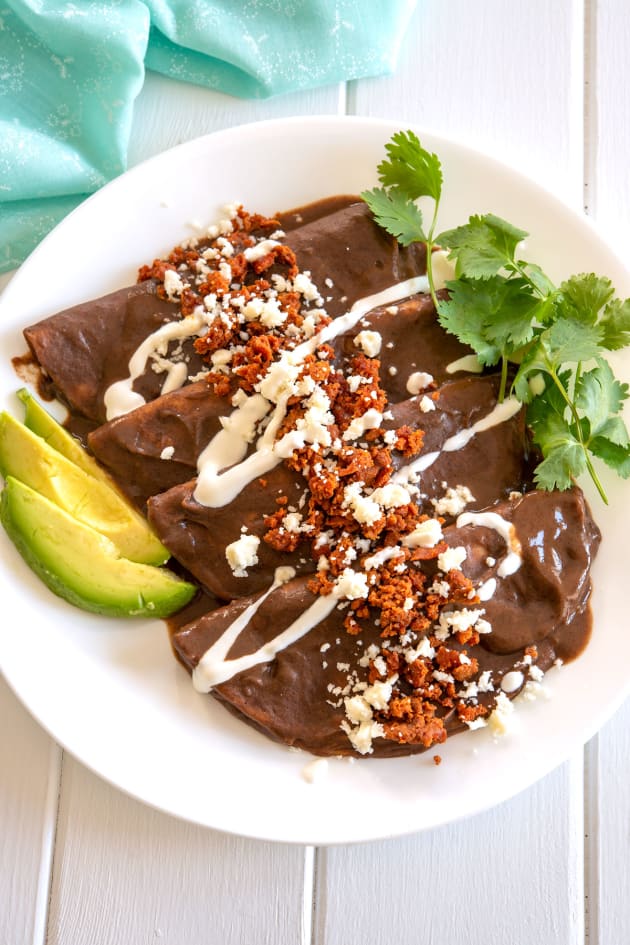 What Are Enfrijoladas?
Ok, if you're wondering, "What are enfrijoladas?," the literal translation, "in beans," describes this simple yet amazing dish perfectly.
Protein-rich enfrijoladas are corn tortillas that are drenched in a creamy black bean puree after being stuffed with your filling of choice.
They are often garnished with queso fresco, a fresh cheese made from raw milk, and whatever toppings you have on hand.
If you can't get your hands on queso fresco, you can omit it, or simply replace it with your favorite substitution.
That's the beauty of enfrijoladas! You can use whatever you have on hand to create an incredibly savory dinner with little effort.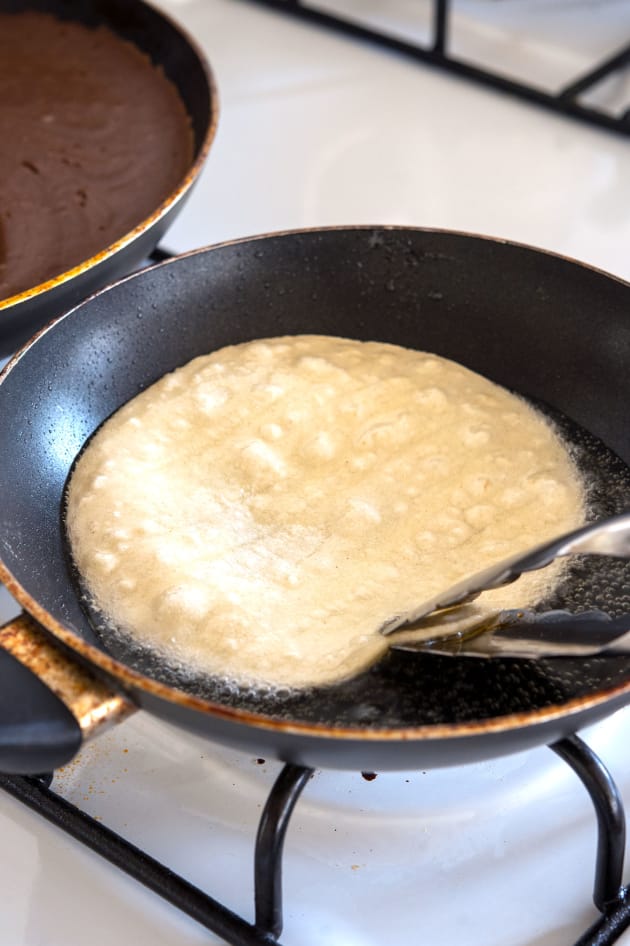 Where Do Enfrijoladas Originate From?
Enfrijoladas are a traditional Mexican food with a rich history and a dish that is truly Mexican as opposed to Tex-Mex or Mexican-inspired.
Often credited to the Oaxaca region of Mexico and dating back to pre-Columbian times, enfrijoladas are one of the most popular versions of enchiladas in Mexico today.
In Mexico enfrijoladas are a staple, often made with whatever ingredients are available so the fillings and toppings are often not the same.
This ease in preparation means everyone has their own favorite version, but the creamy black bean sauce is a constant.
Ingredients for Making Enfrijoladas
Beans - Enfrijoladas are made with black beans. You can use canned black beans to make this recipe much faster! Canned black beans come in low sodium or seasoned varieties as well, so you can easily experiment without a lot of added cost.
Garlic - Fresh, flavorful garlic adds a delicious dimension of flavor to your dish.
Chicken stock - Replace the chicken stock with water or vegetable stock for a vegetarian or vegan version of enfrijoladas.
Tortillas - Corn tortillas are the authentic choice for enfrijoladas, also making this dish gluten free. Those who prefer flour tortillas can replace them to customize their meal.
Oil - Enfrijoladas involve lightly frying the corn tortillas. Most recipes call for olive oil, but you can use other neutral oils as well, such as canola, avocado, or sunflower.
Toppings - When eatnig enfrijoladas, toppings are a must. Consider avocado, sour cream, chopped onions, hot sauce, cheese or whatever is your favorite!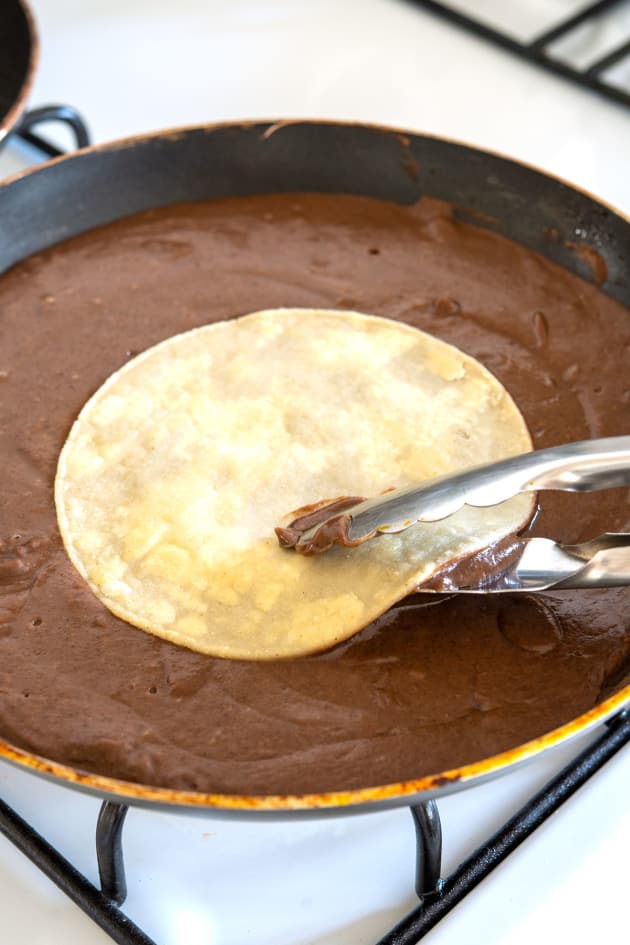 How to Make Enjifroladas
Making enfrijoladas may be new to you, but these simple step-by-step instructions will make it easy to create this quick Mexican meal, even if you never have before!
For complete instructions, be sure to check out our delicious, traditional enfrijoladas recipe!
In a blender or food processor, puree undrained black beans, chipotle peppers, and water or chicken stock until smooth.
Pour your mixture into a skillet and heat until it simmers, stirring occasionally.
Season to taste with salt and pepper.
Add additional water to thin, if needed. Tip: You will want this to be the consistency of a thick soup, so it will stick to the tortillas.
In a small frying pan, add oil to coat the bottom of the pan and warm over high heat until it is hot and shimmering. This will take about 2 to 3 minutes.
Using tongs, dip one tortilla at a time for 5 seconds. Flip the tortilla and heat the other side for 5 seconds.
Remove from oil and drain well on paper towels.
Repeat the last two steps until you have fried all of your tortillas.
One at a time, dip tortillas in enfrijolada sauce, coating both sides.
If desired, stuff with fillings such as cheese, beef, or chicken. Fold in half.
Place enfrijoladas on a plate and serve immediately with desired toppings.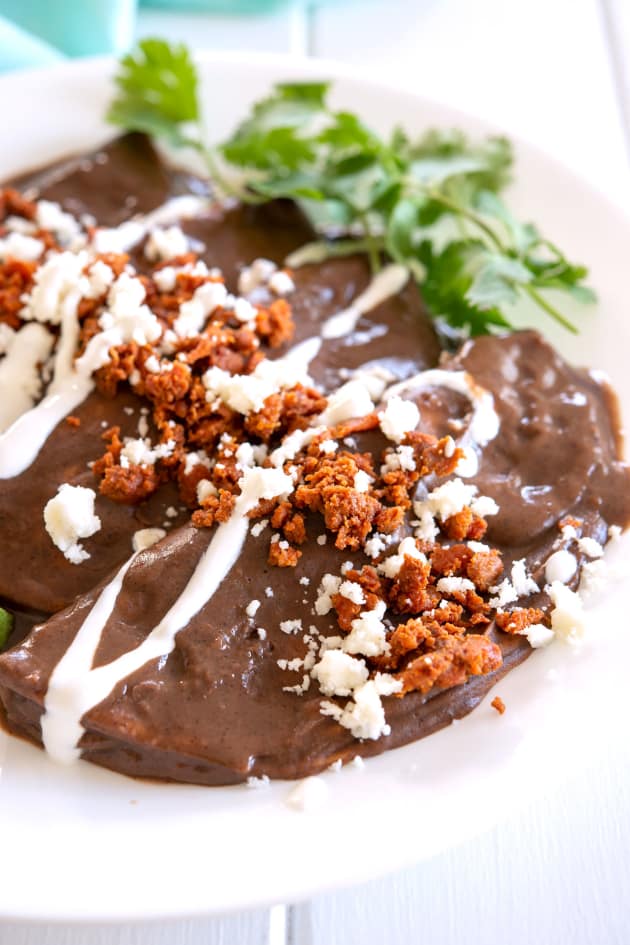 What to Serve With Enfrijoladas
Enfrijoladas pair well with any traditional or modified Mexican dish, but here are a few favorites!
Our Mexican coleslaw recipe makes a great side dish that's packed with flavor. You can even use it to stuff the enfrijolada.
Easy and delicoius one-pot restaurant style Mexican rice is an excellent go-to for just about any meal, and very filling.
So simple to make, Mexican street corn pairs wonderfully with enfrijoladas and is great for picky eaters.
And if you're looking for another way to make a side without much hassle, slow cooker Mexican corn cake will save time and still give you that great Mexican flair you're looking for.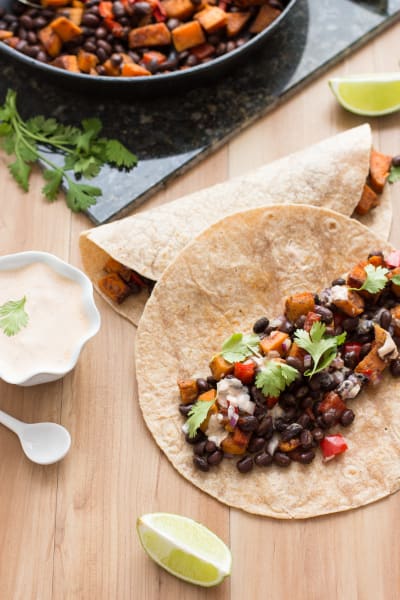 Variations of Enfrijoladas
Customization is the name of the game when it comes to enfrijoladas!
Add meat to enfrijoladas for more flavor and texture. Shredded chicken, thinly sliced steak, or ground beef are excellent additions.
You can also stuff them with vegetarian Mexican food staples, such as onions, peppers, and, heck, why not - more beans!
Mix things up by experimenting with a variety of beans for different flavors and textures.
Cheese, sour cream, hot sauce, salsa, guacamole - create a little toppings bar and let your family customize their enfrijoladas.
Even people who don't care for beans will likely enjoy the hearty texture, especially when paired with other flavors. Make them your own, and enjoy!
Planning a dinner party and need some inspiration?
How about looking for a new slow cooker dinner idea?
We've got you covered in our ever-growing Facebook group! If you're not a member yet, why not?!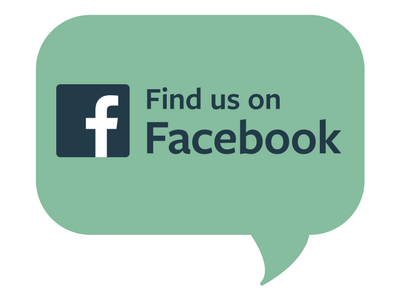 We're chatting cooking techniques, dessert ideas, and everything in between. If you're already a member, invite your friends to join us too!

Nicole is a self-published author of fiction novels, and a lover of food and spending time in the kitchen with her six children. She lives in coastal Maine where she loves exploring new recipes especially those that can save time, money and wow a crowd.

Mexican, How To Guides