Snack Time Is Set to Heat Up With a New Spicy Cinnamon Toast Crunch
Cyd Converse

The limited edition Cinnafuego Toast Crunch is set to bring a little heat to snack time - it launches next month.
General Mills is set to launch a new spiced up version of Cinnamon Toast Crunch bringing a bit of heat to snack time with a new limited edition cereal snack!
Touting their first ever spicy cereal, General Mills explains that CinnaFuego Toast Crunch pairs "sweet cinnamon and fiery spice," a combination many will love.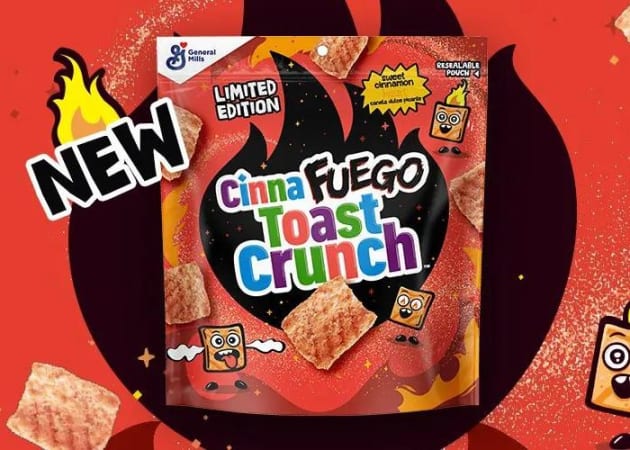 Following the Flamin' Hot craze in recent years with snacks like Flamin' Hot Doritos, Flamin' Hot Cheetos and Taco Bell's Flamin' Hot Doritos Locos Tacos, it seems it was only a matter of time before the spice trend hit the cereal market.
With a look that's effectively identical to its original counterpart, the new CinnaFuego Toast Crunch is described as being "blasted with Cinnadust" but with the addition of spicy pepper to add the signature heat.
While CinnaFuego Toast Crunch is intended more so for snacking than for breakfast, CTC enthusiastis may wish to challenge that concept by adding milk!
The new spicy CinnaFuego Toast Crunch is expected to draw widespread appeal and curiosity from long-time CTC fanatics as well as spicy food lovers interested in adding a new favorite to their snack rotation.
We're bringing the heat with CinnaFuego Toast Crunch! 🔥 Packed with cinna-sweet heat, this new snack is coming 8.12.22 only on https://t.co/9gR9869Z96. pic.twitter.com/iZE2FAHBcw

— Cinnamon Toast Crunch (@CTCSquares) July 27, 2022
Cinnamon Toast Crunch fans will be happy to know they won't have to wait long for the limited edition snack cereal to be available.

If you're looking to get your hands on it, CinnaFuego Toast Crunch will be available exclusively on Walmart.com while supplies last. It launches August 12th when a 5.9-ounce resealable pouch will retail for $5.48.

Cyd is a native of Upstate New York, born to a family of women who love to cook and host parties. She shares her love of all things food, home and entertaining on her blog, The Sweetest Occasion and on Instagram.

Tags: Food News