A Fond Farewell to Klondike's Choco Taco
Cyd Converse

Klondike has unexpectedly discontinued Choco Taco. The famed summer treat will be missed by many.
Ice cream trucks have one last treat to stock following the unexpected official announcement that Klondike is discontinuing the beloved Choco Taco.
According to NPR, the ice cream mainstay was dreamed up by Alan Drazen back in 1983, marking nearly 40 years since Choco Taco became a pillar of American summer. For many, the Choco Taco will be missed as an icon of summer.
Capitalizing on the growing Mexican food craze at the time, the Choco Taco features a waffle cone folded to resemble a hard taco shell that is then stuffed with vanilla ice cream, fudge and peanuts before being dipped in milk chocolate.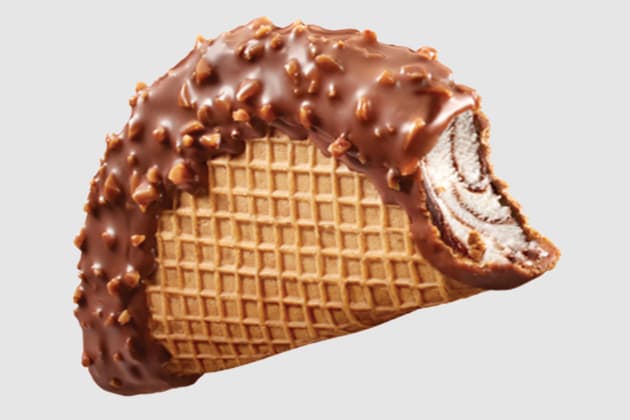 Why Did Klondike Discontinue Choco Taco?
Klondike responded to disappointed Choco Taco fans on Twitter the day it was announced they were discontinuing the iconic frozen ice cream novelty.
With Choco Taco fans demanding to know why their beloved ice cream tacos would no longer be available, Klondike responded to one Twitter user:
"Over the past 2 years, we have experienced an unprecedented spike in demand across our portfolio and have had to make very tough decisions to ensure availability of our full portfolio nationwide."
Comedian Roy Wood Jr. had his own take on the end of the Choco Taco era, having declared Choco Taco among the three worst ice cream treats a couple of years ago.
At the time, legions of Choco Taco fans blasted Mr. Wood for what they considered his off-base assertion, but now he declares himself vindicated amidst the news of Choco Taco's demise.

Continuing to process the fall out following the announcement, Klondike later responded with another tweet offering fans a bit of hope:
"We know Choco Taco is a huge fan favorite and a top seller for our out-of-home business, so this is particularly painful. We're working hard to find a way to bring Choco Taco back to ice cream trucks in the coming years."
We'll have to wait to see if Choco Taco fans live to see another day when their favorite ice cream once again delights their taste buds on a hot summer day!
We know Choco Taco is a huge fan favorite and a top seller for our out-of-home business, so this is particularly painful. We're working hard to find a way to bring Choco Taco back to ice cream trucks in the coming years.

— Klondike (@Klondikebar) July 25, 2022
Cyd is a native of Upstate New York, born to a family of women who love to cook and host parties. She shares her love of all things food, home and entertaining on her blog, The Sweetest Occasion and on Instagram.

Tags: Food News, News