We're Making This Tequila Lime Pozole Recipe All Summer and So Should You
Ryan Nadolny

If you love a flavorful soup you can eat all year long, our wildly delicious tequila lime pozole recipe is for you.
I don't care if it's 100˚F and humid as heck outside, I will absolutely eat a big ol' bowl of hot delicious soup and be extremely happy about it - watch me!
I know some of you disagree and reserve your soup eating for the colder months. That's a mistake because then you're missing out on this amazing dish.
To be honest, I have only recently tried this specific tequila lime pozole recipe, but one peek at the ingredient list and I knew it was a must have right away.
It's kind of like a chicken tortilla or enchilada soup, except with brighter flavors and a touch more heat. There's a lot going on, but I promise you'll love it!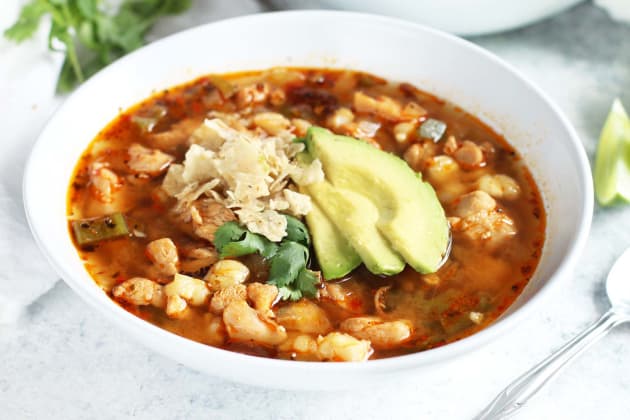 What Is Pozole Anyway?
It can be tricky to find an exact translation for the word pozole, but it refers to a traditional soup originating in Mexico with a thicker stew-like consistency.
There are many variations to the basic pozole recipe, all of which start with a base of hominy cooked in broth, typically with pork or chicken.
Beans are used in place of meat for a vegetarian version or often added along with meat. In this case, we're using boneless skinless chicken thighs.
Thighs are more tender and cook quicker than white meat. In general, I like breasts over thighs, but for soups like this, thighs really are the better choice.
Pozole is a dish you can find at all the best, authentic Mexican restaurants all over the world. I won't eat at a place that doesn't have a decent pozole!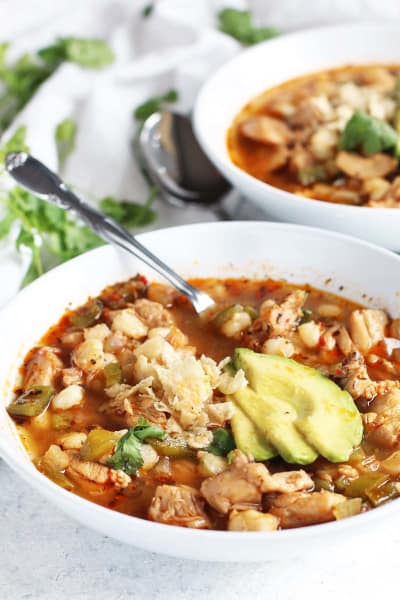 The Three Types of Pozole
Generally speaking there are three types of pozole or three colors of pozole:
Blanco - Technically all pozole begins blanco, meaning no sauce has to been added to change the color from the base color.
Verde - A verde pozole is a green pozole where a rich green sauce of tomatillos, cilantro, and jalapeno is added to the blanco.
Rojo - Red or rojo pozole refers to pozole where a red sauce of spicy chiles is added to the blanco. 
Our tequila lime pozole recipe would be considered a pozole that is blanco, which is what makes it ideal for summer. It's light but full of flavor.
In the fall and winter, you could easily add the red sauce to make it heartier.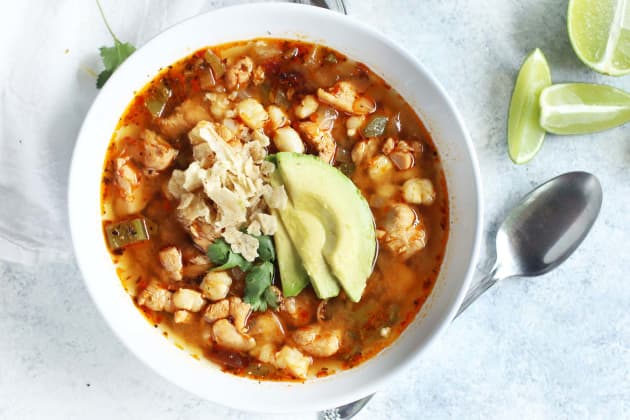 Tequila Lime Pozole Ingredients
The ingredients in our tequila lime pozole are quite classic and pack a ton of flavor. The lime adds zing and the toppings finish everything perfectly.
Chicken - As mentioned above, this pozole calls for chicken thighs, but you could subsittue any chicken you may have on hand.
Seasonings - Oregano, garlic, salt, paprika, cayenne, red pepper flakes and more amps up the flavor in this pozole recipe.
Hominy - Made from yellow or white maize, hominy is traditionally included in pozole.
Broth - The base of the pozole stew mixture comes from chicken broth - you could also use vegetable broth if you have one but not the other.
Adobo sauce - The adobo sauce that comes packed with chipotle peppers and poblano ppers are used in this pozole recipe.
Tequila - Finally, lending the 'tequila' to our tequila lime pozole, you need just a couple of ounces of gold tequila.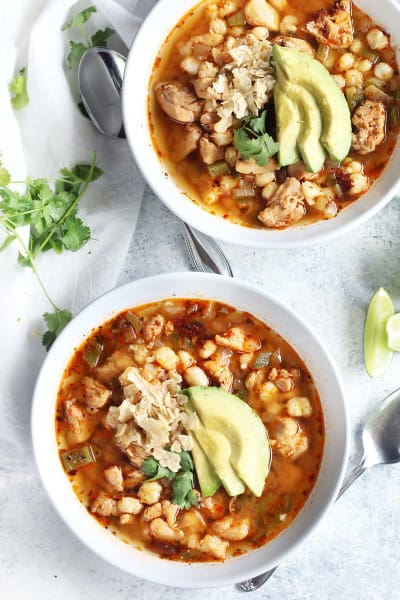 How to Make Pozole - Is It Hard?
Making this pozole recipe is quite straight forward and like most soups, after you're done browning your protein, you'll begin sautéing onion and garlic.
There are several ingredients in this pozole recipe, but ultimately it's very simple to make. After the onion and garlic, you'll add in the hominy and spices.
From there add the broth, shred the chicken, bring it to a boil and then let all the flavors simmer for awhile so they can all meld together and get richer.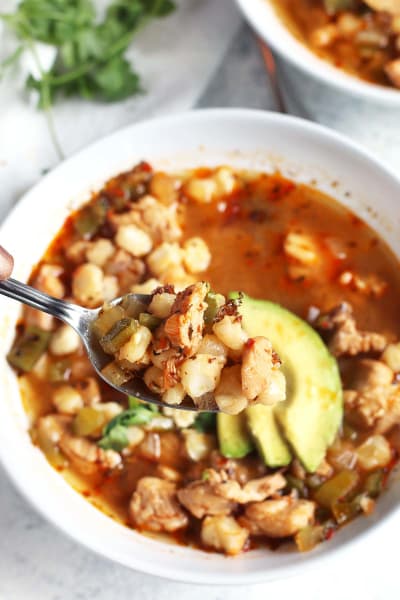 How to Serve Pozole
Once you have your soup made and it has simmered for a good long amount of time, it's time to ladle it into bowls and choose your garnishes generously.
Unsurprisingly, avocado is my favorite, adding a nice texture and creaminess to the soup. I like to slice the avocado lengthwise, but chunks also work.
I also like adding a little more onion, some crushed tortilla chips, and an extra squeeze of lime. Chopped cilantro? Never ever a bad idea in my world.
If I have cojita cheese on hand, I might give it a sprinkle. Spooning your pozole over Mexican rice is another option for making this soup a hearty meal.
Should you happen to have leftover pozole, should you spoon it over enchiladas? Why, yes, yes you should. (Trust me on this one - it's delicious!)
If you get a little too heavy handed with the spice, consider a dollop of sour cream or Mexican crèma to help to cool it down and balance things out a bit.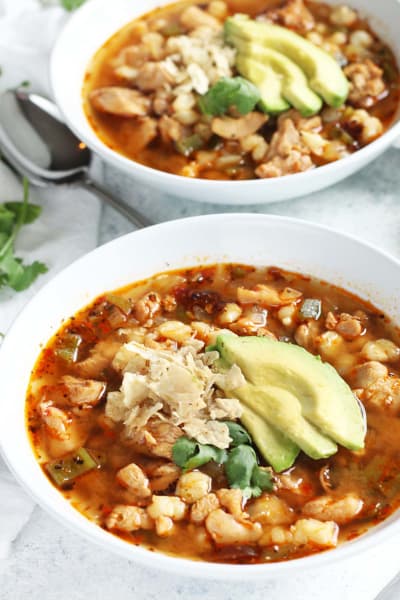 More Mexican Food Favorites
In addition to this beloved tequila lime pozole, I am a superfan of all the Mexican food! (And Tex-Mex food, too, if we're keeping track.)
If you love Mexican food and soup and you've tried and loved this pozole, try our sopa de fideo! It's loaded with chicken and noodles and so flavorful. 
I am a huge fan of these Instant Pot carnitas tostadas, too. I love the savory, tender pork paired with the crunchy tortillas and all the toppings.
Smothered in a delicious, creamy black bean sauce, I can't get enough of these enfrijoladas. They're like enchiladas...only possibly even better?!
Finally, may I suggest a classic huevos rancheros recipe? Great for breakfast or brunch, I would argue they also make a superb weeknight dinner.
Planning a dinner party and need some inspiration?
How about looking for a new slow cooker dinner idea?
We've got you covered in our ever-growing Facebook group! If you're not a member yet, why not?!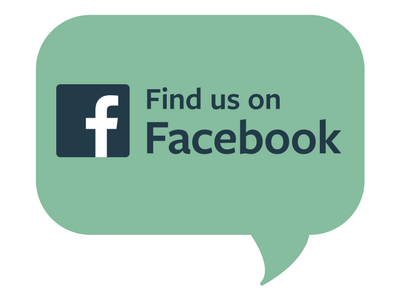 We're chatting cooking techniques, dessert ideas, and everything in between. If you're already a member, invite your friends to join us too!

Ryan is a food and writer from Toledo, Ohio where he's had a love affair with food since 1984. When he's not cooking or writing, he's planning the next he wants to eat.

Tags: Soups, Limes, Tequila, Mexican, Dinners