We'll Be Eating This Simple Lunch Recipe All Summer Long
Nicole Austin

Looking for easy lunch ideas to beat the heat this summer? This will be our go-to lunch recipe all season.
I am always looking for simple and reasonably healthy lunch ideas. With a hectic desk job, I need something that is already prepped or requires very little attention - a grab and go type of meal that isn't too fussy.
I have also been trying to save money by not eating out so often during the week, so any lunch I bring from home also needs to be delicious.
I admit I will cave and spend money outside of my budget if something more tempting comes up in conversation, and that's not a habit I want to be in!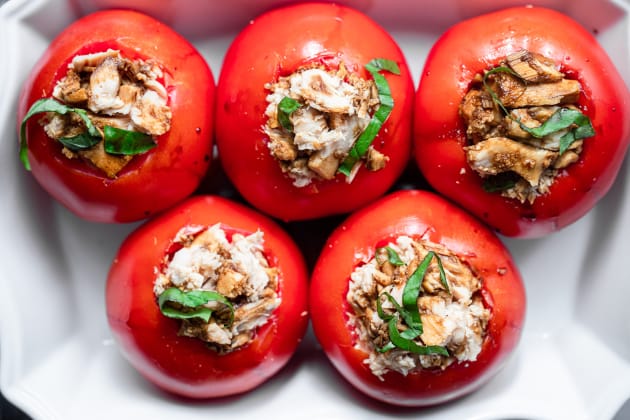 Let me just say, first and foremost - I absolutely love tuna! Seriously. Tuna steak, canned tuna, raw tuna, you name it and I'm in. It's a constant staple in my house.

Tune is so easy, versatile, and can be added to just about anything, from unique entrees and appetizers like our spicy tuna poke wonton cups, to delicious nicoise salads, or these tuna ceviche bowls, which make a great lunch or dinner.
When I found this tuna stuffed tomatoes recipe and realized it was fuss-free and easy to bring to work, I was sold on the idea. What really sealed the deal for me was the addition of balsamic vinegar, which is a favorite of mine.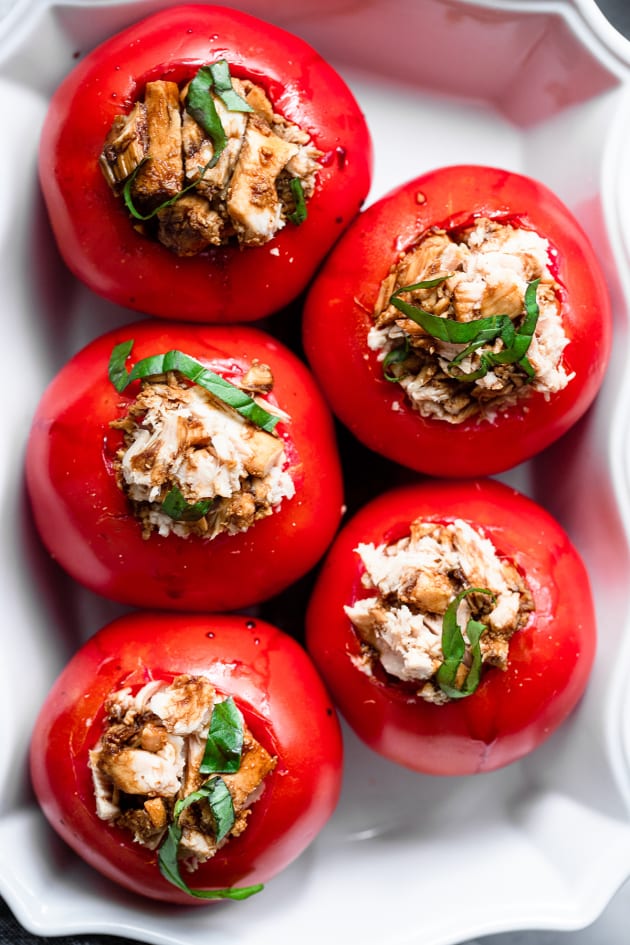 Why I Love Tuna Stuffed Tomatoes for An Easy Weekday Lunch
I loved tuna stuffed avocado, but it doesn't pack well for lunch, and with some supply chain shortages, it wasn't a meal I wanted to depend on.
Not to mention the endless game of avocado roulette of trying to find one that is exactly, perfectly ripe - that's a story for another day.
These tuna stuffed tomatoes are, quite simply, awesome. Fresh, easy to make, healthy, inexpensive - it checks all the boxes I'm looking for this summer for easy lunches that will leave me satisfied.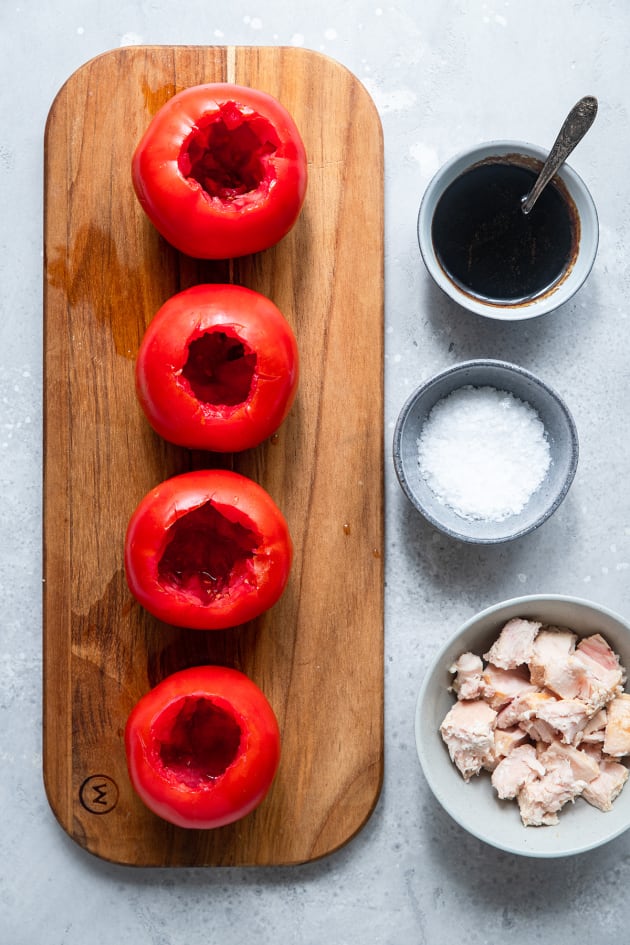 Ingredients for Tuna Stuffed Tomatoes
One of the best parts about these tuna stuffed tomatoes is how simple they are to make! You need just a few ingredients.
Tomatoes - I find that a larger tomato with a slightly firmer flesh like beefsteak tomatoes work great for this simple lunch recipe.
Tuna - This recipe uses simple canned tuna. I prefer albacore tuna packed in water then drained well for this one.
Balsamic vinegar - Because the ingredients are so simple here, use a good quality balsamic vinegar if you can!
Sea salt - A pinch of sea salt adds a nice balance and seasons the tomatoes nicely.
Olive oil - Again, a good quality olive oil really shines here especially with how few ingredients you're using.
Basil - Fresh basil adds just the right amount of refreshing herbiness to these tuna stuffed tomatoes.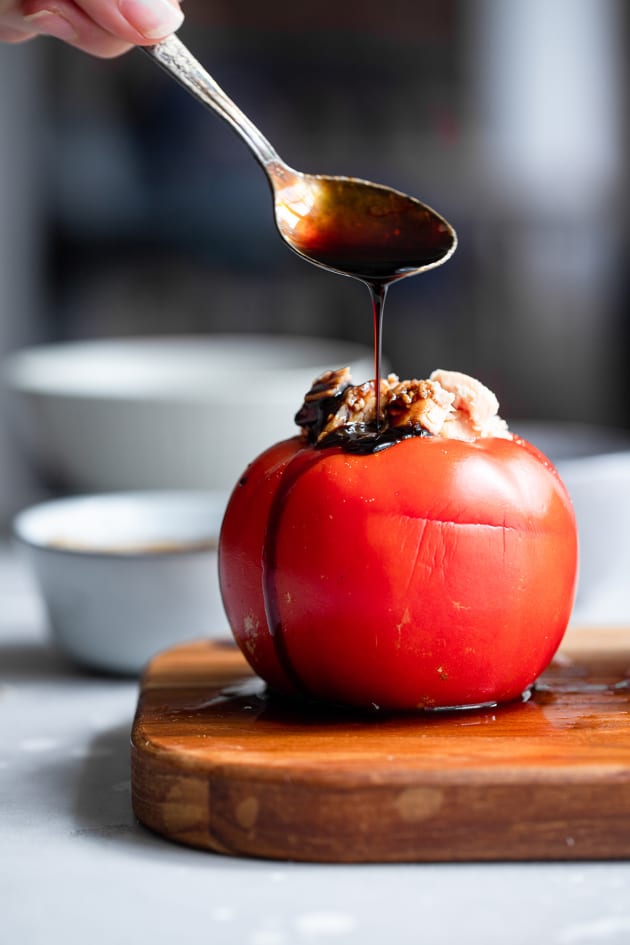 Tips for Making Tuna Stuffed Tomatoes
For this tuna stuffed tomatoes recipe, you'll want to purchase a really good balsamic vinegar or to save time, a pre-made balsamic glaze because this ingredient is by far the star of the show.
While there are several varieties and options, you'll want one that doesn't spare the sugar and calories - trust me on this one.
I tend to buy the albacore tuna in cans because I worry about the mercury content. If you're on the fence about the flavor, tuna packed in oil is slightly more mellow and will still provide a delicious meal without the strong fish taste.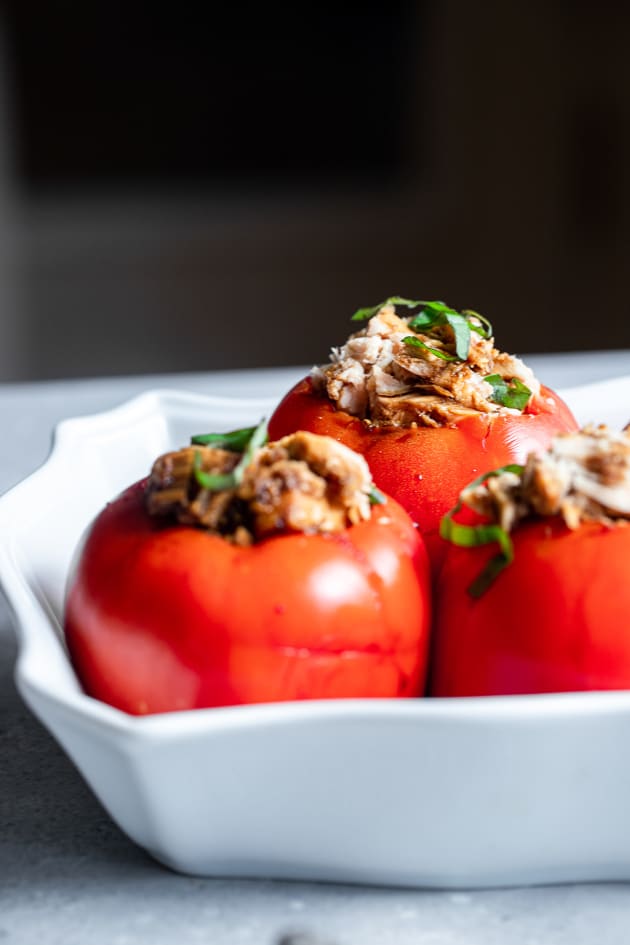 I prefer to purchase the tuna packed in water to have on hand for use in a wider variety of recipes, or just for sandwiches or even tuna melts.
Olive oil will round out the recipe and keep the flavors intact. You can mix this up by purchasing flavor-infused oil from a specialty store, and experiment for variety. I prefer plain olive oil, because I like to mix up the seasonings.
While just salt and pepper will add all the flavor you need, you can try to sprinkle just about anything on top to see what you like the most.
I know my kids are going to use garlic salt, because I don't think there's a single thing they make without it.
Of course, this recipe would be nothing without the tomatoes to quite literally hold it all together.
Farmer's markets are going to be popping up in my town like crazy this summer and I cannot wait to support local businesses while buying some of the most delicious and fresh vegetables ever.
Delicious, sun-ripened beefsteak tomatoes taste great and add texture and vitamins. They're my first choice when I can have them.
While the recipe doesn't call for it, I'm going to throw this out there - there's just about nothing that I wouldn't add cheese to, even if it's just on the side.
A chunk of fresh, sharp cheddar between bites? Chef's kiss! A sprinkle of good quality feta pinched over the top of each tomato? Even better!
More Easy Lunch Ideas
If you're on the hunt for more great, easy lunch ideas, try this avocado chicken salad recipe! It's perfect for sandwiches, wraps or on top of greens.
You can easily prep these pesto chicken pull apart sliders the night before - or make them for dinner and have the leftovers for lunch!
I love these easy low carb pizza bowls and roasted Brussels sprouts bowls because they're so simple to meal prep in advance for lunches all week.
This recipe for green chile egg taquitos freezes well so you can make a big batch and then pull out what you need for breakfast or lunch on the go!
Planning a dinner party and need some inspiration?
How about looking for a new slow cooker dinner idea?
We've got you covered in our ever-growing Facebook group! If you're not a member yet, why not?!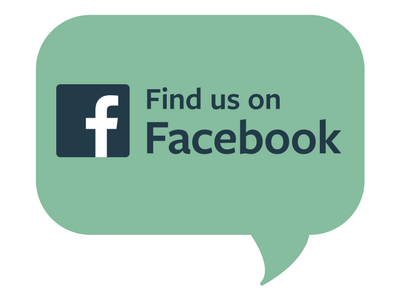 We're chatting cooking techniques, dessert ideas, and everything in between. If you're already a member, invite your friends to join us too!

Nicole is a self-published author of fiction novels, and a lover of food and spending time in the kitchen with her six children. She lives in coastal Maine where she loves exploring new recipes especially those that can save time, money and wow a crowd.

Tags: Easy Lunches, Lunches, Tuna, Easy