How To Make Our Easy Falafel Recipe
Nicole Austin

Have you ever learned how to make falafel? Follow our easy recipe and learn how to make the best homemade falafel.
Have you ever wondered how to make falafel? Or maybe you've tried making it before, but didn't have the best results?
Making the best authentic falafel like you'd get at your favorite Greek or Middle Eastern restaurant is really quite simple once you know the process.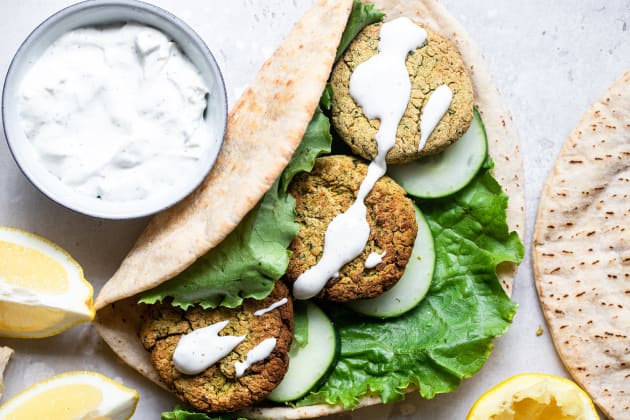 What Is Falafel?
Often attributed to the Middle East or Greece, falafel is a flavorful and popular street food believed to have origins in Egypt.
Falafel than became popularized throughout the Mediterranean region, ultimately making its way to your favorite restaurant.
In fact, falafel is recognized as the national dish of several different countries, which explains its widespread appeal!
A protein-packed, flavorful vegan food, fresh falafel is generally made with ground chickpeas or fava beans, fresh herbs, onion, and chickpea flour.
It is then formed into either falafel patties or falafel balls before being fried or occasionally baked. We also love making falafel in the air fryer.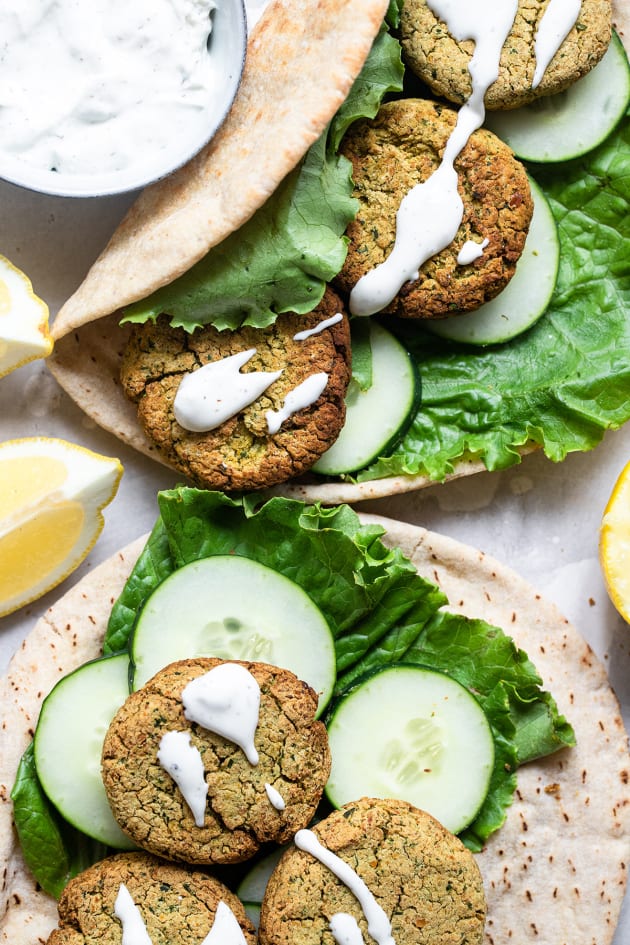 Traditional falafel is a deep-fried ball that is slightly larger than a traditional meatball, created primarily from chickpeas, fava beans, or a mixture of both.

When combined with spices, it is a delicious and texture-rich meal that is crunchy on the outside and softer on the inside, and loaded with fiber.
To Make Falafel, You Will Need:
Canned or prepared, soaked chickpeas (also known as garbanzo beans)
Onion (red onion or yellow onion are both great options)
Herbs (such as fresh cilantro and fresh parsley)
Garlic
Seasoning such as kosher salt, cayenne, cumin, coriander, cardamom
Lemon juice
Baking powder
Chickpea or fava bean flour
Olive oil or vegetable oil if you'll be frying the falafel the traditional way
Pita bread for serving (optional)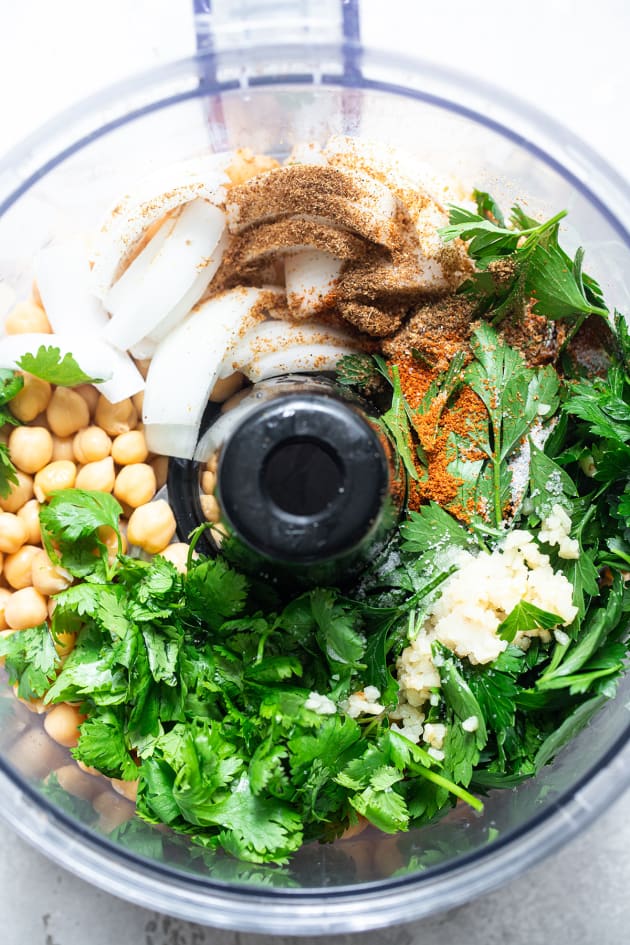 How To Make Falafel
When making our homemade falafel recipe, be aware that you will need to prepare dry chickpeas overnight for 8 to 12 hours by soaking them in water.

Dried chickpeas take a little extra care to prepare but make the best falafel, so taking the extra step to soak chickpeas isn't one you'll regret.

You can use canned chickpeas if you'd like to cut the prep time. Drain and rinse the can of chickpeas and dry before making the falafel dough.
Rinse and dry the prepped or canned chickpeas. Pat them dry with a paper towel.
Blend the chickpeas, onions, spices, lemon juice, and herbs in a large food processor until it is mostly broken down. You will want to leave some chunks for texture.
Transfer the mixture from the bowl of a food processor into a large bowl and stir in your flour of choice, along with baking powder to keep the texture light. Chickpea or fava bean flour are the typical choices, and can be found at most health food or natural living stores.
Shape falafel into small balls or a small patty by rolling it into a ball and then patting it flat.
Pan fry the falafel in a single layer over medium-high heat then carefully remove the cooked falafel from the hot oil with a slotted spoon once golden brown and transfer to a lined baking sheet lined to drain the excess oil.
Alternately, you can use a deep fryer to fry falafel.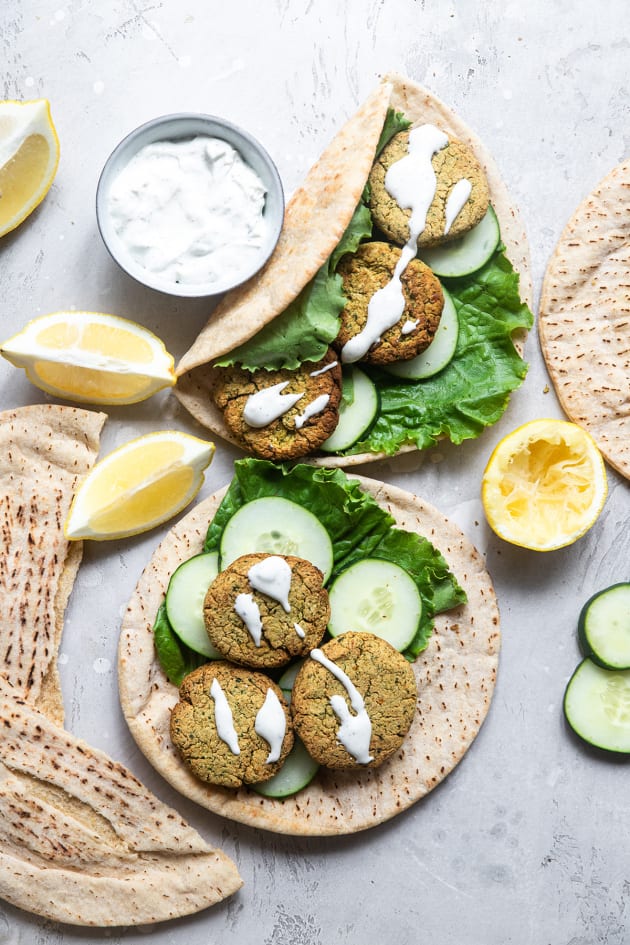 How To Make Air Fryer Falafel
Making falafel in the air fryer is a delicious and easy way to make what will become one of your favorite foods! In fact, we prefer it over deep frying since it uses less oil.
To make air fryer falafel, you'll first prepare the falafel mixture the same using our easy falafel recipe.
An important tip - once the mixture is the right consistency, form it into patties for best results when air frying.
Preheat your air fryer to 350° and lightly spray with oil, then add the falafel, leaving room between each patty so the hot air can circulate.
Lightly spray the tops of the patties with oil and cook for 9 to 10 minutes.
Carefully flip and cook for an additional 9 to 10 minutes.
Be sure to take care not to overcook them your first time as the size of your patty will ultimately determine the cook time.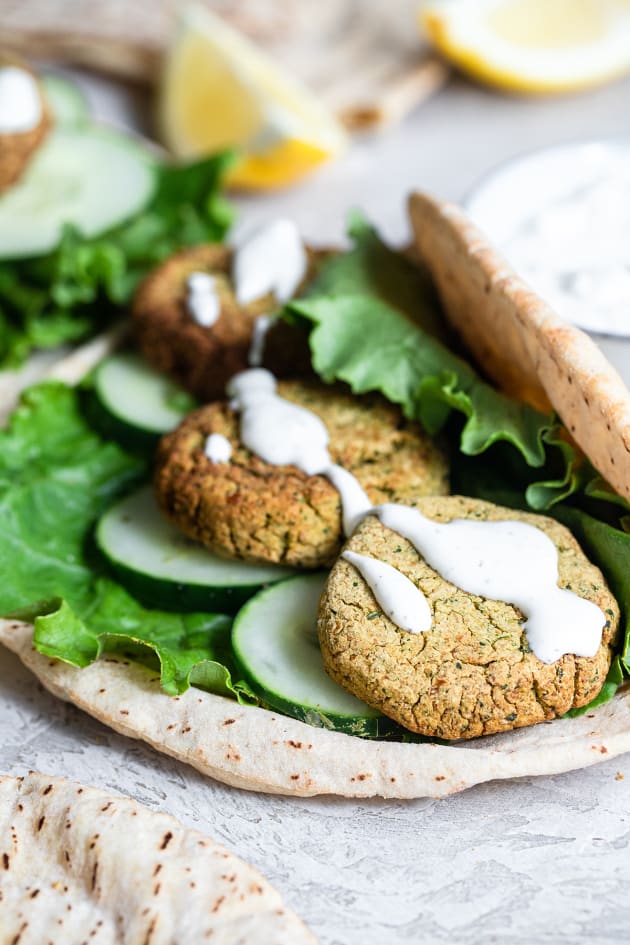 How To Serve Falafel
Falafel is good on its own served simply with tzatziki sauce or stuffed into a pita pocket to make a falafel sandwich drizzled with both tahini sauce and tzatziki.
Crispy falafel dipped in a miso lemon tahini dressing is a favorite way to serve falafel as part of a mezze platter.
We also love a falafel wrap or falafel burger topped with baba ganoush, or slicing fried falafel to add to the top of salads packed with veggies and sprinkled with sesame seeds.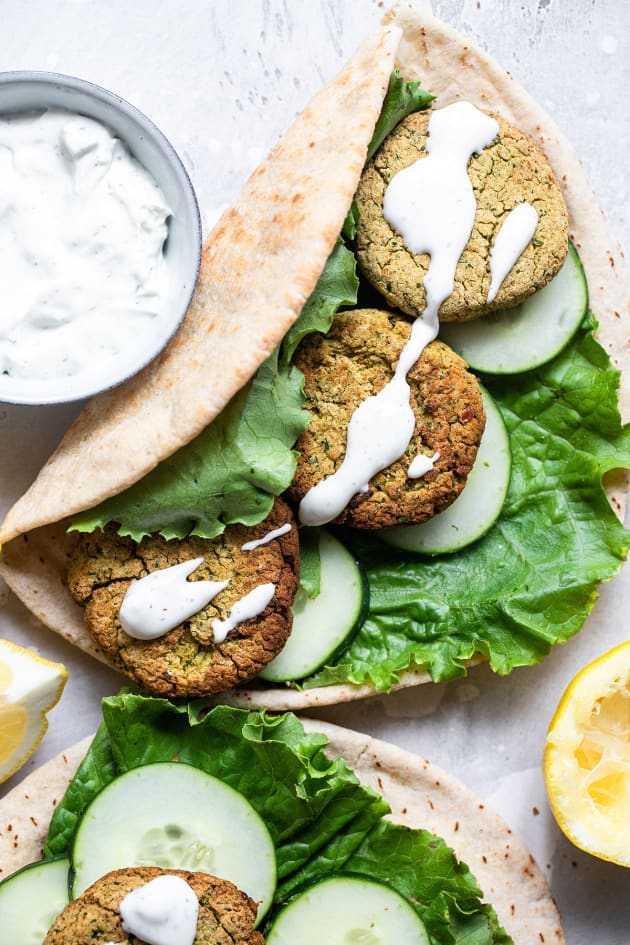 Pair falafel with other traditional Middle Eastern dishes like our Instant Pot Tahini Cashew Curry or Easy Keto Slow Cooker Middle Eastern Chicken Thighs.
It also tastes great paired with Grilled Herb Hummus Chicken Kebabs, a delicious excuse to bring out the grill!
How Do You Store and Reheat Falafel?
If you have leftover falafel or prefer to make extra to eat for lunch throughout the week, first let it cool to room temperature.
Place the cooled falafel in an airtight container between layers of paper towel or parchment paper.
In an airtight container, the falafel will keep fresh in the fridge for up to five days. 
To reheat falafel with the best results, we always suggest reheating it in the oven to retain the slightly crispy edges without overdrying.
Preheat an oven or toaster oven to 350°F and place the falafel in a baking dish loosely covered and bake for 4 to 5 minutes or until warmed through.
Planning a dinner party and need some inspiration?
How about looking for a new slow cooker dinner idea?
We've got you covered in our ever-growing Facebook group! If you're not a member yet, why not?!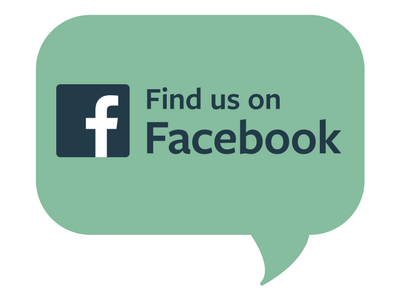 We're chatting cooking techniques, dessert ideas, and everything in between. If you're already a member, invite your friends to join us too!

Nicole is a self-published author of fiction novels, and a lover of food and spending time in the kitchen with her six children. She lives in coastal Maine where she loves exploring new recipes especially those that can save time, money and wow a crowd.

Tags: Mediterranean, Chickpeas, Herbs, How To Guides, Vegan, Vegetarian, Greek