5 Easy Mediterranean Diet Recipes for Beginners
Ryan Nadolny

Wondering what the so-called Mediterranean Diet is? We're breaking it down and sharing a few easy recipes to get started.
Maybe you've heard talk about the Mediterranean Diet and you're curious to learn more. So was I so I decided to check it out for myself.
That said, why does the word 'diet' make me cringe the moment I read it? It feels so negative and judgmental.
Then I remembered I had 47 pizza rolls and a juice box for lunch.
*Hangs head in shame*
It feels like there is a new diet popping up every couple of days! Every time I turn around someone is saying to eat "a, b, c" and to stop eating "x, y, z".
To my knowledge, there is no diet in which pizza rolls and juice boxes are acceptable. Well, at least not after kindergarten.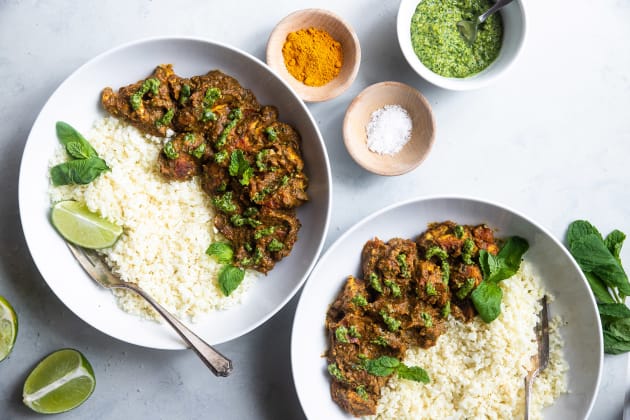 The other side of the coin suggests that diets don't work. The stress we put on ourselves to follow the rules is not good for our mental health.
That's part of why there's so much buzz surrounding the Mediterranean Diet. It's really not even a diet, but more a true lifestyle.
The culture surrounding food in Mediterranean countries shows evidence of promoting health in a way that's very appealing.
Whether you're looking to make dietary changes for your health, or just looking to broaden your palate, Mediterranean cuisine is versatile and delicious.
What Is the Mediterranean Diet?
The Mediterranean Diet is not so much a prescriptive diet, but more a philosophy encompassing which foods make up the bulk of one's meals.
Inspired by the cuisine of the Mediterranean region, the Mediterranean Diet encourages a balanced, healthful way of eating.
The key to adopting a Mediterranean-esque lifestyle is to generally avoid processed foods, lower your red meat intake and limit refined sugars.
Dairy is another item that is typically limited due to its high fat content.
The dairy thing would probably be the toughest part for me to wrap my head around personally. My kids tell me I'm 90% cheese. That includes my jokes.
(They're not wrong. I love cheese.)
With Mediterrean eating, you'll find a lot of the following foods included:
Vegetables + Fruit
No surprise here. Veggies in all forms are one of the best things we can put in our bodies.
Packed full of vitamins, nutrients, and low amounts of natural sugars, make vegetables the key to healthy body and mind.
Likewise, fruits are nutrient-dense, packed with fiber and can help keep cravings for refined sugars in check.
Fish
Not all fish is created equal, however, most are full of vitamin D, potassium, omega 3 fatty acids, and an excellent source of protein.
How you prepare the fish will be the biggest determination of its health benefits. Frying or adding a lot of butter will vastly decrease its nutritional value.
Consider grilling or baking your fish for the best results. In our home, we eat salmon at least once a week.
Grilling it with the skin on not only imparts more flavor, it's also great for your hair and skin.
If you're not into eating the skin, give it to your dog. They will certainly appreciate it.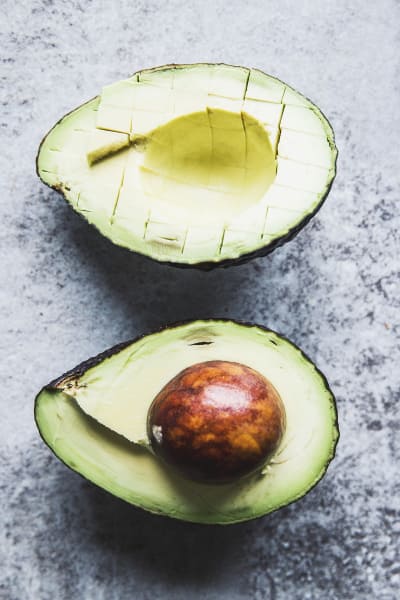 Legumes, Nuts + Beans
One of the things that stands out in Mediterranean cuisine is the widespread use of beans, nuts, and legumes.
Beans are a great source of protein and add tons of flavor to a dish.
Chickpeas (garbanzo beans) are used for everyone's favorite snack, hummus! Nuts and legumes are nature's perfect snack.
Whether you're eating a handful between meals or tossing them into an entrée or salad, every crunchy bite is full of protein, healthy fats, and fiber.
Healthy Fats
Mediterranean cuisine is known for incorporating ample amounts of healthy fats such as avocados, nuts and olive oil. 
Many studies cite Mediterranean countries as being among the healthiest in the world, in part attributed to their use of healthy fats in the kitchen.
Such healthy fats have all kinds of nutritional benefits, while also lending incredible flavor to a dish.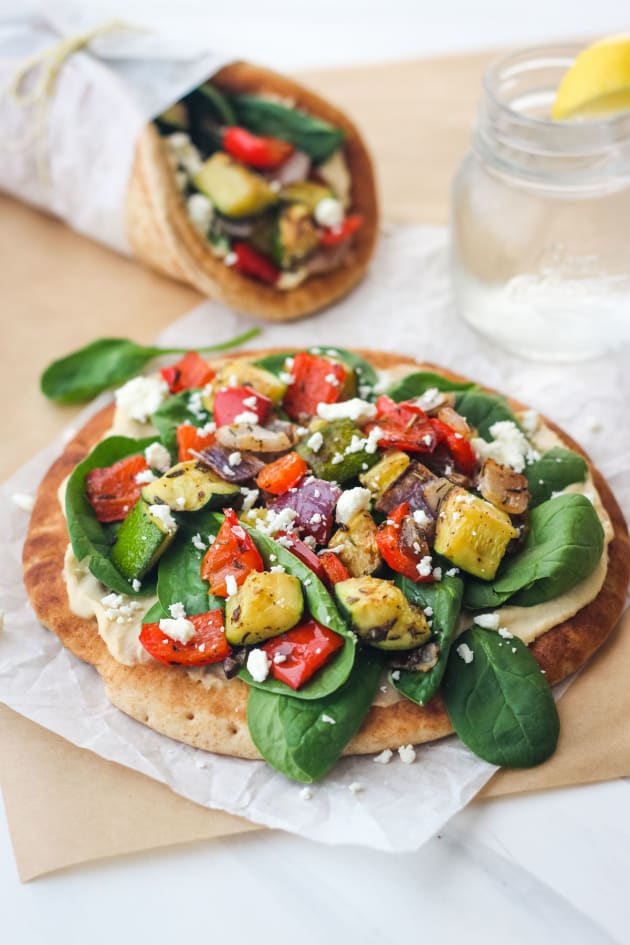 Easy Mediterranean Diet Recipes
If you're trying to be more health conscious, eating healthfully doesn't have to mean bland or boring meals.
Most Mediterranean dishes use a large variety of herbs and spices resulting in rich, flavorful dishes with surprising complexity.
Visiting the local food co-op or farmer's market if you're able to do so will also mean fresher ingredients, which nearly always means superior flavor.
Now that we're all experts in this Mediterrean Diet thing, let's dive into a few recipes that are guaranteed to satisfy your curious palate.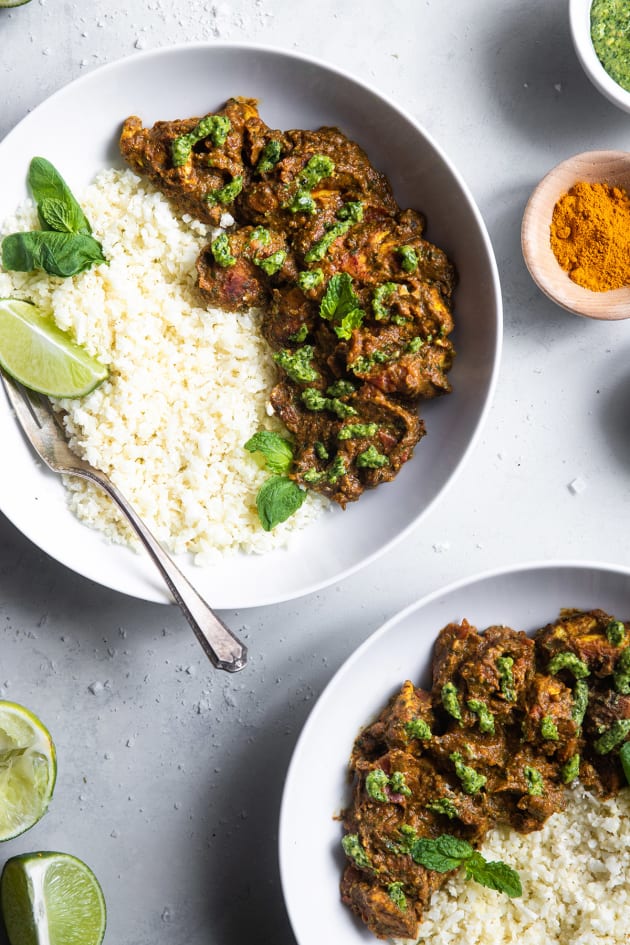 Talk about a dish that is booming with multiple levels of flavor! Everything is seasoned to perfection and served on a bed of pillowy rice.
The cilantro and mint really brighten up the dish and adds a freshness that cannot be mimicked.
The jalapenos give this sauce a little zip, yet the lime juice keeps it tame enough for most people to enjoy.
If spicy foods aren't your thing, you can omit the peppers completely or use a milder pepper in its place.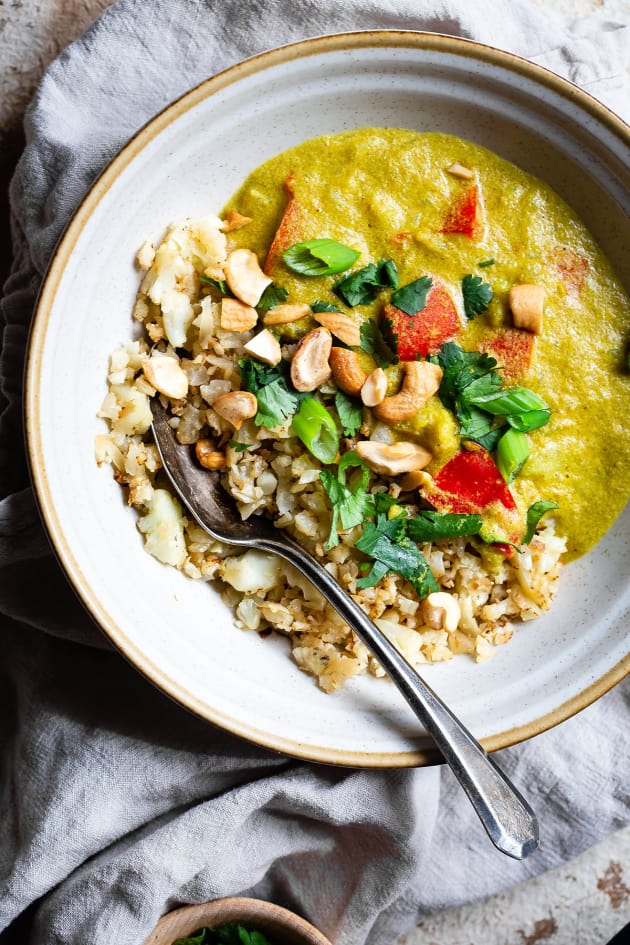 This sauce might as well be delivered by little angels on a gold platter. It goes extremely well with lean meats such as chicken or over vegetables and rice.
This curry is vegan friendly and is chock full of nutrients. You won't believe how easily it all comes together.
Utilizing your electric pressure cooker means you will have a sauce that will be ready in no time yet tastes like it's been simmering on your stove for hours.
Its creamy and decadent texture will have you craving more after just one bite!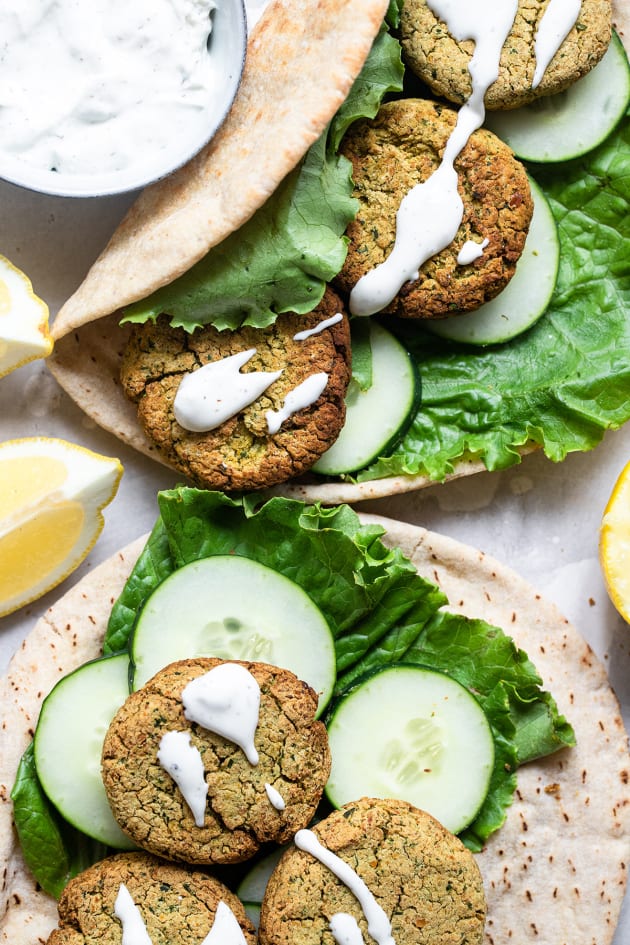 Good falafel can be hard to come by. The air fryer makes it so easy, and it comes out crispy on the outside and soft on the inside.
To me it tastes almost like fried hummus, which sort of makes sense since both have chickpeas as a base. It's super flavorful.
Falafel is great served hot or even cold and eaten as a quick snack. I like to dip mine in some tzatziki sauce! It's also great on salad or in a pita wrap.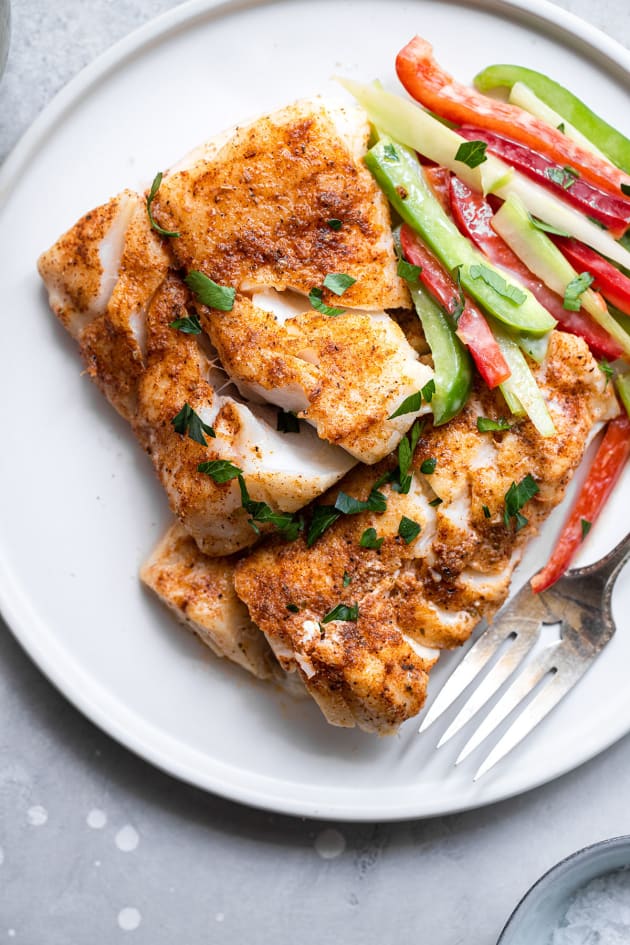 Cod is a white flesh and flaky fish that is naturally light in flavor but will accept whatever spices you throw at it.
(Don't actually throw spices at your fish. It'll just make everything messy.)
With this recipe, you're going to use Cajun seasoning and a little sea salt. That's it. You can decide how much to coat your fish.
Since the fish is so delicate, it's best to use a perforated pan to grill in or follow the simple instructions for making tinfoil packets.
The tangy slaw cuts through the spiciness of the Cajun spices to give you the perfect balance of flavor. Serve with couscous or enjoy it just the way it is.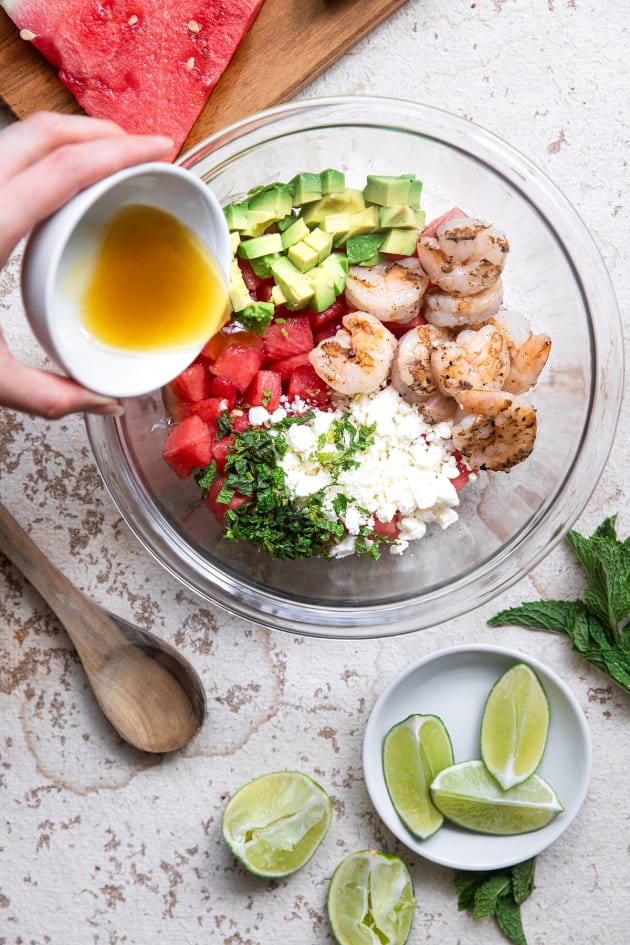 If you've never had the pleasure of a watermelon salad with crumbled feta cheese, then please try this recipe.
It may sound a little bit out there, but the fun things always are. You're going to start by grilling some shrimp tossed in olive oil and sea salt.
This won't take long, so don't walk away unless you like overcooked shrimp.
The soft slightly bitter feta cheese compliments the sweet watermelon perfectly. The mint gives it a bright and refreshing flavor.
The salad dressing is so easy to make and tastes a million times better than store bought.
The best part is you can add or subtract anything in your dressing. I like mine extra spicy!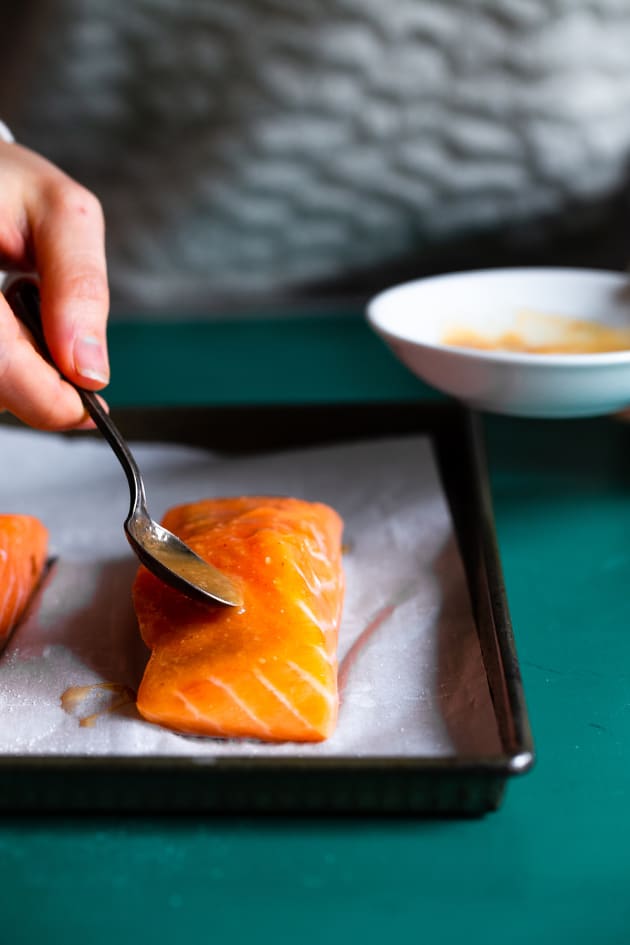 Hey, just a reminder that it's ok to eat pizza rolls and cookies and all the unhealthy foods. Everything is ok in moderation, especially moderation.
Remember, don't stress over a silly diet. A happy belly is a happy mind! And I think you're awesome just the way you are.
Planning a dinner party and need some inspiration?
How about looking for a new slow cooker dinner idea?
We've got you covered in our ever-growing Facebook group! If you're not a member yet, why not?!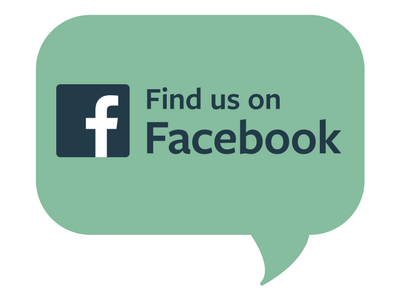 We're chatting cooking techniques, dessert ideas, and everything in between. If you're already a member, invite your friends to join us too!

Ryan is a food and writer from Toledo, Ohio where he's had a love affair with food since 1984. When he's not cooking or writing, he's planning the next he wants to eat.

Tags: Mediterranean, Healthy Eating, Food Pop Culture