This Easy Weeknight Pasta Features 2022's Trendiest Ingredient
Cyd Converse

Do you know which ingredient is set to be the trendiest of 2022? You may be surprised!
Growing up we could not have imagined a time when food would play such a huge role in our daily culture. Surely we didn't know TikTok or that famed TikTok pasta would even exist.
No, back in the days of our youth, many of our kitchens boasted the same, simple ingredients. Experimenting in the kitchen wasn't a big part of the household scene in the 80s and 90s when many of us were growing up.
Vegetable bins held carrots, celery and potatoes. The bread drawer held Thomas English Muffins and fluffy white sandwich bread that melted on your tongue like sugar at the ready.
Eggs, millk, cheese, and an arsenal of cans of cream of something soup were always on hand. Pizza was virutally the only take out option.
Who would have guessed that along with the social media revolution would come a time when food trends would sweep pop culture? We would have not taken that bet, that's for sure.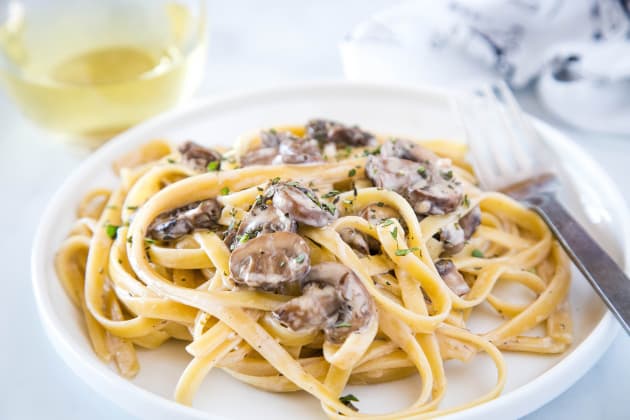 Remember when we were all insisting we liked kale, making everything from homemade kale chips to kale pesto and even pizza topped with kale and ricotta? We sure do!
(And honestly, for the record, we're still sort of into kale. Especially this kale blueberry pineapple salad.)
As the times go, this year is setting up to put the spotlight on yet another trending food anticipated to be the it ingredient of the year. Any guesses what it is? It make take you by surprise.

Mark our words! Much like kale before it, we are predicting that the humble yet surprisingly diverse mushroom is primed to take the culinary world (and home kitchen) by storm in 2022. 
Not to be upstaged by the now seemingly ubiquitous avocado toast and smoothie bowls popular with the Millenial crowd, mushrooms are delicious marinated or sauteéd - or prepared any of 109 billion other ways.

One of our favorite ways to prepare mushrooms is this easy weeknight pasta recipe. Perhaps the best part? You can have dinner on the table in under 30 minutes. That's a win we'll always take.

Our creamy mushroom pasta makes the perfect dinner on a chilly Monday (or Tuesday or Wednesday) night or one seriously delicious accompaniment to our super popular everything bagel chicken.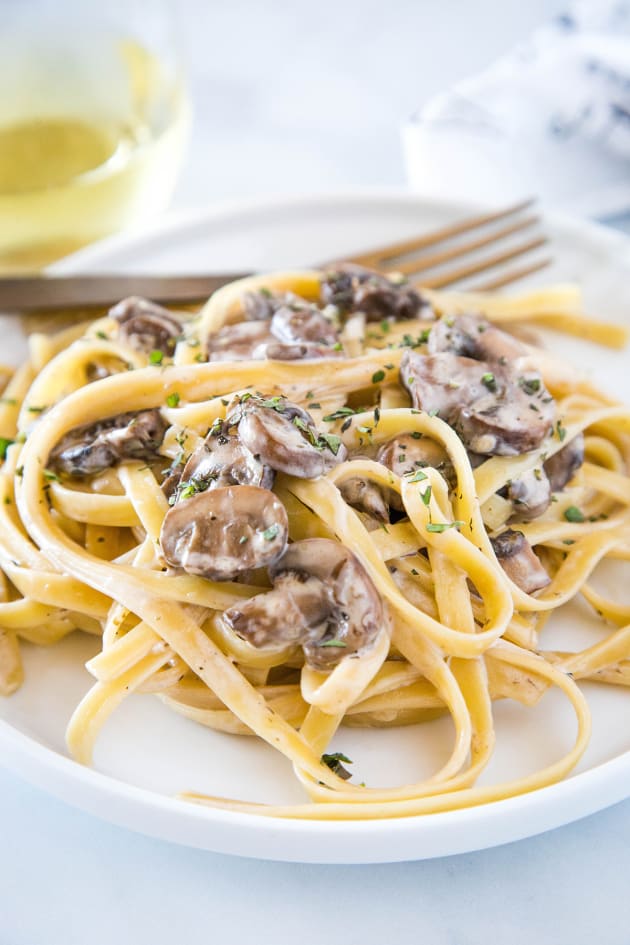 What's The Buzz About Mushrooms?
Ok so by now you might be wondering - why mushrooms? What makes this tastiest of fungi such an over the top hit in 2022? Here's our theory and, yes, we are sticking to it.
For starters, mushrooms come in a ton of varieties, each lending a different flavor profile and texture to everything from sandwiches to mushroom lasagna. Yes, mushroom lasagna!

(Make it now, thank us later.)
From the button and portobello mushrooms common in every grocery store to the slightly more exoctic shitake or oyster mushrooms, there's so much more to mushrooms than we ever knew a decade or a few ago.
Additionally, with the rise in interest in plant-based eating, mushrooms also play a starring role in vegan recipes where they add depth and earthiness.
Portobello sandwiches and burgers are becoming increasingly popular substitutions for ground beef and steak both in restaurants and at home.

We especially love them stuffed with herbs and goat cheese or baked in garlic butter. (Give it a try before you tell us we're wrong!)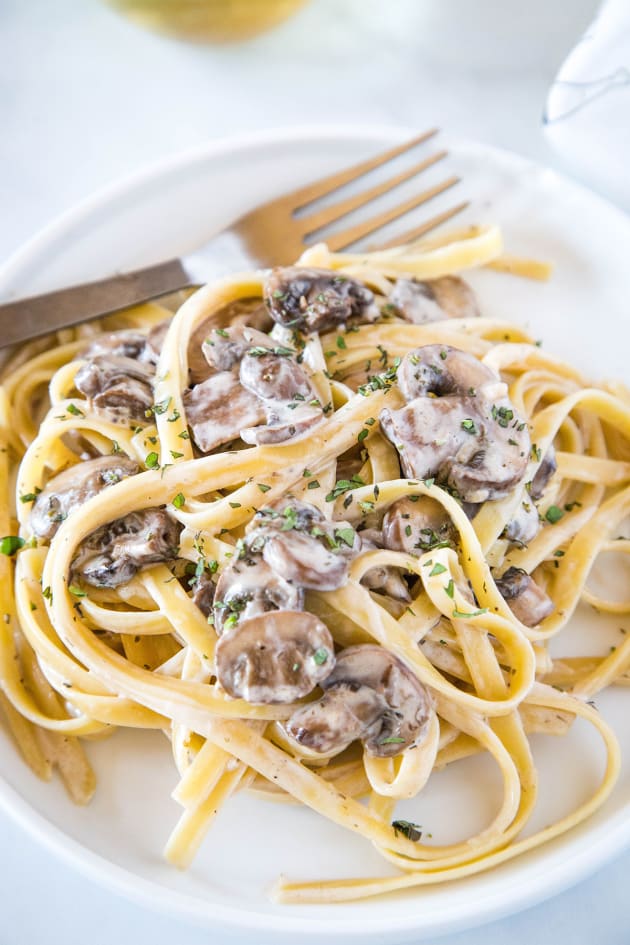 Creamy Mushroom Pasta Ingredients
Now that we've convinced you to experiment with mushrooms more in 2022 than ever before, let's talk about this mushroom pasta dish. 
One of our favorite things about it is the simple cream sauce and how easily it comes together. Plus, you can switch it up however you'd like with what you have on hand.
While we generally make it with fettuccine to hold all of that creamy sauce, it would also be exceptional with parpadelle or even linguine. 
Even the mushrooms can be switched up here! Pick your favorite and hop to the kitchen, because it's pasta time.
Pasta - A thicker pasta noodle is ideal when pairing it with a cream sauce - we suggest fettuccine with this pasta recipe. That said, virtually any pasta will still be delicious so try your favorites and see which you prefer.
Butter - The base of the sauce comes together we butter. We prefer cooking with unsalted butter so you can control the amount of salt at the end.
Olive oil - In addition to butter, this cream sauce is made even richer and more flavorful with the addition of olive oil.
Mushrooms - The mushrooms are sauteed in the butter and oil until soft and savory.
Garlic - If possible, use freshly minced garlic here, but in a pinch garlic powder will do the trick.
Italian seasoning - To keep things simple, your favorite Italian seasoning blend is perfect here or level things up with fresh herbs like oregano and basil.
White wine - Crisp, dry wine rounds out the flavor and pairs perfectly with the mushrooms.
Broth - You can use chicken broth for this cream sauce or opt for a veggie broth to keep things vegetarian - it has just as much flavor!
Heavy cream - To add the signature creaminess to the sauce, heavy cream is added. Use a vegan alternative for a plant-based version.
Parmesan cheese - Grated parmesan cheese or, again, a vegan alternative adds just the right salty sharpness.
Salt and pepper - Finally, season with salt and pepper to taste for the perfect meal.
Creamy Mushroom Pasta + More Ways to Love Mushrooms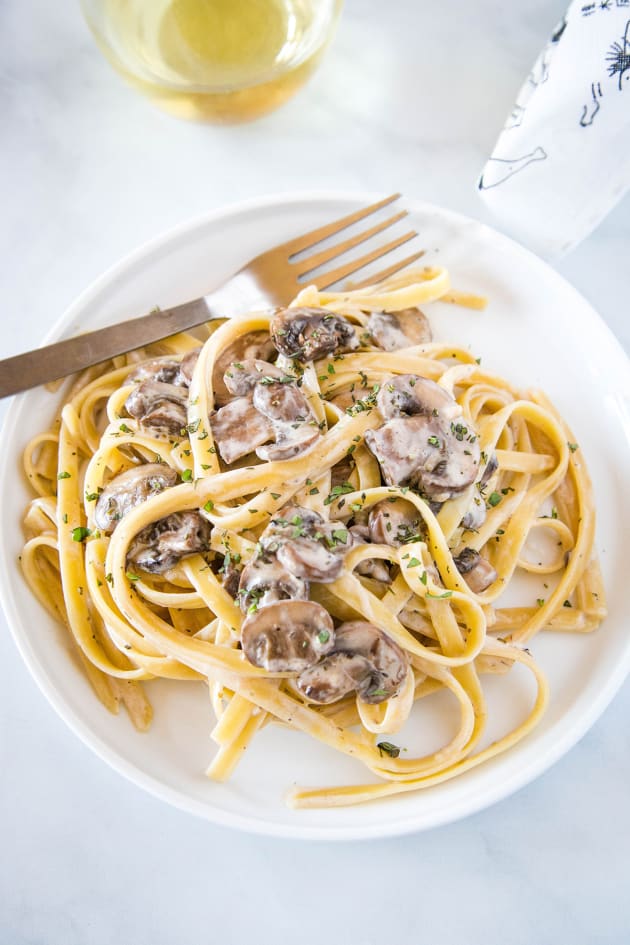 Creamy Mushroom Pasta
Ready to make 2022 the year of the mushroom with us? Snag our creamy mushroom pasta recipe to get started, but then try these favorites, too!
Garlic Herb Goat Cheese Stuffed Mushrooms
These garlic herb goat cheese stuffed mushrooms are promised to blow your taste buds away. They're so easy to make yet they present super fancy.
The combination of the earthy mushrooms with the bright, tartness of the goat cheese is going to be a new favorite.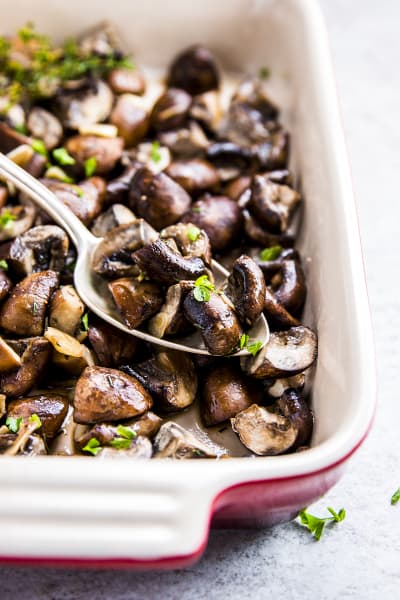 Garlic Butter Baked Mushrooms
We can't express our love for these garlic butter baked mushrooms enough. They make an irresistible side or even an appetizer.
Will you want to mop up the leftover butter from the pan with crusty bread? Yes, yes you will. (And we suggest that you do!)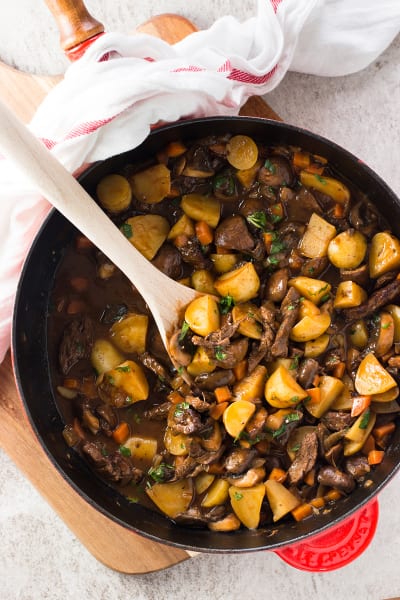 Skillet Beef Tips and Gravy with Mushrooms
Stop the presses, our skillet beef tips and gravy with mushrooms is one to write home about. In fact, it tastes just like something Mom would make.
If you don't eat meat or simply don't love beef, skip it entirely and double down on the mushrooms. You won't be disappointed.
Portobello Veggie Sandwich
Encased on either side by a lightly toasted brioche bun, our portobello veggie sandwich recipe is a crowd pleaser. Don't skimp on the cheese!
We love them served with our herb and garlic oven fries or these Mexican sweet potato fries. Either way will be a home run.
Planning a dinner party and need some inspiration?
How about looking for a new slow cooker dinner idea?
We've got you covered in our ever-growing Facebook group! If you're not a member yet, why not?!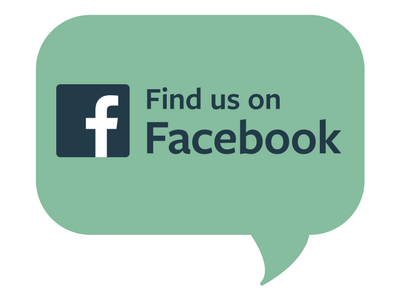 We're chatting cooking techniques, dessert ideas, and everything in between. If you're already a member, invite your friends to join us too!

Cyd is a native of Upstate New York, born to a family of women who love to cook and host parties. She shares her love of all things food, home and entertaining on her blog, The Sweetest Occasion and on Instagram.

Tags: Pasta, Mushrooms, Easy Dinners, Dinners, Family Meals and Snacks, Easy, Quick