Pigeon Meat
Amber Bracegirdle | Bluebonnet Baker
Everything you wanted to know about pigeon meat, including tips for choosing it, roasting instructions, and what to serve it with.
If you are looking for new inspiration for a special dinner, pigeon meat goes down a treat!
It is often overlooked as a basis for a meal. But with its rich gamey flavor and tender texture,  chances are that once you start cooking with pigeon meat, you won't look back.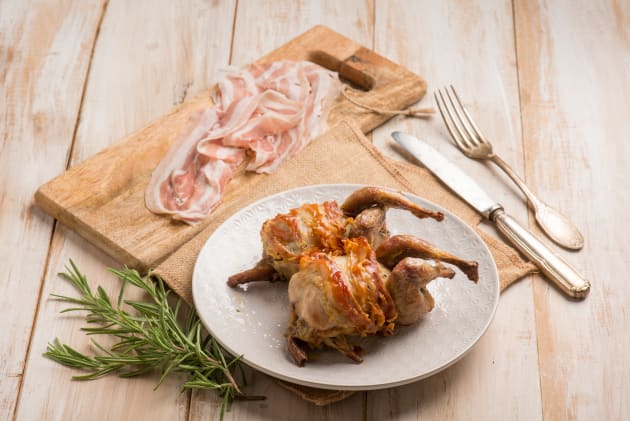 You can find pigeon meat all year round, but  wild pigeon meat is at its peak between September and November. 
Tips for choosing and cooking pigeon meat
You will commonly see farmed pigeons referred to as squab pigeon. These pigeons are never older than one month. When buying pigeon meat, the time of year can affect what is available.
If you are planning to use pigeon meat in a recipe in which it will be cooked quickly, such as pan frying, look for pigeon meat that has quite a pale flesh color. The reason for this is that pigeon meat can darken with age.
Pigeons that have been farmed will have a less gamey flavor and very tender meat. Wild pigeon, on the other hand, provides the much more intense gamey flavor.
When buying wild pigeon meat, look for plump breasts and fat beneath the skin (which will help with flavor while cooking). Avoid any pigeon meat that has any damage from shooting; you should also opt for wild pigeon that has the head and feet still intact so that you can assess the pigeon's condition.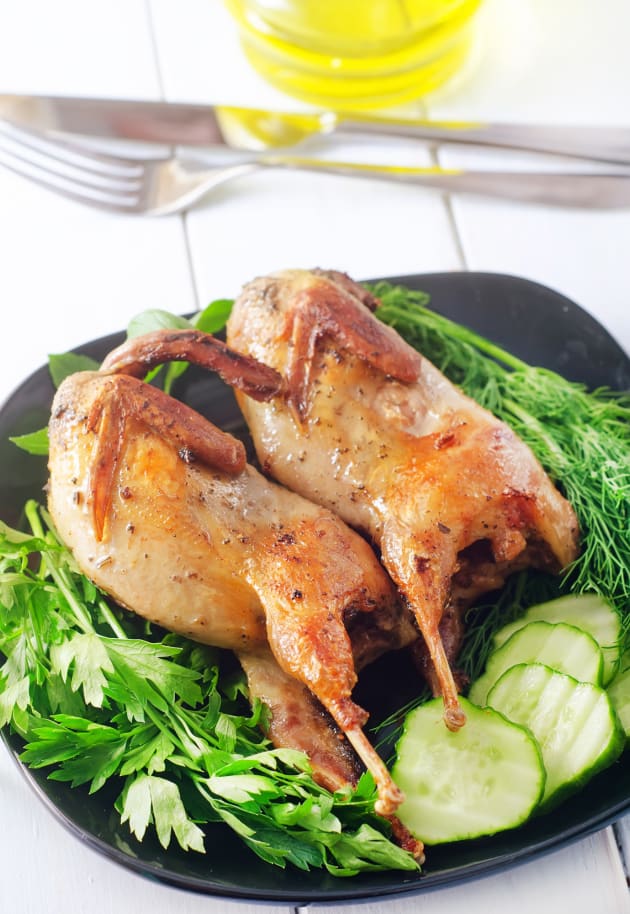 When it comes to serving, a pigeon breast is suitable for an appetizer and the whole pigeon is best for a main.
Unlike certain kinds of meat, pigeon does not need to be cooked until well done, so if you are pan frying, do so until it is pink and then rest for about 5 minutes before serving.
To roast pigeons, brown the meat on all sides before covering in butter and then roasting in the oven for about 10 minutes. There are so many ways to serve pigeon meat, so you can get creative. 
What to serve with pigeon meat
If you have never tried pigeon meat and can't imagine what you should serve with it, here are some ideas

- Bold spices

- Rich berries 

- Nuts 

- Citrusy sauces 

Here's an easy roasted pigeon recipe with delicious crispy skin you can use as a base to get creative:

1. Preheat your oven to 350 degrees Fahrenheit.

2. Wash the pigeon, ensuring the inner cavity is well cleaned. Pat dry.

3. Over medium heat, heat some oil in a heavy pan.

4. Season the pigeon with salt, pepper and spices if your choice. Place the pigeon breast-side down into the oil, turning to sear on all sides. 

5. Place the pigeon, breast side up, into a roasting pan and roast for about 10-12 minutes. Halfway through, baste the pigeon.

6. Allow to rest for 5 minutes. 

You can also create a stuffing to go inside the cavity.

We find a mushroom stuffing loaded with herbs pairs perfectly with the gamey pigeon.

Do be mindful that the pigeon breasts can dry out quite quickly, so make sure you baste them - you can even lay some bacon over the breasts while baking to help keep them moist. 

Tags: Meat, Dinners, Roasted, Fried