7 Amazing Reasons to Stay at Waldorf Astoria Orlando
Amber Bracegirdle | Bluebonnet Baker Updated
The Waldorf Astoria Orlando is a perfect location for a girls' weekend, a wedding, or a quick family getaway. We've got some great features for you to check out!
The editor received complimentary lodging and experiences on behalf of Waldorf Astoria Orlando. All experiences are her own.
One thing is certain - this editor is no stranger to Orlando, Florida. I worked there in college, and have been back for vacation probably 20 times since.
When I got the opportunity for a #WaldorfGirlsWeekend, I think my family wondered what allure heading back to Orlando could possibly hold for me. (Well, other than visiting my happy place, the Happiest Place on Earth.)
So here's the thing - between living there and visiting theme parks, I've only ever stayed on theme park properties. I absolutely jumped at the chance to finally stay off property, and I am so glad I did.
An elegant room with every detail catered to.
My stunning corner room had a view of palm trees and theme parks in the distance. Plush carpets and extremely comfortable beds. The most beautiful bathroom that I wanted to pack in my suitcase and take right home with me.
My husband will tell you that I'm extremely picky when it comes to hotel beds - I deal with a chronic pain condition that bad mattresses make worse. I slept like a baby in my guest room, to my great relief.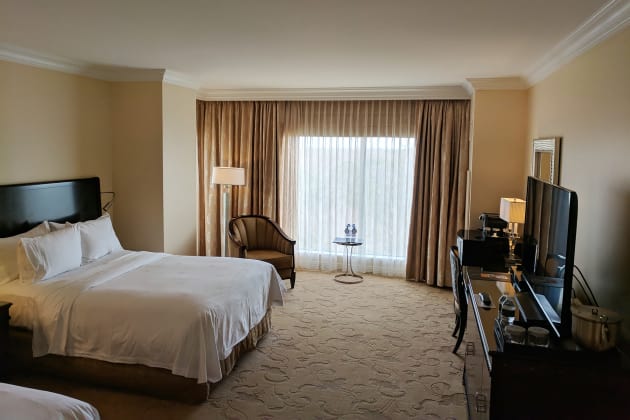 Pastries delivered straight to your room.
Sure, it's easy enough to get pastries from just about anywhere. The local coffee chain. But they're nothing like the pastries made in-house at Waldorf Astoria Orlando's kitchens.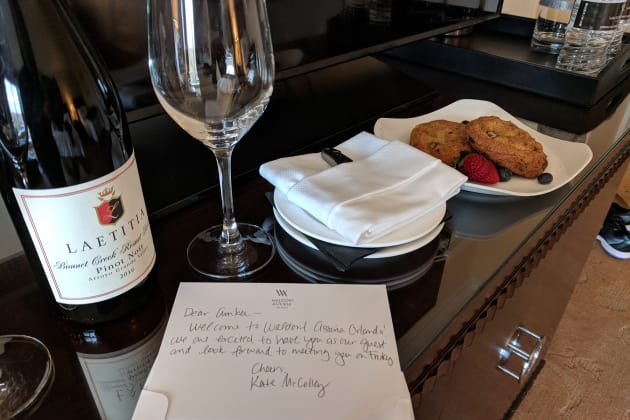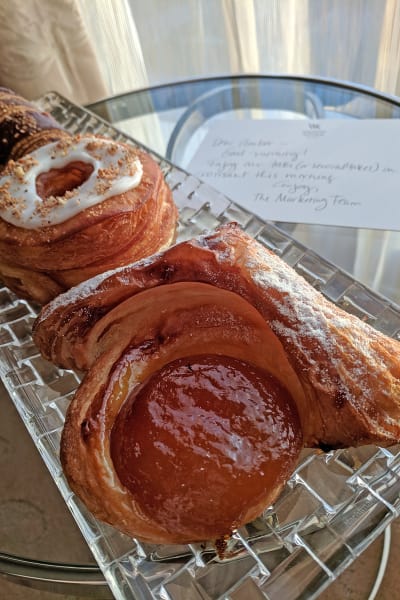 In order from front to back: peach Danish, Cronut, and pretzel croissant.
I've had a pretzel croissant before, from City Bakery in New York City, home to arguably some of the best bakeries in the world. This pretzel croissant blew City Bakery's out. of. the. Water.
Cocktails at Bull & Bear are an experience and art rolled into one.
What I learned in my experience behind the bar at Bull & Bear is that there is a whole lot of love and care poured (see what I did there?) into every single cocktail you order.
From the perfectly spherical balls of ice to the fresh edible flowers brought in twice a week, they take cocktail making incredibly seriously. I definitely had a favorite - the Rip Current, heavy on blackcurrant, made me one happy girl.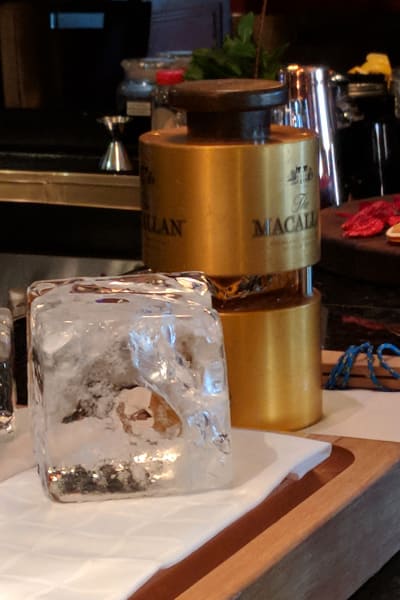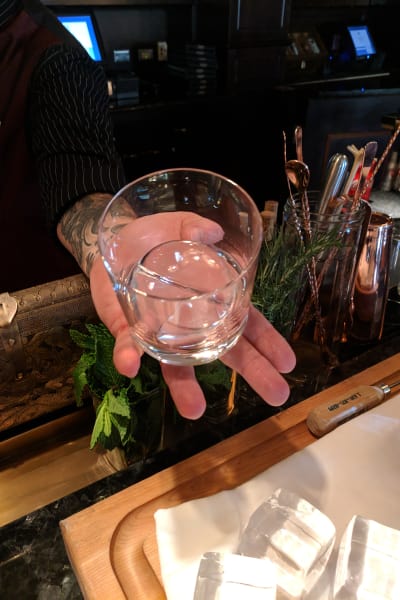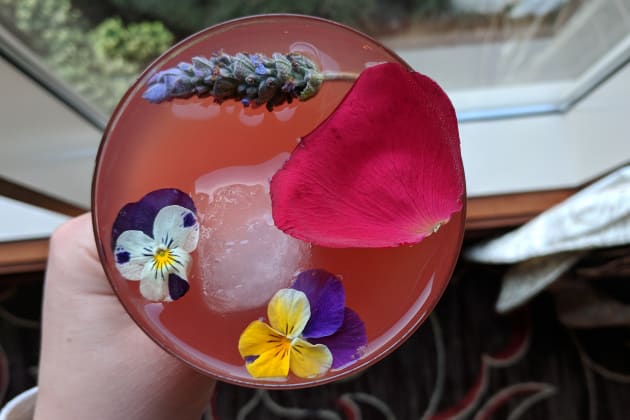 Apps at Zeta Asia are on point.
I adore Asian food, but I'm typically not a sushi girl. I had a little trepidation when Julie suggested we have apps and dinner at Zeta Asia, worried that I wouldn't be able to find non-sushi options I would enjoy.
Silly to worry, really. Not only was there plenty to eat, I branched out and tried some sushi rolls that I did enjoy. The Bao Buns are NOT to be missed. Nor is this coconut dessert that I wanted to bathe in.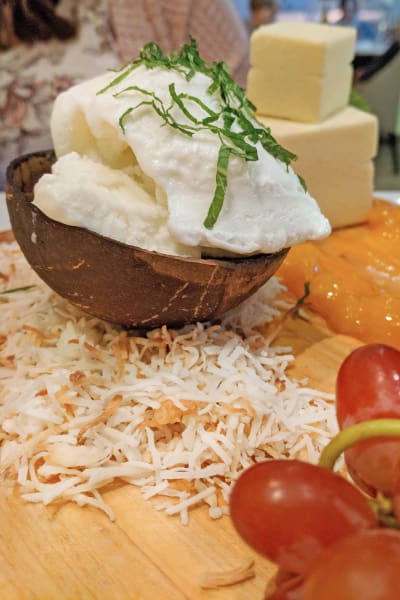 An Afternoon in the Waldorf Astoria Spa.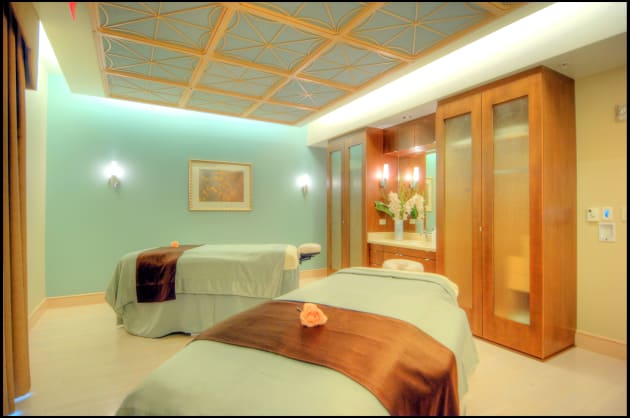 We were treated to an afternoon in the Waldorf Astoria Spa on our last day, and I can't think of a nicer way to have ended our girls' trip. I experienced both a Swedish massage and a facial. Both treatments were exceptional, and I still dream about them. The spa itself was stunning and so peaceful, I think I dream just as often about sitting in the steam room, a glass of champagne in hand.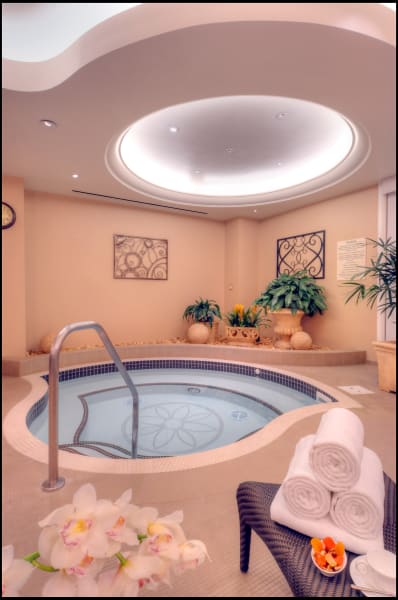 Royal Tea in Peacock Alley is such a treat.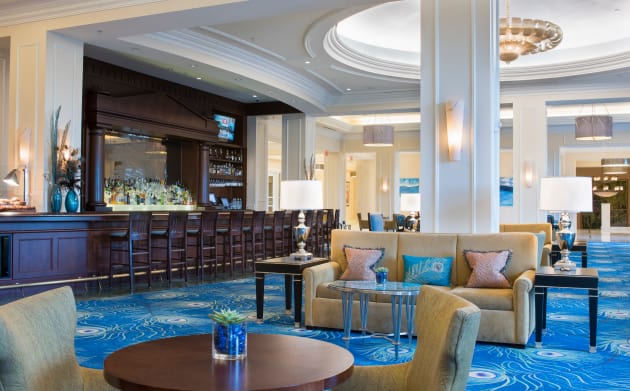 I drink a lot of hot tea. My husband is British, and I learned early on in our relationship exactly how to brew a proper cuppa. It's pretty much a daily ritual in our house.
So it was with a discerning eye I sat down with Julie and Jamie on our last day, fresh from spa treatments, and ready to nosh on tiny sandwiches and drink my weight in good tea in Peacock Alley.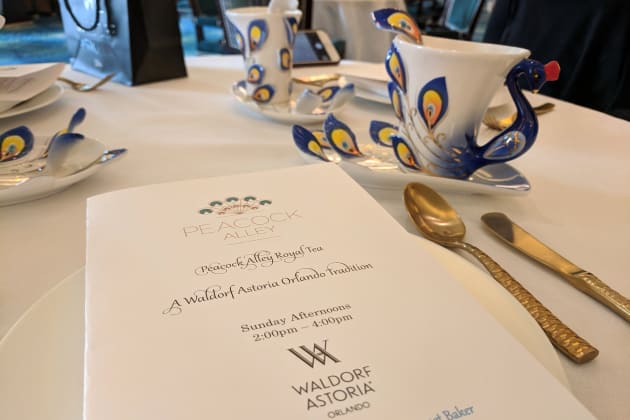 The selection of teas was impressive, and brewed perfectly. They even warmed the cups, which is exactly how it should be done. I could have stayed all day, just to keep sipping on perfectly brewed cups of tea. And then there were the chicken salad sandwiches.
You must go to high tea and experience these curried chicken salad triangles of amazingness. I keep meaning to email and ask for the recipe, because they were perfect.
Lush grapes, sharp curry, buttery chicken - they were everything I wanted in that moment (and several moments since then).
Dinner at La Luce® is a MUST.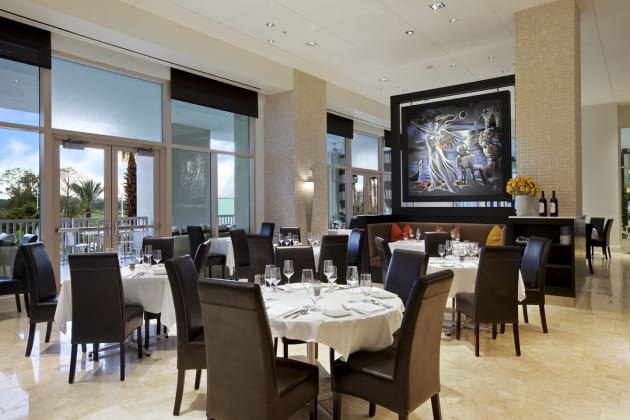 It's a bit infamous among my friends, but I'm terrible at knowing anything about chefs. Even those that have appeared on the Food Network.. I just don't pay any attention.
When we arrived for dinner with the Waldorf Astoria marketing team, I had no expectations, beyond knowing that the genre of the restaurant is Italian.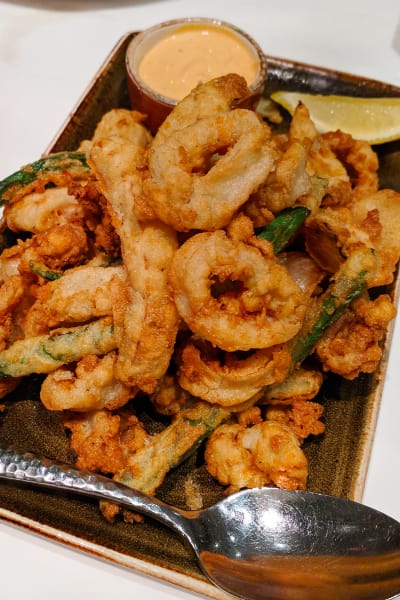 What I experienced, however, was a lesson in what it was like to step into Napa Valley chef Donna Scala's kitchen.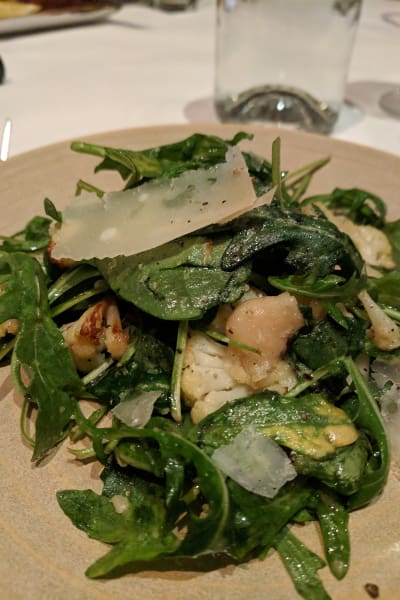 Every detail of the pasta dinner we enjoyed was exquisite. This food is made with love, there's no other way to explain it.
Highlights for me included the Cauliflower Salad - yes, CAULIFLOWER salad - a warm salad with Tuscan beans, arugula, lemon.. I could go on and on about this salad forever. YOU MUST TRY IT.
Also amazing, the pear and speck pizza (I could eat speck every day of my life forever), and ELICHE alla LINA. This was Donna's favorite pasta, using ribboned pasta, and a pork and porcini mushroom ragu. Speaking my language, Donna. Speaking. my. Language.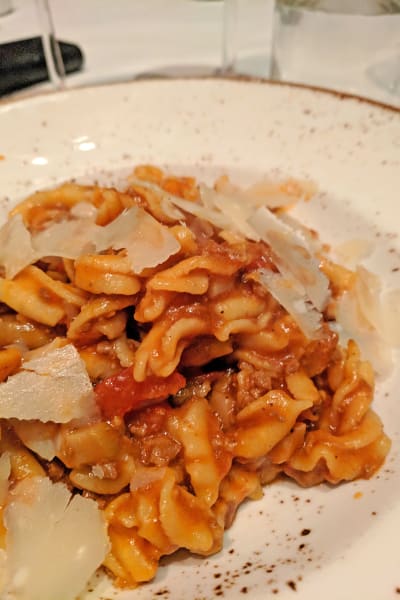 One of my favorite things about this restaurant are the details that speak to who Donna was as a person. The chefs here were trained by her before she passed away, and the love this restaurant family has for her, and each other, definitely comes through in the food, and the decor.
I love that they have artists create changing murals on the many walls separating dining spaces. The one mural that will never change? A view that includes Donna's beloved Vespa scooter.
It's dedicated to Donna Scala's memory, and it's very clear that this restaurant does everything they can to honor her life's work each day. It's definitely worth experiencing - repeatedly if you can.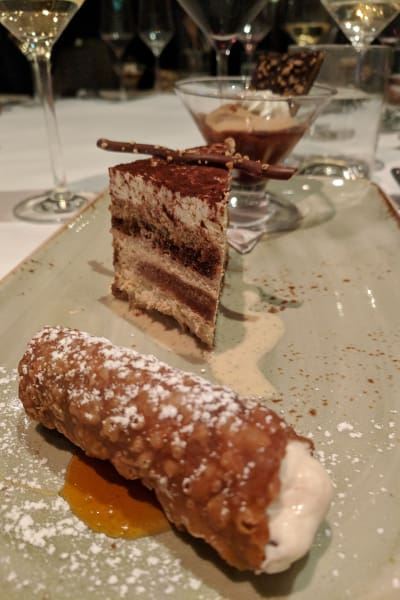 Planning a dinner party and need some inspiration?
How about looking for a new slow cooker dinner idea?
We've got you covered in our ever-growing Facebook group! If you're not a member yet, why not?!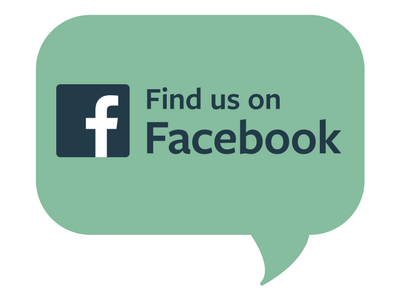 We're chatting cooking techniques, dessert ideas, and everything in between. If you're already a member, invite your friends to join us too!

Tags: Travel, Hotel Reviews, Restaurant Reviews