Rock & Roll Burger
Tanya Schroeder | Lemons for Lulu
This Rock & Roll Burger starts with an all-beef patty and tangy BBQ sauce. Add bacon, cheddar cheese, and a spicy slaw to complete this outrageously good burger. It's a little bit of everything, just like Rock & Roll!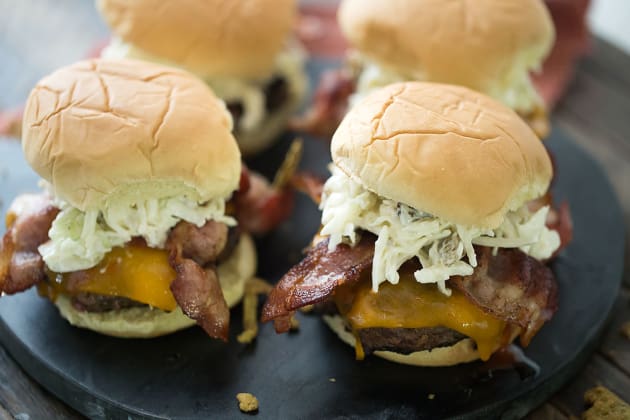 The contributor was compensated by Stubb's Legendary Bar-B-Q for her time in developing this recipe and post. All opinions are her own.
I have vivid memories of sitting around the record player staring at all the album covers that my sisters owned. My sisters owned so many records and we would sit in our gray, paneled basement and listen to them all for hours at a time.
Music has always played a big role in my life and my musical tastes were initially influenced by my sisters.
I was mesmerized by album covers. They were works of art, something that is completely lost in these digital download days.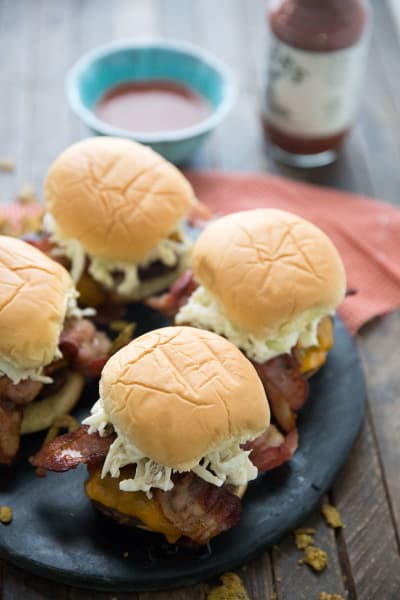 There are certain album covers I will never forget. The Rolling Stones with their red lips, Queen with their monstrous robot, or Pink Floyd with the cavernous moon picture or later, the Clash with their slicked hair and their tough attitudes.
Each of these albums and artists has made an impression on me and have shaped my love of music. There was something so satisfying about tearing the plastic off of a new, stiff and crisp album. This feeling is virtually unknown today.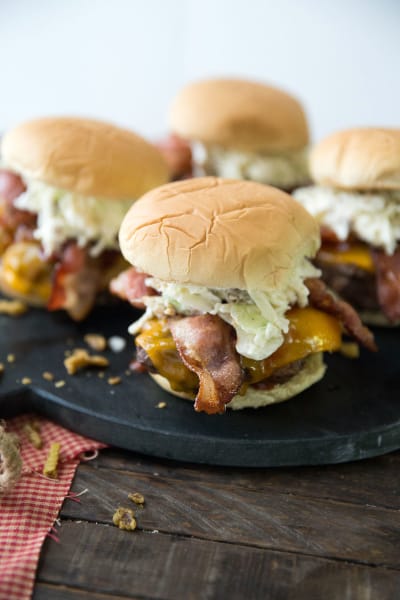 This burger is my tribute to Rock & Roll. It is wild and crazy mixed in with classic flavors!
The key to these burgers is Stubb's Legendary Bar-B-Que Sauce in the burger, as well as on top!
Stubb's BBQ sauce has a deep flavor with a little peppery spice. Including the sauce in the burger makes them flavorful and moist.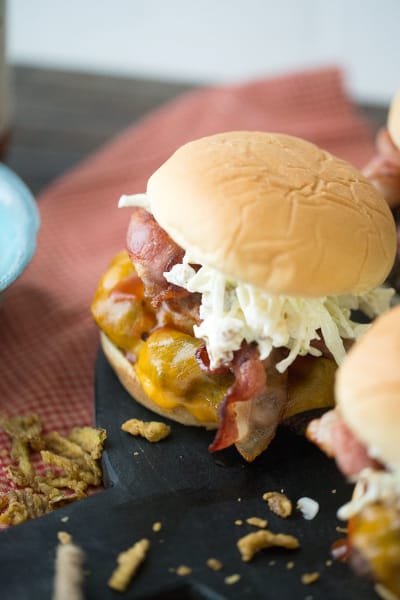 A classic cheddar and bacon combo rests on top, then crunchy, creamy and spicy slaw gets piled on to finish this monstrous burger off!
This burger has a little of everything, just like good old Rock & Roll music!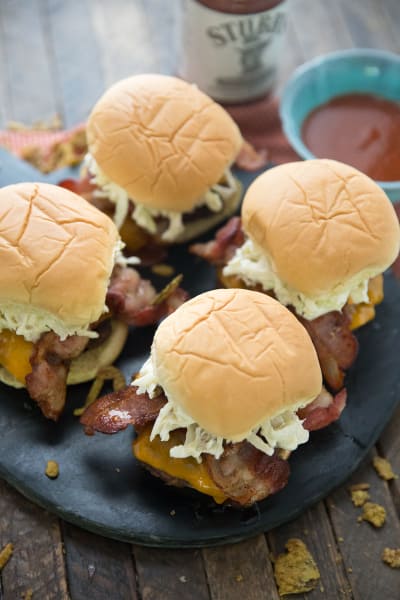 Grilling Tips from Rocky Stubblefield
(Grandson of C.B. Stubblefield, better known as "Stubb" to his friends and family, and the first grandson to follow Stubb into the family business.)
Season your meat. I like to use Stubb's Beef Spice Bar-B-Que Rub and mix it in before I make the patties for a flavorful burger every time.
Make a thumbprint in the middle of the patty before putting it on the grill. This will help the patty come our nice and flat (not puffy in the middle), and the meat will be cooked evenly throughout.
Turn your meat as needed, so it gets an even flow of cooking. I always flip the meat – no matter whether I'm cooking steak, chicken, burgers, sausage or pork –several times. If the meat is sitting over flames without being regularly flipped, it can get burned and dried out on one side. I flip every few minutes depending on the heat of the grill, turning the meat more frequently when the grill is hot.
Insider tip: Use an onion to clean your grill. Cut the onion in half, and while the grill is heating up, rub the onion across it. The juices from the onion clean the grill and get it ready for use.
Planning a dinner party and need some inspiration?
How about looking for a new slow cooker dinner idea?
We've got you covered in our ever-growing Facebook group! If you're not a member yet, why not?!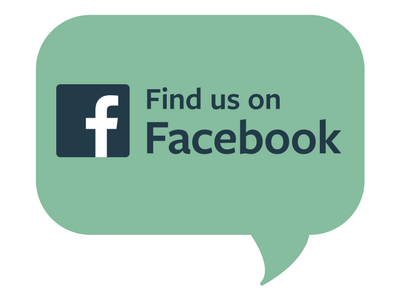 We're chatting cooking techniques, dessert ideas, and everything in between. If you're already a member, invite your friends to join us too!
Ingredients
1 1/2 pounds Ground Beef, 80% lean
1 teaspoon Salt
1/2 teaspoon Black Pepper
3 tablespoons Stubb's Legendary Bar-B-Q Sauce, plus more to drizzle on top
4 slices Cheddar Cheese
8 slices Cooked Bacon
2 cups Shredded Cabbage
3 tablespoons Mayonnaise
1 tablespoon White Wine Vinegar
pinch of Sugar
1/3 cup Crispy Jalapeños, I found these in the salad dressing aisle
Directions
Heat an outdoor grilling to medium heat. In a bowl, combine the beef, salt, pepper, and BBQ sauce, mixing by hand just until the ingredients are combined. Shape the beef into four patties and place on hot grill.
Grill burgers for 5-7 minutes per side (this will depend on how rare you like your burger). Place cheese on during the last 2 minutes of cooking.
Meanwhile, combine the slaw, mayo, and, vinegar in a bowl, stirring to coat. Mix in crispy jalapenos.
When burger have finished cooking, and the cheese has melted, place the burgers on four buns. Top each with two slices of bacon and a drizzle of BBQ sauce. Divide the coleslaw between each burger and serve.
Recommended
Tags: Burgers, Hamburgers, Grilling, Barbecues, Stubb's Sauces, Grilled, Ground Beef, Cheese, Bacon, Cabbage, Peppers, Spicy, Sauces, Party Food