Silpat St. Patrick's Day Baking Mat Review
Aimee Shugarman | Shugary Sweets Updated
The Silpat St. Patrick's Day Baking Mat is cute and festive, but functional too. Bake up all your favorite treats on the original silicone baking mat!
No one loves to scrub a pan after baking cookies, macarons or even bacon, that's for sure. When you use a silicone baking mat, cleanup is a breeze, from start to finish, and the actual cooking through of the item you're baking is superior too.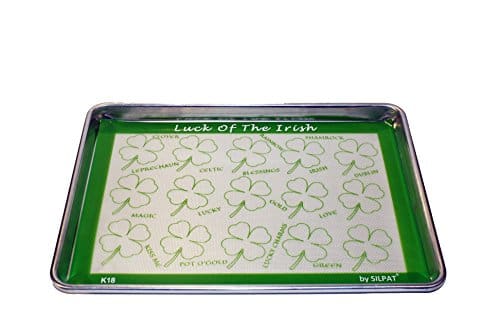 You might not know that Silpat is the original silicone baking mat, and the secret to so many bakeries perfect-bottomed cookies, scones, and whoopie pies. 
They'll slide off the fiberglass mesh mat with ease - no sprays, oils, or fats needed. 

You can even use your Silpat for flash freezing. Everything from balls of cookie dough to freshly picked strawberries. 

Silpat is the original silicone mat, and used by professionals the world over. Cook and bake like your favorite professional chefs, with the best tools in the business. 

I just love the St. Patrick's Day theme of this cute SilPat. You can even use the shapes for making custom chocolate decorating pieces. Too cute!

Tags: Product Reviews, Silpat