Bacon Twist Breadsticks
Kate Donahue | Food Babbles
Bacon twist breadsticks are an addictive snack! Serve them up with your favorite main dish or eat them all by themselves!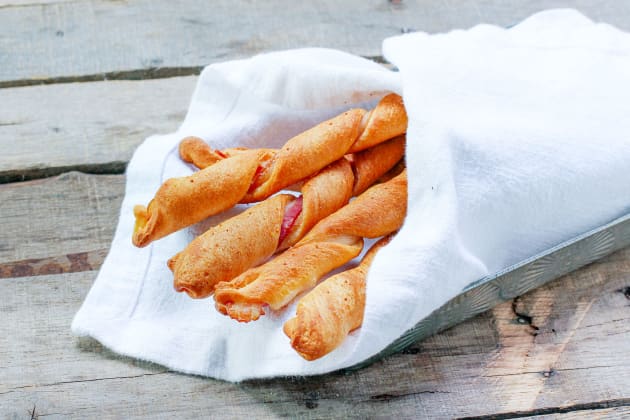 I am one of those people that truly has a bread addiction. I could eat it at every meal and I don't think I would ever get tired of it. While bread is pretty spectacular all on its own, there are so many incredible ways to up the ante where bread is concerned.
Dipping it in some olive oil with freshly cracked pepper is a great way to enjoy it or simply spreading some homemade Spiced Cranberry Pear Jam on a crusty piece of sourdough makes plain ol' bread something extra special with barely any effort at all.
Bread gets taken to an epic level with you layer it with turkey, ham and swiss then pair it with sweet jam in my Monte Cristo Bread Recipe. Even day old bread can have new life breathed into it once you toss it with bananas, flaked coconut then pour an egg batter over it.
Pop that in the oven and create this Coconut Banana Bread Pudding Recipe. Any number of ingredients can be transformed into a creative bread pudding recipe!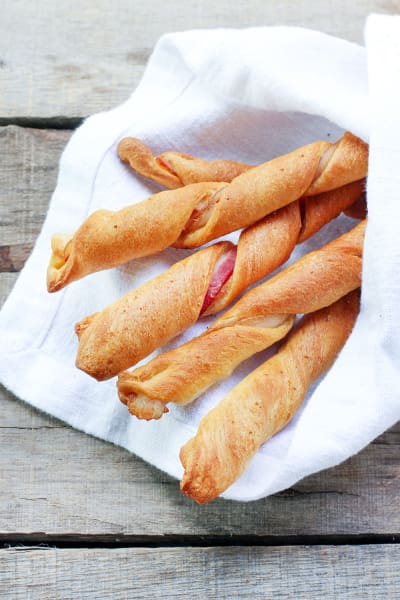 Then there's bacon and they say the bacon makes everything better. I don't doubt that to be true. When paired with bread like in these Bacon Twist Breadsticks, bacon does indeed make it even better.
Here I made a fresh batch of pizza dough and wrapped bacon around each strip of dough. Once baked the dough becomes golden brown while the bacon becomes crisp and smoky.
No time to wait around for dough to rise and looking for a quick option? Buy a ball of premade dough from the grocery or your corner pizzeria.
These breadsticks are great alongside a bowl of spicy chilly or served all by themselves as an appetizer on game day.
No matter when you decided to enjoy this Bacon Twist Breadsticks recipe, I have no doubt you'll agree they're super tasty.
Ingredients
1 1/2 cups Warm Water, 105 to 110°F
2 teaspoons Active Dry Yeast
4 cups All-Purpose Flour
1 teaspoon Salt
2 tablespoons Olive Oil
16 thin slices Bacon
Directions
Sprinkle the yeast over the warm water. Let stand for 5 minutes. In the bowl of a stand mixer fitted with a dough hook, add the flour and salt. Add the yeast mixture to the flour mixture.
Mix on low speed to combine then increase speed and knead for 10 minutes.  If the dough is too dry, add a tablespoon of water at a time until the dough is smooth and not very sticky. If the dough is too moist, add more flour 1 tablespoon at a time.
Coat a large mixing bowl lightly with oil. Place the dough in the bowl and turn to coat the dough. Cover the bowl tightly with plastic wrap and let rise in a warm, draft free place for 1 1/2 hours or until the dough has doubled in size. Unwrap the bowl, and punch down the dough. Then cover it once again and allow to rise for 1 hour longer.
Preheat oven to 400°F. Place a metal cooling rack on a baking sheet. Repeat with another rack and baking sheet. Set aside.
Punch down the dough. On a lightly floured work surface form your dough into a rectangle. Cut the dough into 16 lengthwise strips.
Working with one piece of dough, wrap a slice of bacon around the dough in a spiral. Place breadstick on the wire rack. Repeat with remaining dough and bacon.
Bake in preheated oven for 30 minutes, or until bacon is crispy and dough is golden.
Recommended
Tags: Bread, Baking, Bacon, Snacks, Appetizers, Side Dishes, Baked