Crispy Polenta Dippers
Brie Norris | Toaster Oven Love
Crispy Polenta Dippers are a fuss-free snack you can make sweet or savory. They're perfect for your next game night!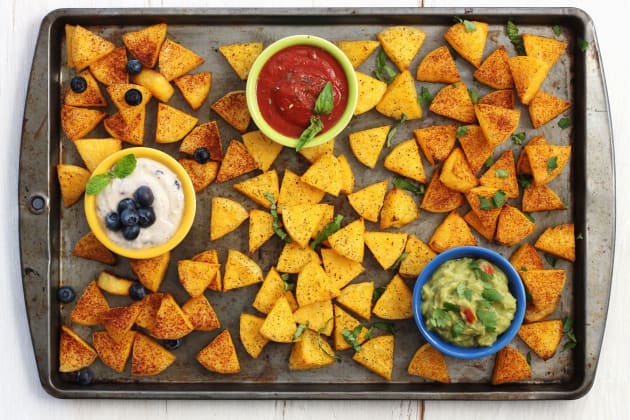 Sometimes homemade is overrated.
When you finally have an afternoon to binge watch Gilmore Girls. Or setting up for an epic game of Monopoly. Or just want to get off your feet and onto that cozy couch.
You're not looking to spend hours of your precious free time in the kitchen.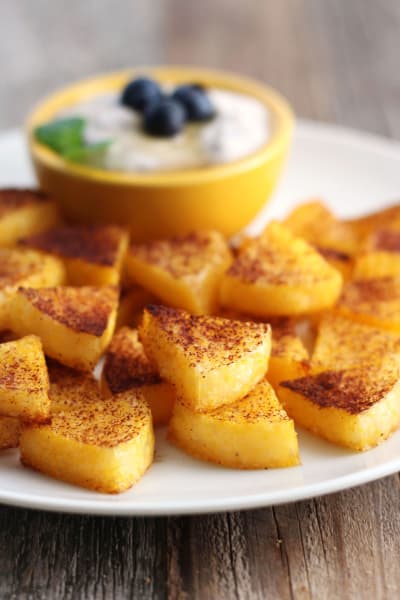 Nope, you want quick and simple like these semi-homemade Crispy Polenta Dippers.
Tiny wedges full of corn-licious flavor that take just 10 minutes of prep time and like these scrumptious Buffalo Broccoli and Cauliflower Bites they're a healthy toaster oven appetizer too.
All you need is a tube of precooked polenta, a little oil and sprinkle of seasonings. If you've never purchased precooked polenta before, it can be found near the pasta at your grocery store.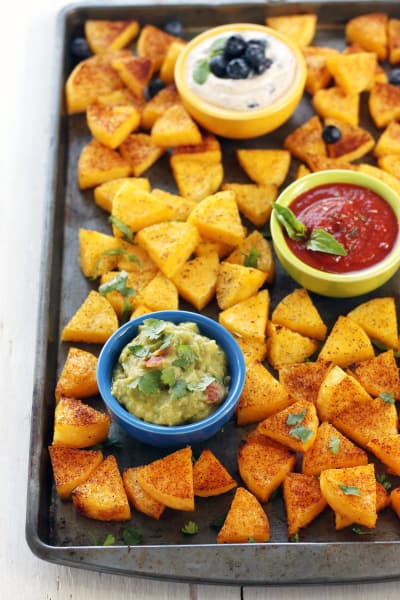 Now you could always make your own polenta…
But that involves hours of cooking and cooling the polenta. All before you can throw together these must-pop-in-your-mouth-right-now Crispy Polenta Dippers.
So, store bought it is!
To make the dippers, slice the polenta into ½-inch rounds, then cut the rounds into triangles.
Arrange them on your toaster oven baking sheet, spray with cooking oil and sprinkle on your favorite seasonings.
Pop the pan in your toaster oven for 10 minutes, remember to reduce the time and temperature when using a convection toaster oven.
To get these little snack bites crispy on the outside but still creamy inside use your toaster oven's secret weapon: The Broiler. In just 3 or 4 minutes, they will be golden, browned on the edges and ready for dipping.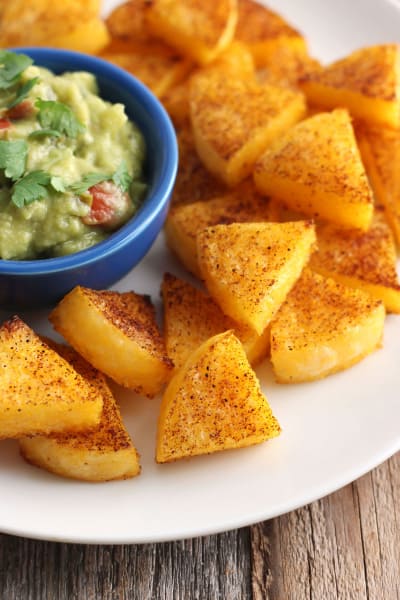 Seasoning and Dip Ideas:
Chipotle Powder + Guacamole
Italian Seasoning + Pizza Sauce
Cinnamon + Blueberry Yogurt
Not sure which combo to try first?
The Italian seasoning and pizza sauce was the big winner in our house. My husband finished his and started stealing from my plate!
While this recipe won't help you snag Park Place or Boardwalk, it will get you out of the kitchen quickly and back in the game. 
Ingredients
1/2 18-ounce package Precooked Polenta
Cooking Spray
1/2-1 teaspoon Seasoning of Choice, such as Italian Seasoning, Chipotle Powder, Taco Seasoning or Ground Cinnamon
1/3 cup Pizza Sauce, or other dipping sauce of choice, such as Marinara Sauce, Guacamole, Blueberry Yogurt
Directions
Adjust toaster oven rack to the middle position and preheat to 450°F on the Bake setting.
Lightly spray a baking sheet with cooking oil.
Slice polenta into 1/2-inch rounds. Slice each round into 4 or 6 triangles.
Place triangles onto prepared baking sheet. Lightly spray with cooking oil and sprinkle with seasoning of choice.
Bake for 10 minutes until polenta is dry to the touch.
Adjust rack to the highest position and switch the toaster oven to broil. Broil for 2-4 minutes until the triangles are crispy and browned.
Serve warm with your favorite dipping sauce.
Notes
Convection Toaster Ovens: Reduce temperature to 425 and bake 7 to 9 minutes before broiling.
The recipe calls for half a tube of polenta. You can store unused polenta refrigerated in a sealed container for up to 5 days.
Recommended
Tags: Toaster Oven Cooking, Snacks, Family Meals and Snacks, Easy, Appetizers, Corn