Baked Vegetable Manchurian
Urvashee Patel | Dessarts
Baked vegetable Manchurian is traditionally deep fried. Urvashee makes it lighter by baking, but just as tasty!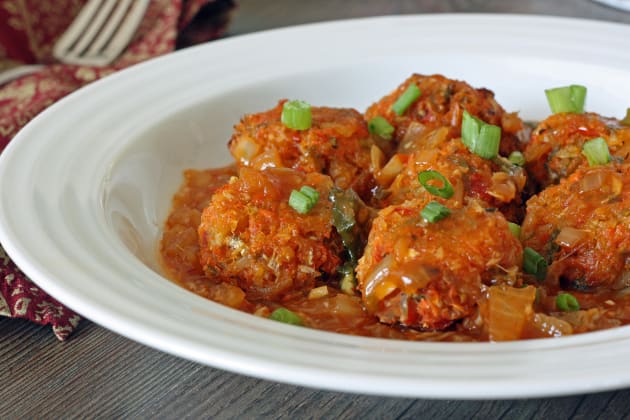 There's something about Indo-Chinese dishes that are so deeply satisfying. To me, it's better than any Chinese takeout. It must be the Indian in me.
It has all the depth of Indian cooking with all the Chinese flavors. I especially can't get enough of this Vegetable Manchurian dish.
Vegetable Manchurian is traditionally made with a finely minced mixture of vegetables that are formed into balls which are then deep fried. The balls are then served with a sweet and sour spicy sauce that is just bursting with intense flavors.
I was first introduced to Indo-Chinese foods at Indian weddings. It seemed to be a popular choice from catering menus, especially as appetizers during cocktail hour.
I enjoyed it so much I tried to make it at home. It actually turned out really good and was fairly easy. There were only two things annoying about making it.
First, chopping up the veggies is time consuming. Second, I hate frying. That was about ten years ago. I have not made it since then.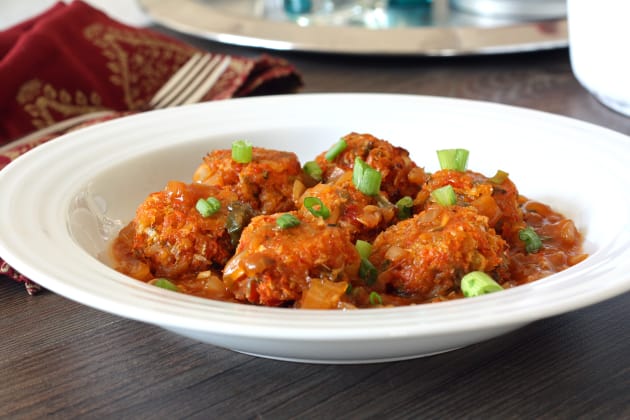 Yeah, I'm the last person that enjoys deep frying anything. It's more work. You have to stand over a hot stove for longer. Oh and then you're left with a big bowl of oil that you have to dispose of.
Well, if you are anything like me, you will be happy to know that baking these in the oven works just as well.
I decided there was no way to avoid the chopping. Although, if you have a food processor it does go a lot faster. Once the veggies are chopped, the rest of it is a breeze.
I know the long list of ingredients looks scary but they are totally necessary. It just wouldn't be the same without all the flavors. Trust me!
So what are you waiting for? Love Indian food and love Chinese food? Then it's time to try out some Indo-Chinese.
Serve your Vegetable Manchurian as an appetizer on skewers or as a main dish over noodles or rice. 
Ingredients
For the Dumplings:
2 cups Cabbage
1 1/2 cups Finely Grated Carrots
1/2 cup Red Bell Pepper, or Green Bell Pepper, finely chopped
1/2 cup Green Beans, finely chopped
1 teaspoon Salt, For the Dumplings
2 tablespoons Thinly Sliced Scallions
1/2 teaspoon Green Chiles, chopped (optional)
1/4 teaspoon Black Pepper
2 tablespoons Corn Flour
2 tablespoons Grated Fresh Ginger
2 tablespoons Soy Sauce
1 tablespoon Fresh Hot Chili Paste
1 1/2 cups Cooked Rice
5 tablespoons All-Purpose Flour
Olive Oil, for brushing
For the Sauce:
2 tablespoons Sesame Oil
3/4 cup Onion, diced
1 tablespoon Grated Fresh Ginger
4 tablespoons Soy Sauce
2 teaspoons Fresh Hot Chili Paste
1 tablespoon Sweet and Sour Sauce
2 tablespoons Thinly Sliced Scallions
1/2 tablespoon Corn Flour, dissolved in cold water
Notes
Be very careful with adding any extra salt. Soy sauce, chili paste, and sweet and sour sauce are already salty.
Recommended
Tags: Vegetarian, Vegetables, Asian, Indian, Baked, Appetizers, Snacks, Sauces, Spicy, Carrots, Peppers, Cabbage, Green Beans