Japanese Sweet Potato with Honey Butter
Lisa Grant | Jersey Girl Cooks
Japanese sweet potato roasted and served with sweet honey butter. Could there be a better side dish for poultry, beef or pork?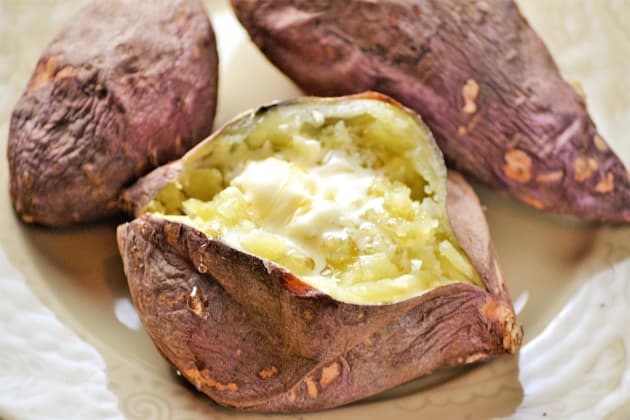 The holidays are just about over and I have had my share of sweet potato casseroles. Everyone loves the sugary goodness and fluffy marshmallows topping the velvety potatoes but now I am looking for a more simple potato that goes with some roasted chicken or pan seared flank steak. A roasted Japanese sweet potato with a pat of honey butter surely fits the bill.
Japanese sweet potatoes have a reddish purple skin and a pale yellow flesh. They are a bit starchier and drier than their orange sweet potato cousin. I would describe their flesh as having almost a chestnut like texture. Like any other type of sweet potato, they are loaded with nutrients and antioxidants.
Believe it or not, you'll get the most out of all the good nutrients if you eat your sweet potato with some fat. This helps absorb the fat-soluble vitamins. Who doesn't want a pat of butter on their potato? Since this Japanese sweet potato is not as sweet as it's orange cousin, I thought some honey butter would be the perfect topping.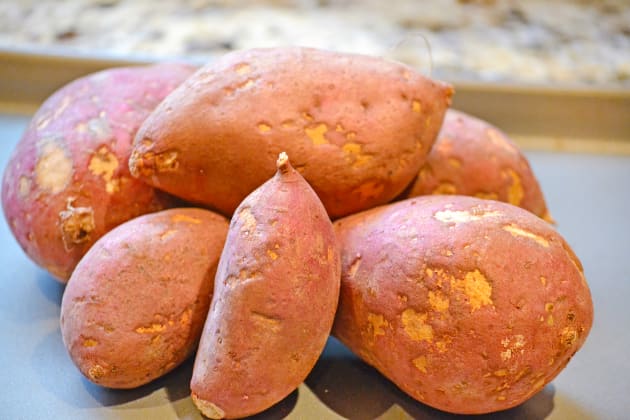 These sweet potatoes are roasted just like any other sweet potato. I like to roast them at high heat and prefer mine well done so it is creamy on the inside and the skin is slightly crispy. Not everyone enjoys the skin but I make sure I always eat mine. I like the texture contrast from the flesh of the potato and would not want to miss out on any nutrients. I roast my potatoes in a 400 degree oven for 50 minutes. However if you are cooking something else at a lower temperature, sweet potatoes are very forgiving and you can roast them a little longer at a lower temperature.
The next time you want a potato side dish, try the Japanese sweet potato. If you really want to dress it up, you can even add make your own cinnamon butter. Or just a pat of plain butter works too. You will not be disappointed.
Ingredients
4 Japanese Sweet Potatoes, Medium to large in size
1/4 cup Butter, Softened
1 1/2 tablespoons Honey
Directions
Preheat oven to 400°F. Rinse and scrub sweet potatoes. Prick holes in the sweet potatoes with a fork and place on a baking sheet.
Bake for about 50 minutes or until sweet potatoes are tender.
While potatoes are baking, mix together butter and honey in a small bowl.
Serve the sweet potatoes split open and with a pat of the honey butter on each. 
Recommended
Tags: Side Dishes, Roasted, Potatoes, Easy, Japanese Cuisine, Butter