Peach Amaretto Crumbles
Erin D. | Texanerin Baking
Peach Amaretto crumbles make the most of the peaches you stashed in your freezer at the beginning of the season. Paired with that sweet liqueur, they're completely irresistible.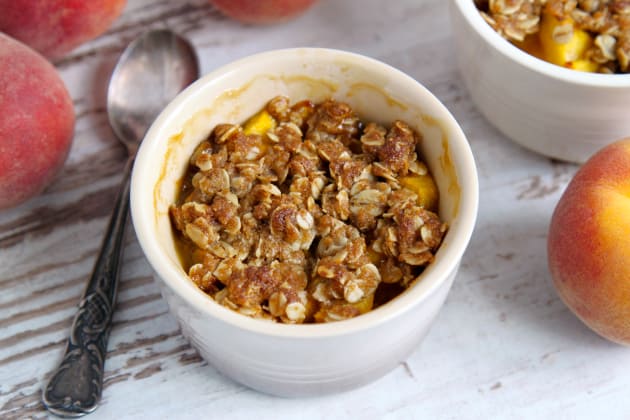 My favorite thing about summer is the fruit. I try to eat healthfully, but being as potatoes are the only vegetables I like, it makes things hard. Fruit, though, I absolutely love!
Whenever it's on sale, I always buy too much and am practically forced to bake or make jam, like this honey sweetened spiced peach jam, so that nothing goes to waste.
Crisps and crumbles are my favorite way to use up fruit that's ripening quicker than I can eat it. This gluten-free strawberry rhubarb crumble, for example, uses four cups of fruit. I love to bring it to get-togethers where I'll have some help eating it up!
One thing I don't like about fruit desserts is the leftovers. There are only two of us, so if I make a 9x13 pan of dessert, it takes us days to eat all the leftovers. And eating the same dessert day after day gets boring after a while.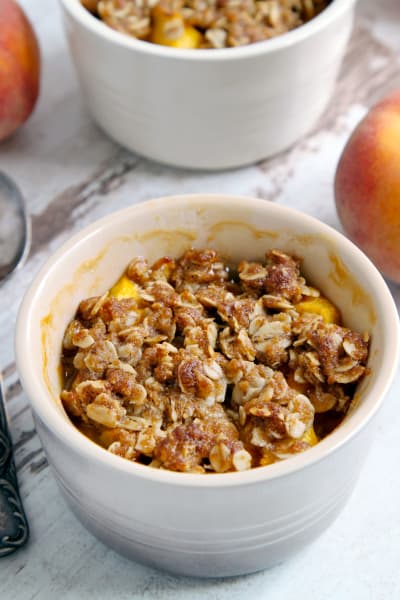 So in today's peach amaretto crumble recipe, you only get two servings. One for you and one for your spouse, friend or for you to enjoy tomorrow!
I have a bottle of amaretto that I use specifically for stone fruit desserts. I just love apricots, peaches, and cherries together with amaretto like in this New York cheesecake recipe with peaches and amaretto. It's such a wonderful combination.
If you don't have or want to use amaretto, you can use water or water and more vanilla in its place. Or another type of alcohol would work! I'm thinking whiskey would be great, like in this bourbon peach gallette.
Perhaps this is obvious to everyone else, but be sure to use peaches that actually taste good. The first time I made these peach crumbles, I thought I could get away with using some terrible peaches that never ripened and were just tasteless. The result was awful. Even the amaretto and sugar couldn't save those peaches!
As long as you use decent tasting fruit, you really can't go wrong with this recipe!
Ingredients
2 tablespoons Oat Flour, Use certified GF oat flour, if necessary, 12 grams
3 tablespoons Rolled Oats, Use certified GF rolled oats, if necessary, 16 grams
1 1/2 tablespoons Coconut Sugar, Or brown sugar, 17 grams
pinch of Salt
1 1/2 tablespoons Unsalted Butter, Melted, 21 grams
For the Filling:
2 tablespoons Amaretto
1 tablespoon Honey, 20 grams
1/4 teaspoon Pure Vanilla Extract
pinch of Salt
1/2 tablespoon Cornstarch
1 1/2 cups Chopped and Peeled Peaches, 270 grams
Directions
Preheat the oven to 350 °F (175 °C) and grease 2 one-cup ramekins.
Mix all the topping ingredients together in a small bowl and set aside.
In a medium mixing bowl, mix together the first five filling ingredients. Add the peaches and mix until the peaches are well coated in the mixture.
Divide the peach mixture evenly between the 2 ramekins and distribute the topping evenly over the peaches.
Place the crumbles on a baking sheet (to catch any unlikely spills) and bake for 25-30 minutes or until the topping is firm and the peaches are bubbly around the edges. Let cool for 10 minutes and serve warm,
room temperature, or cold. If you have any left over, cover and refrigerate for up to 3 days.
Recommended
Tags: Gluten Free Baking, Gluten Free Desserts, Gluten Free, Baking, Baked, Peaches, Boozy Desserts, Easy, Party Food, Desserts, Oatmeal, Cooking for Couples