Fall Panzanella Salad
Nora Rušev | Savory Nothings
This fall Panzanella salad is here to save your day. Lose the guilt from all those hearty comfort foods you've been eating, and dig in!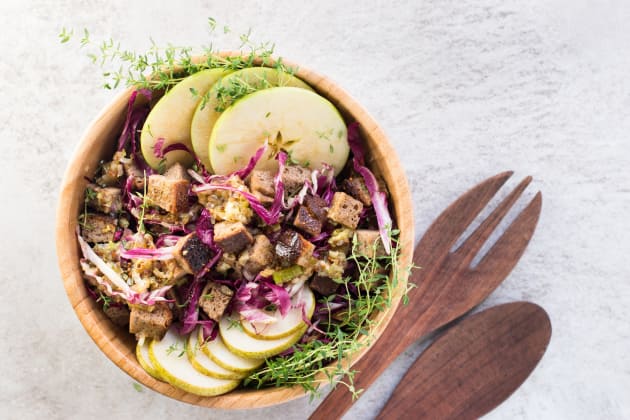 I mean, I can't deny it. I love all the cozy foods of autumn.
The pumpkin bread. The cinnamon rolls. And my absolute fave - apple fritters!
OK, so basically any sweet bakery goodies that pair well with cinnamon. Don't judge. Sometimes I'm just a very basic mama.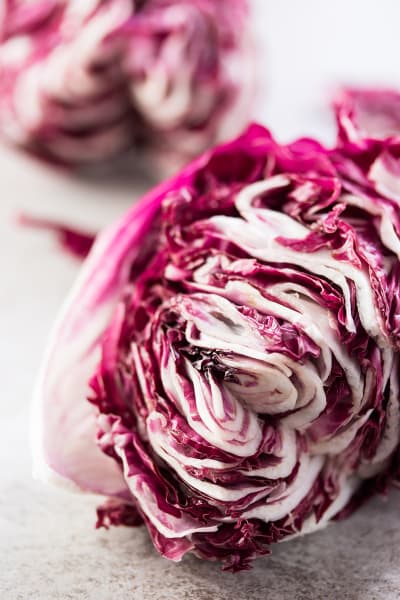 But without fail, every year I eventually start craving fresh, raw vegetables. Trouble is - there aren't that many options during the colder months. And I can eat only so much shaved fennel before I run away screaming.
Or fall flavored steak salad before we're broke.
Are you feeling the same way? Because then I've got good news today: I've got a wonderful salad recipe for you to try.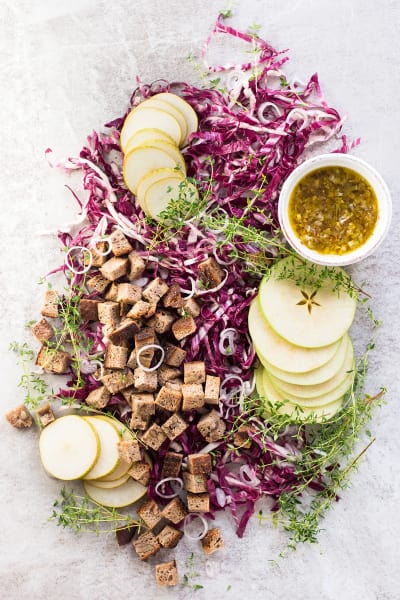 Wonderful because there's so much gorgeous fall produce incorporated. Wonderful because it tastes like a golden autumn day. Wonderful because it won't financially ruin you, even if you decide to eat it every day for an entire week.
Also wonderful because it works as an easy weekday lunch option just as well as it does as a fancy Thanksgiving side dish.
A few suggestions to customize this Fall Panzanella Salad to your heart's desire: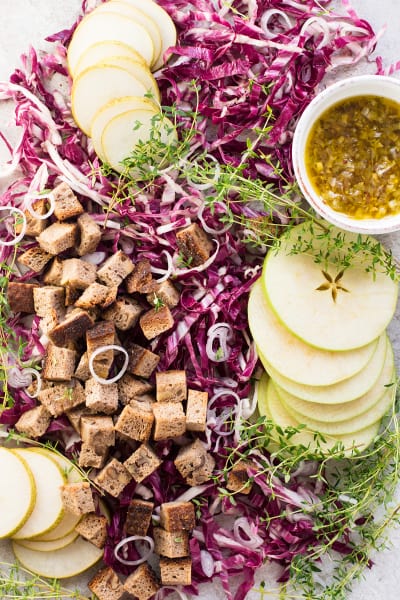 If you're serving it as a more fancy part of a dinner party or holiday gathering: Slice the apple and pears into rounds, just as you can see in the photos. Arrange the salad ingredients either on a large platter or on individual plates and pass a double batch of the dressing at the table. This makes for a more crunchy salad.
If you're serving it to a crowd: Cube the fruit instead of slicing it. Mix all the prepared salad ingredients in a large bowl. For a crunchier salad, dress just before serving. For a softer and more mellow salad, allow the dressing to soak into the bread and soften the radicchio for up to a few hours in the refrigerator.
If you want to have it as a to-go lunch: Prepare everything but the fruit in the evening. (You can cut down the salad quantities if needed and eat the leftover fruit as a snack.) In the morning, cut the fruit into cubes and assemble the salad. Add the dressing immediately if you want a soaked salad or take the dressing separately for a crunchier salad.
If you want to bulk it up: Add your favorite protein or cheese to the salad. Some ideas that work well: chickpeas (to keep things vegan!), grilled chicken or Parmesan shavings.
If you want to bulk it down: (Yeah, bulking down is the correct term, didn't you know?) Only use half the bread called for in the recipe and use half the amount of olive oil and vinegar for the dressing.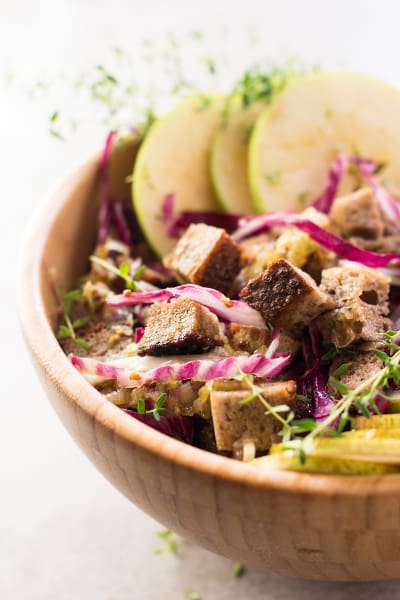 Can you tell how much I love recipes with customization options?
If you love them just as much, may I suggest you bookmark/pin/print/screenshot this recipe? Look, customizations again! I'm on a roll here.
And then proceed to eat nothing else until you feel like running away screaming. 
Ingredients
For the Dressing:
6 tablespoons Olive Oil
1 large Shallot, Chopped
1 small Leek, White part only, chopped
4 tablespoons White Wine Vinegar, Like white balsamic
1 tablespoon Whole Grain Mustard, Like Dijon
2 teaspoons Pure Maple Syrup
salt and pepper, To taste
For the Salad:
4 thick slices Rye Bread, bonus points if there's walnuts in there
1 large Pear, Either sliced or diced, firm
1 large Green Apple, Either sliced or diced
1 head Radicchio, Small to medium, sliced very thinly, about 3 cups
1 large Shallot, Sliced
2-3 sprigs Fresh Thyme, Leaves only
Directions
Make the Dressing:
Heat one tablespoon olive oil in a medium skillet over medium heat. Add the shallot and leek and cook until softened, about 2-3 minutes. Allow to cool down slightly, then whisk together with all the remaining dressing ingredients. Set aside.
Make the Salad:
Toast the bread slices (I simply do this in my toaster), then cut into cubes.
To assemble the salad, toss all salad ingredients in a large bowl. Alternatively, arrange the ingredients on a large platter or on individual plates. Either dress the salad just before serving (for a crunchier texture), or allow to dressing to soak into the bread for up to a few hours (this will make for a less crunchy salad).
Recommended
Tags: Farm to Table, Salads, Vegetables, Easy, Easy Dinners, Dressings, Apples, Pears, Sauteed, Toasted, Fall, Vegan, Vegetarian