No Knead Dinner Rolls
Kate Donahue | Food Babbles
No knead dinner rolls make having bread with dinner a cinch! Fluffy with a crisp outside, all you need is a pat of butter for perfection.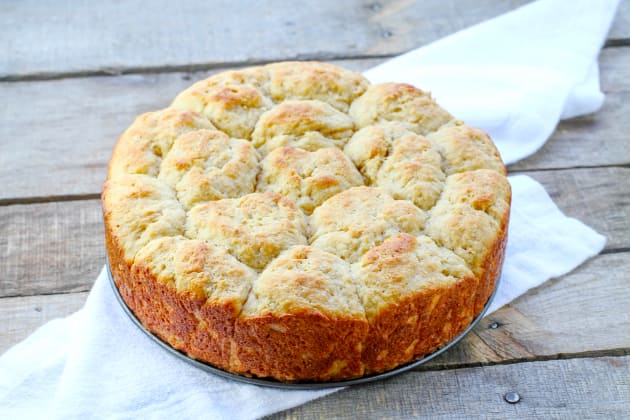 I live with a bunch of bread fanatics. My family would eat bread as a meal if I would let them. They love it at every meal. They enjoy all types of bread. My husband could easily eat a whole batch of Maple Bacon Skillet Cornbread all by himself. Not that I would blame him. It's sweet, savory, smoky and quite irresistible.
Buttery Skillet Focaccia topped with herbs and a touch of parmesan is a family favorite. I like it because I can make it in only an hour. It doesn't get much easier than that. One hour for freshly baked bread is pretty outstanding and making these No Knead Dinner Rolls are a close second.
They won't be done in one hour but these easy to make, no knead rolls are a breeze to throw together and you'll put forth very little effort while getting amazing dinner rolls.
Some days I want to make bread for dinner yet I think of all the effort of kneading the bread, waiting for it to rise, kneading it some more, waiting again and I just lose my desire for bread at all. Now, this No Knead Dinner Rolls recipe still takes some time to make but it's almost all hands-off time, leaving you free to do whatever you want in the meantime.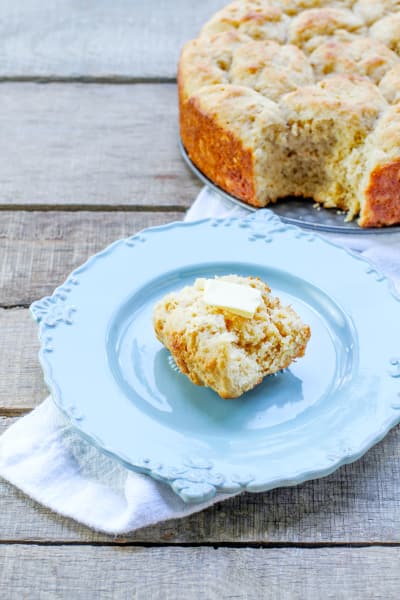 Simply stir together 6 ingredients, all of which you most likely have in your pantry already. That's pretty much it. Notice I said stir? That's all your doing. No endless kneading for 10 minutes.
Just grab a wooden spoon and stir it all together in one bowl until everything is evenly moistened and combined then walk away. Let the yeast do it's thing, form the dough into balls and boom. Done.
Into the oven they go, bake 'em up and you've got rolls to go with dinner any time you want and you hardly had to even lift a finger. Crisp outside and fluffy inside, these rolls are perfect any time.
Ingredients
2 cups Whole Milk
1/2 cup Sugar
1/2 cup Vegetable Oil
4 1/2 cups All-Purpose Flour
2 1/4 teaspoons Active Dry Yeast, I prefer Red Star Yeast Platinum
1 teaspoon Salt
4 tablespoons Butter, Divided
Directions
In a medium sauce pan, whisk together milk and sugar. Heat over medium heat until steam rises off the top and just lukewarm. Remove from heat.
In a large bowl, whisk together flour, yeast and salt. Add warm milk mixture. Stir together until well combined and all the flour is moistened. Cover with plastic wrap and set at warm room temperature to rise until doubled in size, about 60-90 minutes.
Butter the bottom and sides of a 10-inch springform pan with about 2 tablespoons butter. Form the dough into 12 even balls and arrange in the springform pan. Cover with plastic wrap and again set at warm room temperature to rise for 60-90 minutes until nicely puffed up.
Preheat oven to 400 degrees. Melt remaining 2 tablespoons butter and brush tops of rolls with melted butter. Bake in preheated oven for 18-20 minutes, until golden brown and cooked through.
Remove from oven and cool on wire rack.
Recommended
Tags: Bread, Baking, Baked, Side Dishes, Easy