Pretzel Rolls: Actually Coming to Subway?!?
Matt R. Updated
Subway may be making a major addition to its menu. Might you soo be able to order a sandwich on a pretzel roll?
Are you still processing the fact that Rose Gummy Bears are now an actual food item you can rush our and purchase?
If so, hurry up and try to get over it.
Because we're about to blow your mind once again.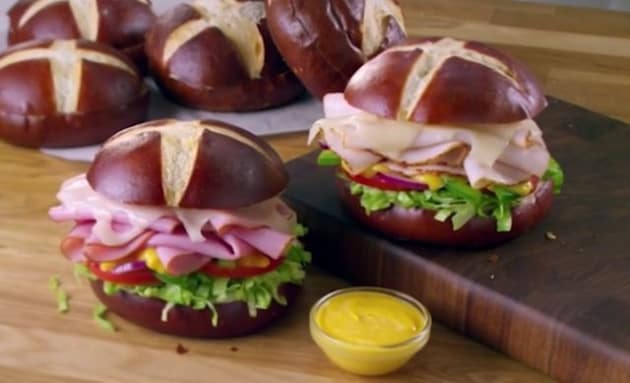 Subway may soon add pretzel buns to their bread selections across the country.
To dateo far, these items have only been spotted at locations in Pennsylvania, Brand Eating reports, with a local mustard brand, Herlocher's, on offer as well.
The shape of these bread types is a major departure from the signature oblong footlong bread for which the chain is known.
Morever, the sandwiches contain 50% percent more meat when compared to Subway's standard six-inch sub.
More pretzel flavor AND more meat? Sign us up, Subway!
Ingredients
1 cup Water, 110-120°F
6 cups Boiling Water, room temperature
1 tablespoon Active Dry Yeast
1 1/2 cups Whole Wheat Flour
1 1/2 cups All-Purpose Flour
3 tablespoons Vital Wheat Gluten
1 teaspoon Kosher Salt, plus 1 tablespoon, divided
2 tablespoons Unsalted Butter, melted
2 tablespoons Honey
3 tablespoons Baking Soda
For the Egg Wash:
1 Large Egg Yolk
1 tablespoon Boiling Water
Directions
In a measuring cup, add warm water and sprinkle with yeast. Let sit until foamy, about 5 minutes.
In the bowl of a standing mixer fitted with the paddle attachment or a large mixing bowl, stir together the whole wheat flour, all purpose flour, vital wheat gluten, and 1 teaspoon salt.
Add yeast-water mixture, butter, and honey and mix on low speed, adding additional flour 1 tablespoon at a time as needed, so that the mixture forms a soft ball.
Switch to a dough hook (if kneading by hand, turn dough out onto a lightly floured surface). Knead until dough is smooth and elastic, about 8 minutes by machine or 10 minutes by hand. Divide into 8 (3 ounce) sections and shape each into a tight ball. To form the balls, stretch the dough with both hands while tucking the sides under so that you create surface tension across the top, then pinch at the bottom of the ball to seal.
Form 8 tight balls, then place on a baking sheet lined with parchment paper.
Cover with plastic wrap that is lightly misted with cooking spray or a clean kitchen towel and let rolls rise in a warm, draft-free place until nearly doubled in size, 45 - 60 minutes.
Place rack in the center of the oven and preheat to 375°F. Prepare the egg wash by beating together the egg yolk and 1 tablespoon water in a small bowl. Set aside.
In a wide pan with straight sides, bring 6 cups water and baking soda to a simmer.
Place 4 rolls in the water and let simmer 1 minute, then flip and simmer the other sides for 1 minute more.
Gently remove rolls with a slotted spoon and return to baking sheet. Repeat with remaining rolls.
Brush tops and sides of rolls with egg wash and sprinkle with 1 tablespoon kosher salt.
With a sharp, serrated knife, cut a 1/2-inch deep cross-section on the top of each roll.
Bake until deep golden brown, about 20-24 minutes.
Notes
All-purpose or Bread Flour may be substituted for Whole Wheat Flour.
Bread Flour may be substituted for All-Purpose Flour.
If using any bread flour at all, omit vital wheat gluten.
Recommended
At the moment, there are two varieties of Artisan Pretzel Roll Sandwiches being offered:
TheHam Pretzel Melt and the Turkey Pretzel Melt. As is always the, you can pick your choice of cheese and veggies to go along with these sandwiches.
We don't think the offerings are gluten-free.
But those looking to make gluten-free pretzel bread need only to click below:
Ingredients
For the Dough:
1 cup Milk
2 tablespoons Butter
2 tablespoons Brown Sugar
1 package Rapid Rise Yeast
2 teaspoons Salt
3 cups All-Purpose Gluten Free Flour
Boiling Solution:
3 quarts Boiling Water
3/4 cup Baking Soda
Egg Wash:
2 Eggs
1 teaspoon Boiling Water
Sandwich Toppings of your Choice:
Cold Cuts
Cheese
Tomato
Pickles
Dressing
Directions
Begin by heating the milk and butter until the butter begins to melt.
Combine the milk and butter mixture with the yeast and brown sugar in the bowl of a stand mixer.
Add in the salt and 2 cups of flour, beating for 3 minutes.
Knead the dough on a floured surface until smooth, typically about 8 minutes.
Place it in a greased bowl and cover for 1 hour.
Preheat the oven to 400°F.
Warm up the boiling solution until it gets to a rolling boil.
Punch the dough down and divide into 4 equal pieces.
Roll these into balls to make the rolls.
Place each roll in the solution for 2 minutes turning after 1 minute.
Remove the rolls with a slotted spoon and place on a greased baking sheet.
Continue this process for remaining rolls.
Beat the eggs and mix with the water to create the egg solution.
Cut a cross top in each roll.
Brush the egg wash or drizzle it onto each roll.
Bake for 15 minutes, then reduce to 350°F for an additional 12 minutes, until evenly browned.
Let cool, then slice and build sandwiches.
Recommended
Are you tired of the dinner routine?
Stuck in a rut or looking for fun new recipes to try?
Our Facebook Group is growing every day! If you haven't joined yet, we invite you to come check it out and join the fun.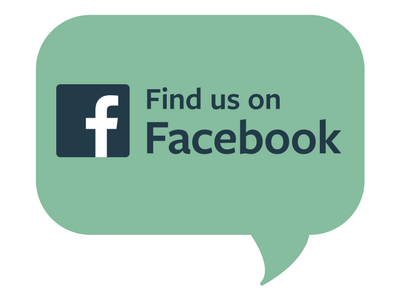 You can ask for recipe ideas, talk about cooking techniques, or get help figuring out the right new pan set for you. If you've already joined, invite a friend along!

Tags: News