Pan Fried Beef Tacos
Dan George | Mantitlement
Pan fried beef tacos are cheesy, beefy, and oh so good! This easy recipe will change the way you make tacos forever.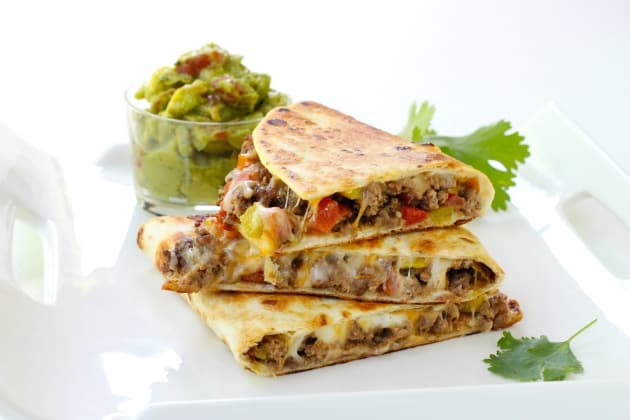 Once you try these Pan Fried Beef Tacos you might never make them the same way again!
Pan fry a taco? For what reason? Well, I asked the same thing when Christie asked me if I wanted to try out something different for taco night.
It seemed to me that it was just like a quesadilla if you make them this way – but I was proven wrong.
It's not.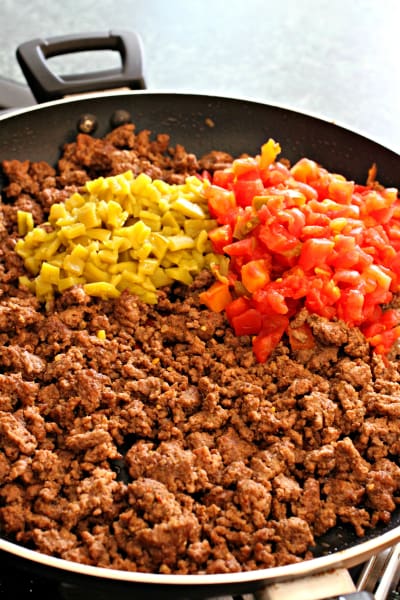 When we make quesadillas it's definitely mostly cheese. We've made Chicken Enchilada Quesadillas or Sausage and Peppers Quesadillas, but it's all about the cheese.
But for these Pan Fried Beef Tacos, the starring role goes to the beef.
So it's basically the tastiest beef taco with a crispy shell. And the best part about making a pan fried taco?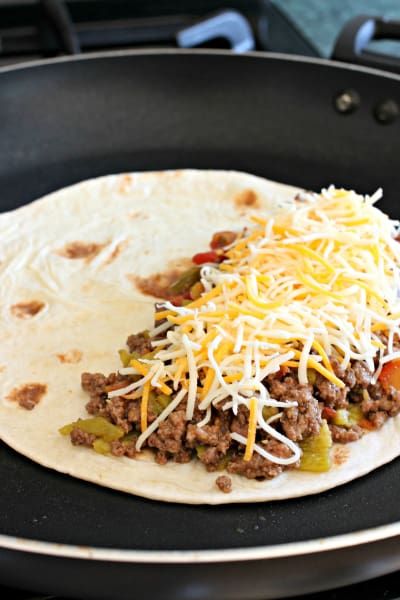 They don't fall apart when you eat them.
That for me is a win win. I swear when the boys eat tacos half of what they are eating ends up on the plate and not in their mouths.
Not with these tacos, just pick up and eat. Everything stays in place.
The beef filling comes together really easily, just brown the beef, add some diced tomatoes and mild green chilies and a few seasonings.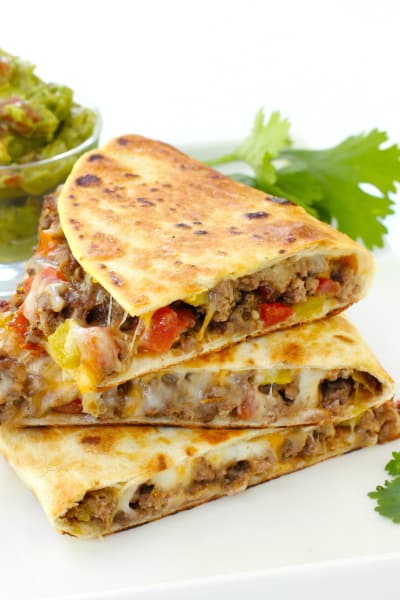 Get the filling into a bowl and carefully wipe out the skillet with a few paper towels – this is the same pan you'll be using to make your tacos.
Lay a tortilla down in the pan and add some of the beef filling to one side of the tortilla, then top that with some cheese.
Cook the taco open for a minute so that the "top" side of the tortilla browns a bit, then fold the tortilla in half and press down with a spatula.
Cook for a couple minutes and then flip the taco over to make sure the other side gets browned and crispy.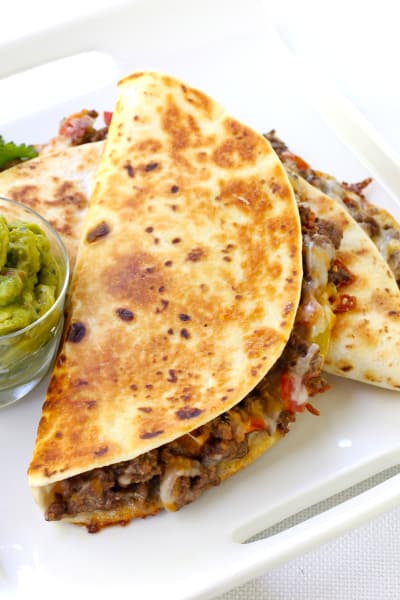 You can take this recipe and mix it up too, use chicken or ground pork or even shrimp. You can bust out whatever filling your family will love, make different fillings and have a taco party! You can even try making tacos for dessert like these Chocolate Tacos or a Banana Split Taco… now that's a party.
Serve these up to your friends and family on taco night and see how much they love them!
Ingredients
1 tablespoon Olive Oil, Or canola oil
1 1/2 pounds Ground Beef
1 10 ounce can Chunky Diced Tomatoes and Green Chiles
1 4 ounce can Diced Green Chiles
1 1/2 teaspoons Salt
1/2 teaspoon Ground Black Pepper
1 teaspoon Cumin
1/2 teaspoon Garlic Powder
6 8-Inch Flour Tortillas
3 cups Mexican Style Shredded Cheese
Directions
Preheat the oven to 200°F. (This is just to keep your tacos warm while you're making them, or if you need to make them ahead of time you can keep them on warm for up to 30 minutes)
Start by heating up a large skillet with the oil over medium heat.
Add the beef and brown while breaking up with a spoon until completely cooked through.
Next add in the diced tomatoes, green chilies, salt, pepper, cumin and garlic powder. Stir to combine the filling and transfer to a large bowl.
Wipe out the skillet and spray with cooking spray.
Place one tortilla in the skillet and top with 3/4 cup of the beef filling and a half a cup of cheese. Let cook open for 1 minute, then fold over and press down on the taco with a spatula so it seals closed.
Cook for another 2 minutes then flip to the other side for another 2 minutes. Just get them nice and browned on both sides, it only takes about 5 minutes total for each taco.
Transfer to the oven to keep warm and repeat with the remaining tortillas.
Recommended
Tags: Appetizers, Beef, Tacos, Mexican, Tex Mex, Dinners, Fried, Easy Dinners, Family Meals and Snacks