Rocky Road Clusters
Aimee Shugarman | Shugary Sweets
Rocky road clusters combine chocolate, marshmallows, and peanuts for one amazing candy. Cravings, solved!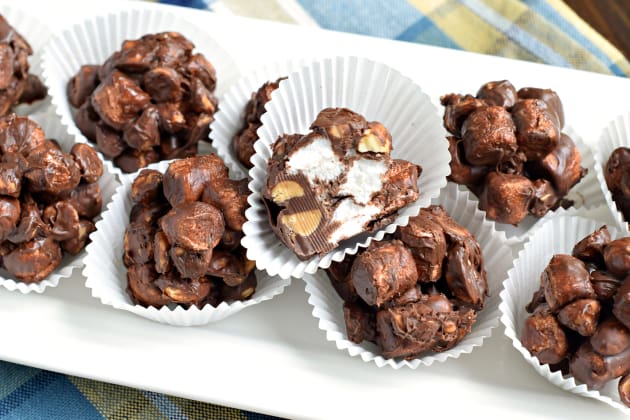 There are two things I'm totally digging right now:
Food that is covered in cheese!
Food that is covered in chocolate!
Both of which are not very friendly to my waistline! But a craving is a craving! And since I haven't yet figured out how to make a fun candy recipe with cheese… we'll talk about food covered in chocolate instead!
A few weeks ago I was looking for an easy treat to make. Something that did NOT require me to turn on the oven.  As I was perusing PINTEREST (do you follow me??) I came upon my own recipe for Rocky Road Fudge. While I absolutely love that easy fudge recipe, I wanted something a little more "fun" and trendy.
That's where today's Rocky Road Clusters got its inspiration!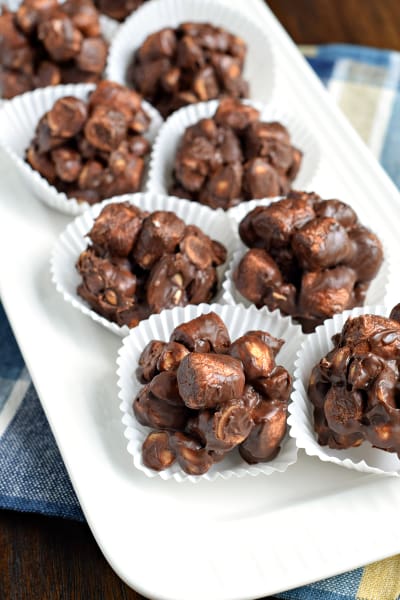 A few notes about today's recipe:
Microwave your chocolate in a glass bowl. I used dark chocolate melting wafers because I didn't want to worry about tempering my chocolate. Plus they taste amazing! Allow chocolate to cool about 5 minutes before adding remaining ingredients.
Instead of using peanut butter (like I do in the fudge recipe) I added a bag of peanut butter chips. By allowing the chocolate to cool slightly, the peanut butter chips didn't melt completely when added into the mixture!
Line 2 baking sheets with parchment paper. You have to work fast once you add the ingredients to the melted chocolate, as the chocolate will begin to firm up fairly quickly. To scoop the mixture, I used a 2-tablespoon scoop and got nearly 4 dozen clusters of candy. Perfect for sharing with family and friends, or at potlucks and bake sales!
You can let these set up at room temperature or pop the baking sheet into your refrigerator for faster set up!
I stored these in the refrigerator to keep them firm (plus they taste really good cold), but if it's not too warm in your house you can store them at room temperature in an airtight container! ENJOY!
Check out some of my other favorite truffle and candy recipes!
Ingredients
12 ounces Dark Chocolate Melting Wafers
2 1/2 cups Miniature Marshmallows
1 10 ounce package Peanut Butter Chips
1 cup Salted Peanuts
Directions
Line 2 large baking sheets with parchment paper. Set aside.
In a microwave safe bowl, melt chocolate wafers for one minute. Stir and heat an additional 30 seconds. Stir until smooth. Allow to cool about 5 minutes.
Fold in marshmallows, peanut butter chips, and peanuts into slightly cooled chocolate. Once all the ingredients are evenly coated, work quickly using a 2-tablespoon cookie scoop to drop spoonfuls onto the parchment paper lined pans.
Allow chocolate to set or refrigerate for speed setting (about 15 minutes). Store in airtight container in refrigerator or at room temperature (if it's not too hot in your house). ENJOY.
Recommended
Tags: Candy, Homemade Candy, Chocolate, Marshmallows, Peanuts, Peanut Butter, Desserts, Melted