Asian Turkey Lettuce Wraps
Lisa Grant | Jersey Girl Cooks
Asian turkey lettuce wraps make a light and quick weeknight dinner. Packed with plenty of flavor, you'll make them all the time!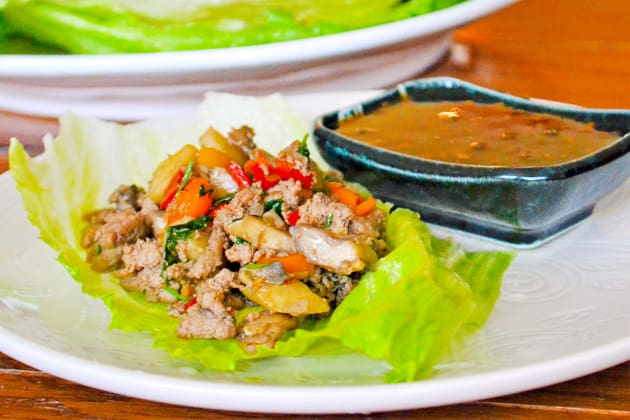 This sweet, spicy and crunchy turkey lettuce wrap is addictive. Once you make them, you will crave them every week!
For years, one of my favorite things to order from my favorite Asian restaurant chain has been chicken lettuce wraps. I love the sweet and spicy sauce, the texture of the chicken, and the crunch you get when you bite into the lettuce. I never considered this an overindulgence because how many calories could chicken, chopped vegetables and lettuce be? But now I decided to create my own lettuce wraps and have them anytime I want at home.
While this is not a copycat recipe, I decided to bulk up the filling with mushrooms, peppers and water chestnuts. I love the crunchiness of the veggies and I don't feel guilty if I eat half the recipe myself. Fortunately, my family would never let that happen anyway, as they want their fair share of the goods.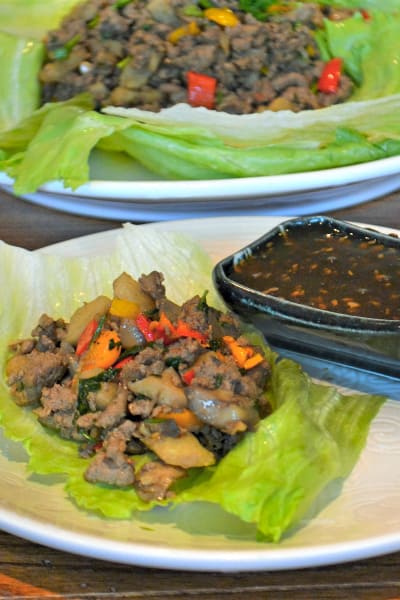 In this recipe, you could use ground chicken or turkey. I prefer turkey, as there are always a few packages in my freezer. I buy whatever lettuce looks good at the market. Bibb lettuce, iceberg lettuce or romaine all work.
This is a nice summer meal that's light and can be made ahead of time. I usually make a big batch of turkey filling then just heat it up when needed. If I'm really feeling ambitious, I make several other Asian dishes to go with it.
This is perfect if guests are coming over. It's fun to have my own Asian buffet without making any take out phone calls.
Ingredients
1 tablespoon Olive Oil
1 pound Lean Ground Turkey
1/2 cup Chopped Red Pepper
1 8 ounce can Water Chestnuts, Rinsed, drained and chopped
2 teaspoons Crushed Garlic
8 ounces Mushrooms, Chopped
1/4 cup Soy Ginger Dressing, Plus extra for serving
1/2 teaspoon Ground Ginger
1 tablespoon Asian Chili Sauce, Plus extra for serving
1 teaspoon Chinese Five-Spice Powder
2 tablespoons Fresh Cilantro, Chopped
18 small Lettuce Leaves
Directions
In a large sauté pan, heat olive oil on medium. Add ground turkey and cook for 10 minutes or until no longer pink.
Add peppers, water chestnuts, garlic, and mushrooms. Sauté for 5 minutes or until vegetables start to wilt.
Add ginger dressing, ground ginger, chili sauce and Chinese five spice powder. Stir well and simmer for 10 minutes. Add cilantro and mix in. Remove pan from heat.
Spoon the turkey mixture into the lettuce leaves. Serve with extra ginger dressing and Asian chili sauce. 
Recommended
Tags: Easy Dinners, Asian, Turkey, Healthy, Healthy Eating, Lettuce, Peppers, Mushrooms, Dressings, Sauteed