Gluten Free Chocolate Almond Muffins
Erin D. | Texanerin Baking
Gluten free chocolate almond muffins might remind you of an Almond Joy candy bar. That you get to eat for breakfast!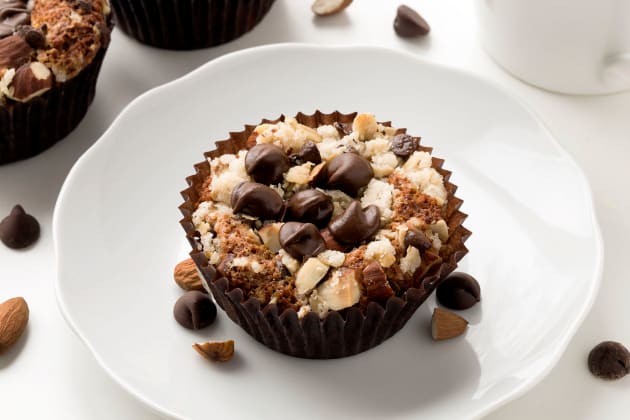 The first time I made these muffins, I made them as cherry almond muffins. But then I realized that chocolate was begging to be involved. They just felt naked without chocolate! Chocolate cherry almond was too many flavors and so today, we have these amazing chocolate almond muffins.
The muffin batter is almond flour based, but you can't actually taste any almond unless you add the almond extract. I've mentioned this before but almond extract makes anything instantly irresistible to me. Add chocolate and it's guaranteed that I'll spend my calorie allowance for the day on chocolate almond baked goods.
Feel the same about chocolate and almond extract? Try these gluten-free chocolate almond oat bars. They're a perfect no-bake treat for when you just can't be bothered to turn on the oven! If you're feeling a little more ambitious, this gluten-free Almond Joy granola is maybe the most addictive thing I've ever made.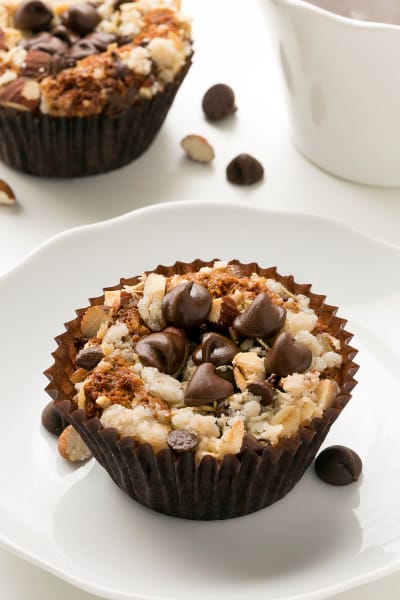 The muffin batter is actually grain-free but I went and added oats and gluten-free flour to the topping. I've tried so many grain-free streusel recipes but none of them have actually turned out to be what I'd considered streusel! When I make streusel, I want it to be gloriously oaty and chunky, like the one in these pumpkin pie streusel bars.
If you want to omit the topping to keep them grain-free, the muffins are still delicious. Some sliced almonds sprinkled on the batter would also be nice! I think full-sized chocolate chips would sink into the batter so if you want to add some on top, do it after the muffins have baked.
Note that if you do add the streusel, it makes the very middle of the muffin sink ever just so little! You can see it quite well in the vertical picture. I dealt with it by tossing some chocolate chips on the top after taking the muffins out of the oven. More melty chocolate is never a bad thing, right?
Ingredients
For the Topping:
6 tablespoons Granulated Sugar, 75 grams
6 tablespoons Rolled Oats, Use certified gluten-free, if neccessary, 45 grams
1/4 cup Gluten Free 1-to-1 Baking Flour, Plus 2 teaspoons
1/2 teaspoon Pure Almond Extract
pinch of Salt
2 tablespoons Coconut Oil, Plus 2 teaspoons, room temperature, 37 grams, should be about as firm as cold butter
1/4 cup Chopped Almonds, 28 grams
For the Muffin Batter:
2 large Eggs, Room temperature
6 tablespoons Honey, 120 grams
4 1/2 tablespoons Coconut Oil, Melted, 65 grams
2 teaspoons Pure Almond Extract
2 1/4 cups Blanched Almond Flour, 225 grams
1 teaspoon Baking Soda
1/4 teaspoon Salt
1/2 cup Semisweet Chocolate Chips, Plus additional to sprinkle over baked muffins, 85 grams
Directions
Preheat the oven to 350°F. Line a 12-cup muffin tin with muffin liners.
Prepare the topping. Mix together the sugar, oats, flour, almond extract and salt. Incorporate the coconut oil with your hands and then add the chopped almonds. Set the bowl aside.
Prepare the muffin batter. In another medium bowl, combine the eggs, honey, melted coconut oil, and almond extract.
Stir in the almond flour, baking soda and salt and stir until well combined. Fold in the chocolate chips.
Fill each of the 12 liners about halfway. Sprinkle the topping over the batter.
Bake for 20 minutes. A toothpick inserted in the middle should come out clean and the tops should be golden brown. Sprinkle some chocolate chips over the top of the muffins, if desired. Let cool for 5 minutes in the pan before removing the muffins to a wire rack to cool completely.
Store in an airtight container for up to 3 days.
Recommended
Tags: Gluten Free Baking, Gluten Free, Breakfasts, Brunches, Snacks, Family Meals and Snacks, Chocolate, Almonds, Muffins, Lunchbox