Gluten Free White Chocolate Cashew Bites
Erin D. | Texanerin Baking
Gluten free white chocolate cashew bites may seem like you're eating cookies, but these little no bake treats are actually pretty good for you. Plus, white chocolate!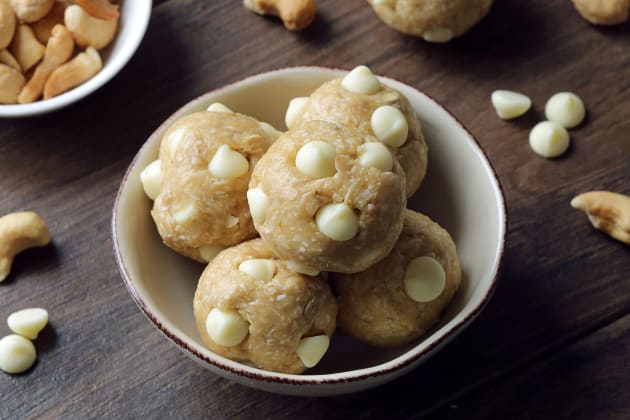 These gluten-free white chocolate cashew bites were originally supposed to be cashew macaroons. I have a thing for macaroons and love their simplicity, like these raspberry coconut oat macaroons. But then I tasted the dough and it was just too delicious to bake. I couldn't do it. 
I honestly have no idea if these can even be baked but I'm pretty sure that they'd be drier and have less of a cashew taste to them. Cashew butter is so expensive so when I use it in baking, I want as much cashew taste as possible!
These cashew bites are one of those recipes for when you're feeling lazy. Like when it's 30 minutes before bed and you just need a little something, but don't feel like getting out the mixer. To make this recipe, you just need a bowl and a spoon. It doesn't get much easier than this! This raw peanut butter cookie dough is another such recipe.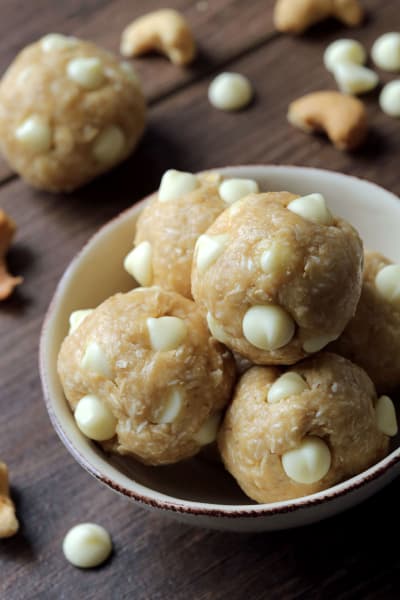 If you don't have cashew butter on hand, or just don't want to buy it because of the price, you can easily make it at home! Just process roasted cashews in a food processor or a high-powered blender until super creamy and smooth.
When using a high-powered blender, the nut butter will be as creamy as store-bought. If you use a food processor, it won't be as smooth, but it's just as delicious! You can use this same method with any kind of nut. There are some differences with different types of nuts, so be sure to look up a recipe first. For example, if making hazelnut butter, I think removing the skins makes for a much more delicious result!
If you have any leftover cashew butter after making these cashew bites, try this paleo pumpkin pie fudge. Or try it in place of the almond butter in these gluten-free chocolate almond oat bars (and omit the almond extract!).
Ingredients
14 tablespoons Natural Cashew Butter, The kind with just nuts and salt, 225 grams
1/4 cup Pure Maple Syrup, 60 milliliters
1/2 teaspoon Pure Vanilla Extract
3/4 cup Unsweetened Coconut Flakes, 63 grams
3/4 cup Rolled Oats, 68 grams
pinch of Salt, Optional, if your cashew butter is unsalted
1/4 cup White Chocolate Chips, 43 grams
Directions
In a medium mixing bowl, stir together the cashew butter, maple syrup and vanilla until well combined.
Add the coconut, rolled oats, salt, and white chocolate chips.
Stir until thoroughly mixed and then roll into 1" balls.
Refrigerate in an airtight container for up to 4 days.
Notes
Make sure all your ingredients are certified gluten-free, if necessary.
Recommended
Tags: Gluten Free, Gluten Free Desserts, Snacks, Cookies, No Bake, Family Meals and Snacks, White Chocolate, Cashews, Nuts