Alfredo Pasta for Two
Christina Lane | Dessert for Two
Alfredo pasta for two is SO simple, you'll never consider a jarred sauce again. It makes just enough for date night!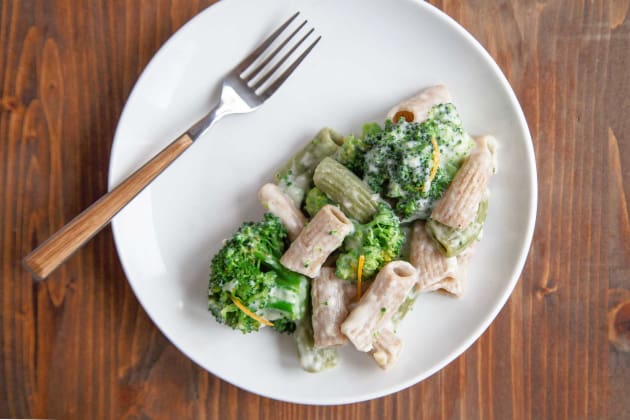 You didn't think I was going to teach you how to make easy Alfredo sauce, and then not give you a recipe or two to slather it on, did you? 
This pasta dish is just the first thing I slathered it on. I bathed fresh pasta (I get these fun bi-color ziti shapes from my local CSA) in the Alfredo sauce and added steamed broccoli to the mix. (I actually added the broccoli right to the pasta pot while it was finishing up the last few minutes of boiling-no extra dishes to wash!) A hit of fresh lemon zest just before serving makes this an easy, yet impressive weeknight meal.
I also smeared the alfredo sauce on a homemade pizza dough and piled so much cheese on top, that it didn't melt in the middle. (Hint: that's a LOT of cheese). I dipped breaded chicken fingers in this sauce, too. It's my new go-to sauce because I always have the ingredients in my fridge!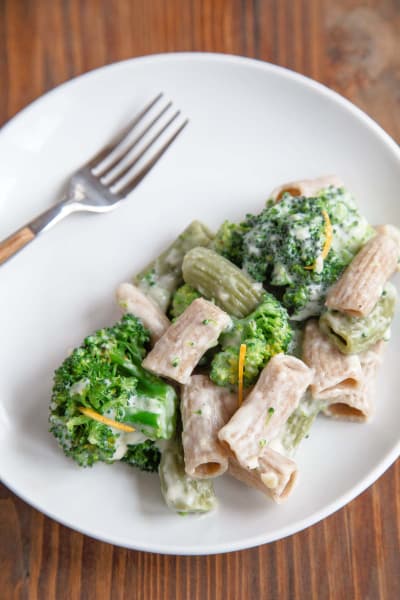 In the case of fresh pasta, it takes about a half-pound to make two generous servings. Dried pasta takes a little less—I usually use 6 ounces. As always, you can double this recipe to serve more, but it serves two as written. In fact, I highly recommend doubling the Alfredo sauce part because you will find so many ways to use it throughout the week!
If you're not a huge broccoli fan, you can substitute frozen asparagus spears (chopped), peas, green beans, or even edamame. You want to use something that cooks in just a few minutes in the boiling water with the pasta. I made an all-white version with cauliflower and TONS of red pepper flakes on top once, and loved it! Have fun with this one!
Ingredients
Easy Alfredo Sauce, Prepared
6 ounces Dried Pasta, Or 1/2 pound fresh pasta shapes
8 ounces Fresh Broccoli Florets
1/2 teaspoon Lemon Zest, For serving
pinch of Crushed Red Pepper Flakes, Optional
Freshly Grated Parmesan Cheese, For serving
Directions
Have the Alfredo sauce warm and ready to go on the side.
Bring a large pot of water to boil to cook the pasta. Salt the water when it's boiling, and then cook the pasta according to the package directions.
During the last 2-3 minutes of cooking time for the pasta, add the broccoli.
Drain the pasta and broccoli, and toss it with the Alfredo sauce.
Divide between two plates, top with lemon zest, red pepper flakes and extra Parmesan.
Recommended
Tags: Cooking for Couples, Pasta, Italian, Sauces, Broccoli, Easy, Easy Dinners, Simmered