Gluten Free Chocolate Almond Oat Bars
Erin D. | Texanerin Baking
Gluten free chocolate almond oat bars are a dream come true. Bake 'em up today!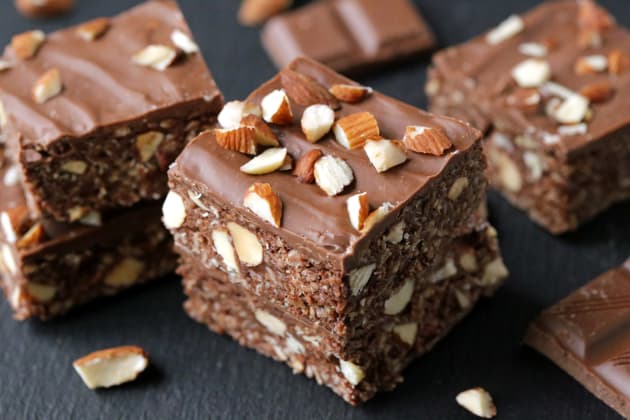 I made some coconut peanut butter bars a few years ago and thought that it was high time to try an almond version. Turns out that simply replacing the peanut butter with almond butter results in some terribly boring and bland bars. And they were surprisingly lacking in almond flavor.
So I upped the honey and chocolate and added some almond extract. I also left out the shredded coconut that was in the original recipe because I didn't want it to compete with the almond flavor. You'll want to be sure to use refined coconut oil, which doesn't have any coconut taste. If you use unrefined coconut oil, the bars will likely have some coconut taste to them.
I don't actually have any dietary restrictions and don't follow any certain diet, but I do love to be as inclusive as possible, especially when it's so easy – like in this recipe! These bars can be made gluten free if you use certified gluten-free oats and if you want them to be vegan, use dairy-free/vegan chocolate. You'll also need to use brown rice syrup instead of honey.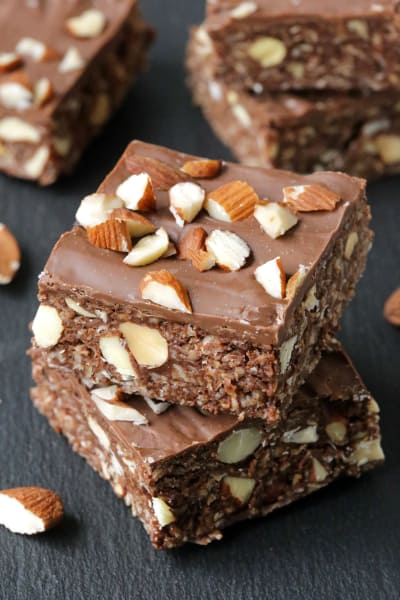 I originally tried these chocolate almond oat bars with maple syrup, and while they didn't taste bad, the bars definitely didn't have the right texture. I've read a lot of people saying that honey and maple syrup are interchangeable but I find that to not always be true, especially in no-bake goodies! Honey and brown rice syrup are thicker and stickier than maple syrup so it makes sense to me.
So now that I've made a peanut butter and almond version of these bars, I'm thinking a hazelnut version is in order. Christmas may be long gone but I love chocolate and hazelnuts year-round! What's your favorite type of nut butter?
I pretty much only make peanut, almond and hazelnut butters but I'm thinking that maybe it's time to do something new!
Ingredients
2 tablespoons Refined Coconut Oil, 28 grams
7 tablespoons Natural Almond Butter, The kind with just almonds, 117 grams
2 1/2 tablespoons Honey, Or brown rice syrup for a vegan version, 50 grams
1/2 teaspoon Pure Almond Extract
241 grams Semisweet Chocolate Chips, Or dairy free chocolate chips, divided, (3/4 cup (128 grams) + 2/3 cup (113 grams))
Salt, To taste
1 1/3 cups Certified Gluten Free Oats, 123 grams
1 cup Chopped Roasted Almonds, 110 grams
Directions
Line a 9" x 5" pan with a piece of parchment or wax paper.
Melt the coconut oil in a medium saucepan over medium-low heat. Stir in the almond butter, honey and almond extract.
Once thoroughly combined, stir in 3/4 cup (128 grams) chocolate chips. Add salt to taste.
When the chocolate is melted, add in the oats and 3/4 cup (83 grams) chopped almonds and stir until well combined.
Press the mixture firmly onto the bottom of the pan. Melt the remaining 2/3 cup (113 grams) chocolate chips and spread it over the bars.
Top with the remaining 1/4 cup (28 grams) chopped almonds.
Store in an airtight container in the refrigerator for up to one week.
Recommended
Tags: Bar Desserts, Gluten Free Baking, Gluten Free, Gluten Free Desserts, Chocolate, Almonds, Oats, Desserts, Simmered, Snacks, Family Meals and Snacks