3 Ingredient Pumpkin Soup
Allison Ruth | Some the Wiser
3 Ingredient pumpkin soup will make you so glad it's finally fall. That chill in the air means it's soup season!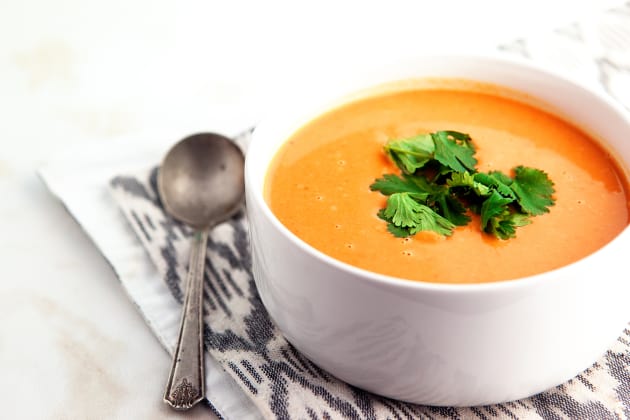 We love a good bowl of warm pumpkin soup during the colder seasons. For years I've been making a pumpkin soup recipe that I requested after enjoying a really good bowl at a dinner party. It was an older recipe from Bon Appetit, and it is undeniably good. However, it has quite a few steps and ingredients and definitely requires a bit of a time commitment.
More recently, with four kids running around and all the chaos that entails, I've been looking for an easier pumpkin soup recipe – one that works for busy weeknights but without sacrificing all the good flavor that we enjoy in it. After some trial and error, I stumbled upon what may in fact be the most perfectly easy 3-ingredient pumpkin soup recipe.
With only three ingredients, this soup is only marginally trickier than opening a can of pre-made soup. Yet, you can still call this "homemade" and enjoy all the healthy goodness of a home-cooked soup.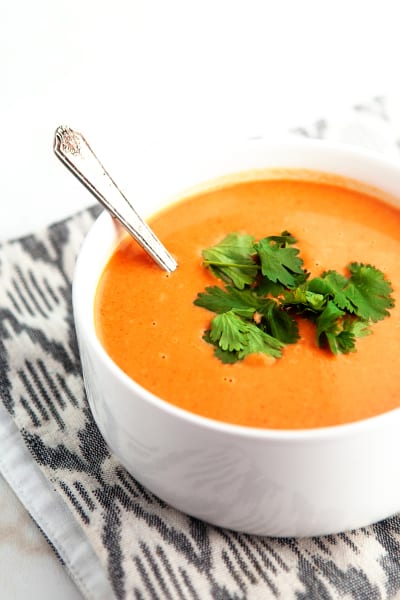 If you're feeling up to it, you can always make your own pumpkin puree by roasting a pumpkin or squash first.
If it's Monday night and you're dragging everyone to the kitchen after soccer practice and homework and it's almost bed time, no worries. This soup tastes really good with canned pumpkin puree too and it pulls together in a matter of minutes!
To keep this 3 ingredient pumpkin soup really simple, I let a couple teaspoons of Thai green curry paste do all the heavy lifting. All of the spices you'll need to make a really flavorful soup are in those teaspoons! The lemongrass, ginger, and blend of chiles pair perfectly with the pumpkin and coconut milk, and you've got dinner ready in a flash.
You can certainly make your own Thai green curry paste to use in recipes like this, but it is also pretty easy to find at the grocery store. Most mainstream grocery stores carry the Thai Kitchen brand in the Asian Foods section. If you have an Asian market nearby, they'll have a lot of varieties to choose from too. 
Ingredients
1 can Coconut Milk
2 1/2 cups Pumpkin Puree
2 teaspoons Green Curry Paste, Thai
Directions
In a medium saucepan, whisk together all of the ingredients and bring to a boil.
Reduce heat and simmer for 7 to 10 minutes until heated through and flavors are blended. Taste and adjust seasonings as needed. 
Notes
For kids, you can add a drizzle of honey or maple syrup. For grownups, serve as is or garnish with fresh cilantro.
Recommended
Tags: Soups, Family Meals and Snacks, Easy Dinners, Lunches, Vegan, Vegetarian, Fall, Pumpkin, Coconut, Simmered