Apple Brandy Hot Toddy
Dan George | Mantitlement
This apple brandy hot toddy will warm you inside and out on a cold night! It's got everything you love about Autumn - apples, cinnamon, anise, and tea!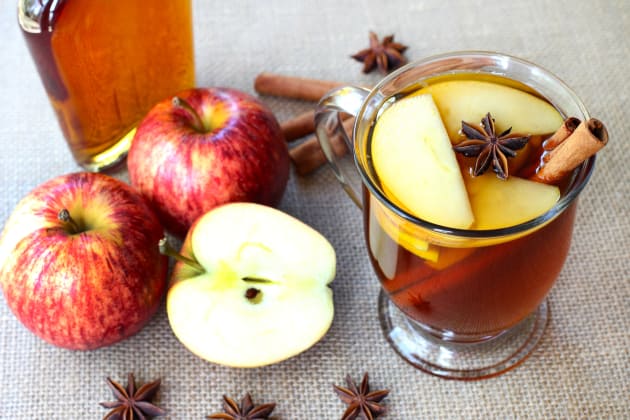 A hot toddy is something I always thought people just drank when they were sick or had a bad cold. I never thought of making them just to drink after dinner on a cold night, even without a stuffed-up head or a sore throat, but the more I'm playing around with different kinds of hot cocktails the more I'm liking them.
You could put lots of different types of alcohol in a hot toddy, whether it's brandy or bourbon, or even tequila or rum. You can make them sweet like a dessert or strong and spicy like this Apple Brandy Hot Toddy. You can even switch up the tea and use hot apple cider or just plain water.
But one thing a hot toddy definitely has to be for me is strong. You need to be able to taste that warm brandy with all the spices to make it a good cocktail.
Most people are buying all their apples these days for baking, not me though, it's all about the cocktails. I will admit to eyeing up these apple hand pies, but cocktails!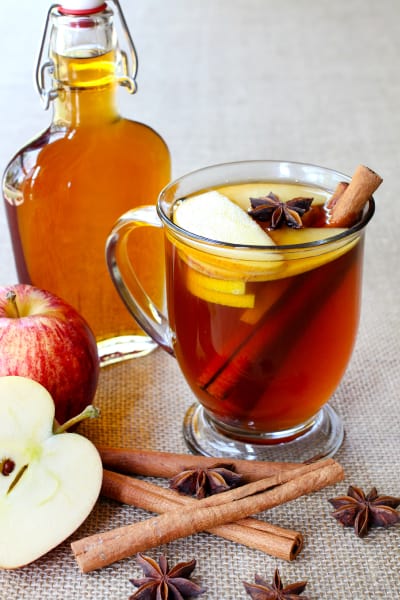 Using apples in cocktails seems like it goes hand in hand for me (see my apple bourbon bellini), so using apple brandy for this hot toddy made even more sense. If you have regular brandy or bourbon that will work just fine too, but consider splashing out for apple brandy simply to expand your bar.
The point to this recipe is that you can customize and use what you have on hand or what you prefer and you're still going to have a tasty hot beverage. Cuddle up on the couch, grab a good book, and sip away at your apple brandy hot toddy. You'll be SO glad it's finally chilly enough for that kind of stuff.
Ingredients
1 Black Tea Bag
1 tablespoon Honey
1 tablespoon Fresh Lemon Juice
2 ounces Apple Brandy
2 Cinnamon Sticks
1 Star Anise
Apple Slices, For garnish
Directions
Brew the tea bag in a mug in the microwave using 1 cup of water.
Let the tea steep for 2 minutes then discard the tea bag.
Add the honey, lemon juice and brandy to the mug and stir.
Garnish with apple slices and the cinnamon sticks.
Recommended
Tags: Cocktails, Drinks, Fall, Easy, Brewed, Apples