Cold Brewed Iced Tea & The Family Calendar Cookbook
Kelsey Banfield | The Naptime Chef
This cold-brewed iced tea is so good, you might just be drinking it in winter too. Don't miss that giveaway of Kelsey's new book!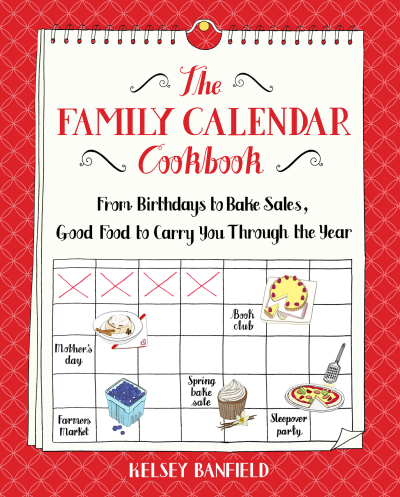 Let me tell you why I wrote The Family Calendar Cookbook: From Birthdays to Bake Sales, Good Food to Carry You Through the Year.
A few years ago, when my daughter was in preschool, I found myself being asked to bring food to all sorts of occasions. I normally cooked every night, but all of sudden I was doing a lot of above and beyond cooking as well.
There were potlucks, teacher appreciation dinners, cooking for friends in need, and more. At first I was super stressed out trying to figure out new menus for each event. But then I realized that I was going about it wrong. The answer was having a set of go-to recipes to turn to every single time. So, I spent a year cultivating those recipes for every occasion and then I put them in a cookbook.
I know I am biased, but I think it is an awesome book. It is organized by season and each season contains menus for seasonal occasions, seasonal kitchen crafts, and various seasonal gardening tips. It is meant to be a book you can turn to when you are in need of a go-to recipe in any instance.
For example, if you are asked to bring peanut butter cookies anywhere, I have the best recipe. You don't even have to look for another peanut butter cookie for the rest of your life because I have taken care of it for you.
Or, if you are in the mood for iced tea, you can look up the three ways I have written for making iced tea. It is right there in the summer chapter for you to read. You can choose which method you like!
There is also a chapter on back-to-school meals, menus for major holidays, and more. I called it The Family Calendar because it actually follows the family calendar throughout the year.
Today I am going to leave you with my current favorite method for making iced tea. It has the highest caffeine content, which makes for a nice pick-me-up on these busy summer days with kids. It is also is fun to flavor with fresh herbs and slices of fresh fruit. Stay cool and enjoy your summer!
Directions
Place the tea bags in a 2-quart pitcher.
Add the water and chill the pitcher in the refrigerator for 12 hours, or overnight.
Remove the tea bags and enjoy.
Notes
To secure the bags in the pitcher overnight, clip the strings to the side of the pitcher with a clothespin.
Recommended
Tags: Drinks, Summer, Tea, Easy, No Cook, Party Food, Giveaways