Jam Toast Cocktail
Dan George | Mantitlement
This jam toast cocktail is perfect for spring. Stir in your favorite flavors to make a signature drink!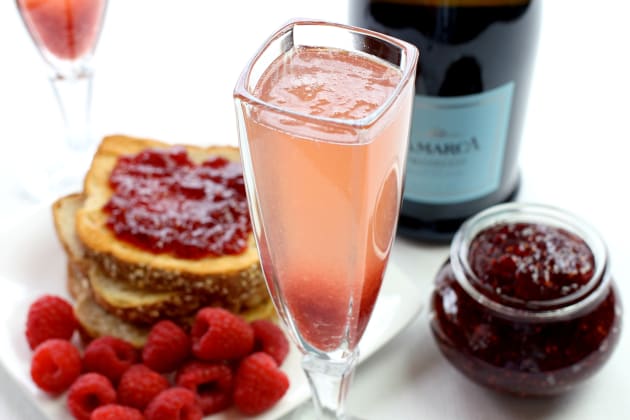 There are so many holidays and fun things coming up in the next couple of months, I thought we'd celebrate with this jam toast cocktail!
Spring is a really busy time of year for my family, like a lot of families I know. Between both of the kids in baseball and soccer, school, work, birthdays and holidays… spring is like a blur to me.
We have so much going on that a lot of the time we combine parties together. My birthday is only a few days apart from my son's birthday… and my mother-in-law's birthday and my anniversary. Throw in Mother's Day and Father's Day and other family members having birthdays and you won't see us come up for air until July.
It's all good stuff – don't get my wrong, party after party. But combining them works out for us so that everyone with all their different schedules can be together.
A great thing to do at these "combo" parties is to set up your bar ahead of time. That way you have out something for everyone and they can all help themselves. You as the host will be busy enough, and you also want to be able to enjoy your own party.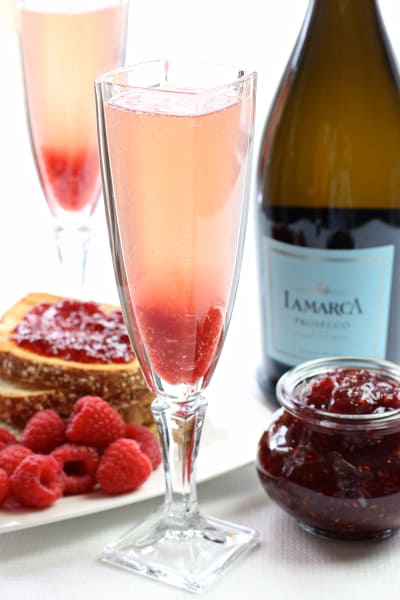 In addition to your usual bar set-up, it's nice to have a signature cocktail too. Bellini bars are always a hit with my friends and family, whether it's a brunch or evening event. No one ever turns down a Bellini – guys and girls alike.

This jam toast cocktail is a twist on your usual Bellini recipe. Instead of using fresh fruit purees, you stir a spoonful of jam into your champagne. If it's a brunch, chances are you're going to have a few different flavors of jam out anyway, and if you buy the good stuff it's all fruit, so why not save yourself the step!

Just grab a few bottles of your favorite champagne or Prosecco and set them out with some of your favorite jam flavors to stir in.

And don't forget to have a toast!

Tags: Cocktails, Jams, Jellies, Drinks, No Cook, Easy, Party Food