BLT Avocado Wraps
Dionne Baldwin | Try Anything Once
BLT avocado wraps make THE best appetizer for summer (and spring) parties! Some say it's the crispy bacon, which is worth the effort it takes to cook.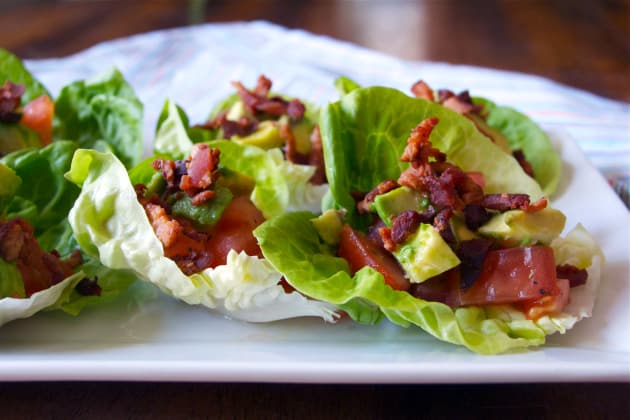 These lettuce wraps are a deliciously light appetizer, perfect for the warmer months and all your fun get-togethers. Sometimes I use halved cherry tomatoes or Roma tomatoes but today I've cut up some ripened-on-the-vine tomatoes for you.
I served these at my most recent get together and I watched one of my guests, a very shy friend of a friend, delicately grab one as if she were afraid to help herself to the table filled with savory finger foods.
I'm always afraid I'll scare people away if I show them my "full self", so I was careful to quietly start a conversation. She was eyeballing the herbs on my back porch so I pointed towards my pot of dead mint and asked if she had any advice for me. Her face brightened as we started talking about gardening and I'm pretty sure she and I ate half the tray of BLT avocado wraps while we talked.
As she was leaving later that night she thanked me for having her over and asked if she could have the recipe for the lettuce wraps. And we've been friends ever since.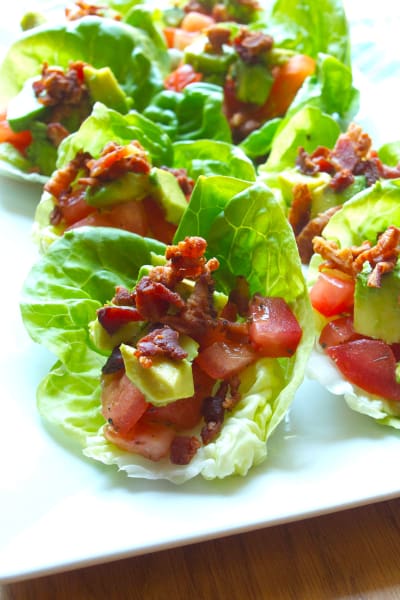 These are so easy to make I almost hesitate to call this a recipe. Adding just a couple ingredients to the chopped tomatoes makes all the difference in these wraps. They're easy enough to make for a big crowd, but they're also delicious as dinner.
Maybe next to a bowl of homemade chicken noodle soup for a light summer supper. I can just imagine sitting around the patio set, a light breeze, and a tray of these in front of me. Now that's the way to celebrate summer right!  Grab a drink, maybe even a sweet mango green tea - and enjoy the day.
Want to try them for yourself? Get that bacon cookin'!
Ingredients
2 heads Butter Lettuce, Try the "living lettuce" with the roots still attached
1 pound Chopped Bacon, Cooked until crispy
2-2 1/2 cups Chopped Tomatoes
4 Avocados, With skin and pit removed, chopped
Salt and Pepper
2 tablespoons Olive Oil
2 teaspoons Herbes de Provence, Without lavender, or dried Italian blend herbs
Directions
You'll want your bacon to be cooled and drained by setting it on a plate lined with paper towels.
Take your chopped tomatoes and sprinkle with salt and a little pepper. Now pour on the olive oil and add dried herbs. Stir together and set the tomatoes aside.
Remove leaves from both heads of lettuce and rinse thoroughly. Pat them dry gently so the leaves don't break and lay the leaves in a single layer on a serving tray.
Drain the excess liquid from the tomatoes.
Spoon tomatoes on top of the lettuce. Follow with avocado. Top with bacon.
Refrigerate if you're not serving them right away but it is best to assemble these right before serving.
Enjoy!
Notes
I can get about 22-26 wraps out of this recipe but it will depend on the size of your lettuce leaves and how many leaves are your ideal size. The number you get out of this recipe will vary.
You may want to assemble this right before serving to prevent the avocado from turning brown. If your bacon is not already cooked before you begin, add the cooking time to this recipe.
Recommended
Tags: Appetizers, Snacks, Party Food, Bacon, Lettuce, Tomatoes, Avocados, Wraps, Easy