Peach Mango Smoothie
Jennifer W. | The Scrumptious Pumpkin
This peach mango smoothie has all the good stuff to give you a glowing complexion. It's perfect for breakfast every day, and super easy to add to your beauty routine.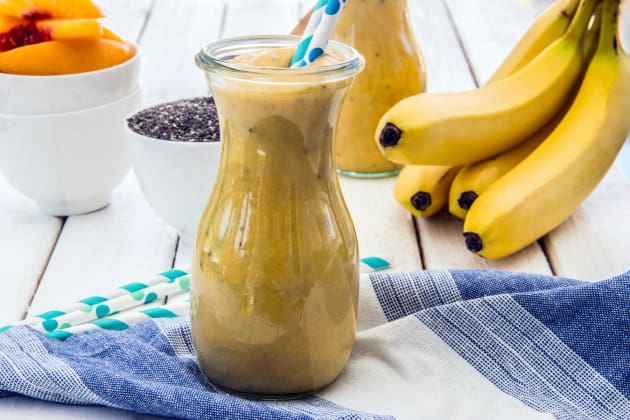 I love whipping up this tasty, tropical-flavored mango smoothie when I feel like I'm in need of something really healthy and nutritious.  It's rich, thick enough to eat with a spoon, and naturally sweet. Thickened with banana and coconut milk, this smoothie is also vegan and cholesterol free.  
Even better, as I was checking out the nutrition facts for the ingredients in this smoothie, I realized it's also the perfect remedy for vibrant, smooth, healthy skin.
Here are all of the yummy ingredients, and their glowing skin benefits:
Coconut Milk – packed with lauric acid to keep skin clear and breakout free
Mangoes – full of vitamins A and E, nutrients for smooth and radiant skin
Peaches – packed with vitamin C, which keeps skin even-toned and reduces puffiness
Banana – rich in potassium for hydrated and supple skin
Chia Seeds– contain omega-3 fatty acids, which act as natural moisturizers to revitalize skin
This smoothie is perfect for a healthy breakfast to start the day off strong, or a satisfying, filling snack. It's very simple to throw together. Just toss all of the ingredients listed above into a food processor or blender, and puree until the mixture is really creamy and smooth.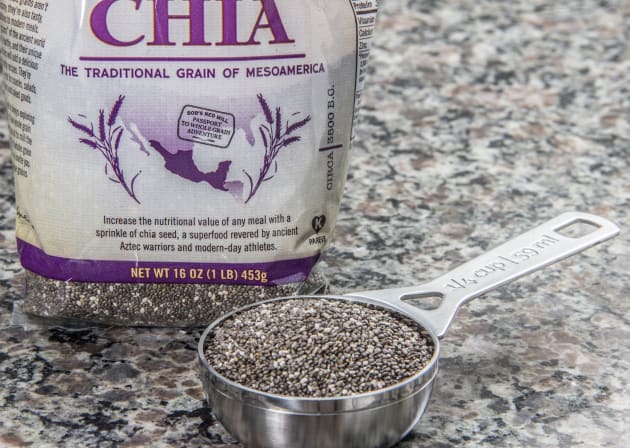 The chia seeds don't add any flavor to the smoothie but do add the slightest crunch (similar to the texture of strawberry seeds in a smoothie). Chia also adds lots of filling protein and detoxifying fiber.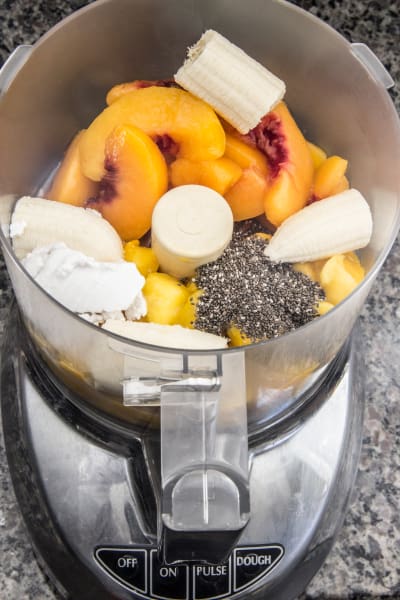 During this time of the year, when mangoes and peaches are both in season, fresh fruit works wonderfully. Or, to keep things really quick and easy, just use frozen chopped mango and sliced peaches.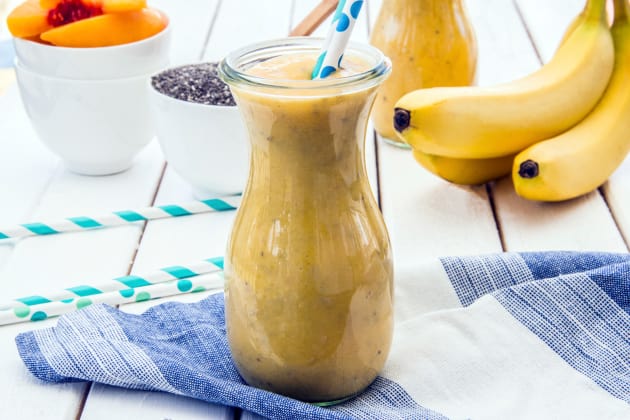 The coconut milk adds so much creamy richness, and the mangoes, peaches, and banana are all so naturally sweet. So another great thing about this smoothie: no need to add sugar or any other sweeteners. This smoothie is just pure, all-natural deliciousness!
Ingredients
10 ounces Sliced Peaches, Fresh or frozen, pitted and peeled
10 ounces Chopped Mango, Fresh or frozen, pitted and peeled
1 Banana, Peeled and cut into thirds
1 tablespoon Chia Seeds
1/2 cup Coconut Milk
Directions
Add ingredients to a food processor or blender. Puree until mixture is smooth and creamy. Serve. 
Notes
Storage: Smoothie will keep for 2-3 days if stored in a covered, airtight container in the fridge. Alternatively, measure individual portions and transfer smoothie to small, covered, airtight containers. Freeze, and thaw in fridge before serving.
Recommended
Tags: Healthy Eating, Smoothies, Healthy, Drinks, Peaches, Mangoes, Blenders, Blended, Vegan, No Cook