Asparagus Tart with Bacon
Kelsey Banfield | The Naptime Chef
An asparagus tart with bacon may just be the best way to start your Sunday morning. Celebrate spring with this delicious seasonal recipe!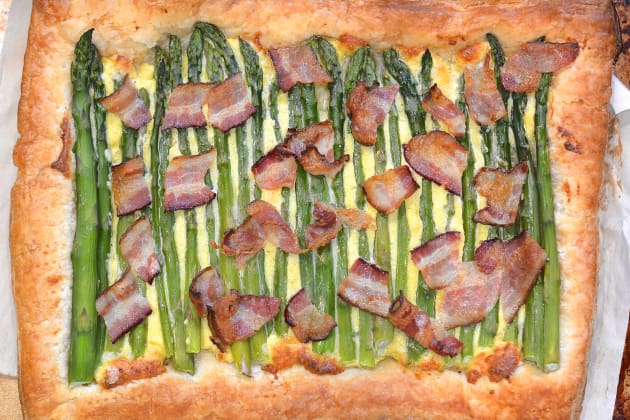 One of the first local vegetables to show up in our markets in April is asparagus. It is fresh and green with tags affixed from a local farm. The minute these bunches start showing up I buy them by the dozen. There is no end to what I'll make with them, and I always kick things off with this asparagus tart. It looks difficult but is, in fact, insanely simple - and is a great way to highlight this spring vegetables.
The key to the ease of this tart is using pre-made puff pastry. I buy it in the freezer section at our grocery store and it is not expensive. Some people might insist upon making it themselves, but I am not as brave. Nor do I have the time! Once the pastry is thawed, (another passive activity), all you do is set out your ingredients and assemble the tart.
The beauty of this recipe is that there is a degree of flexibility. For example, cheddar or havarti would taste just as good in lieu of Swiss. You could also substitute feta for the goat cheese and turkey bacon for the regular variety. It is all about giving it your own personal touch and let the flavors sing.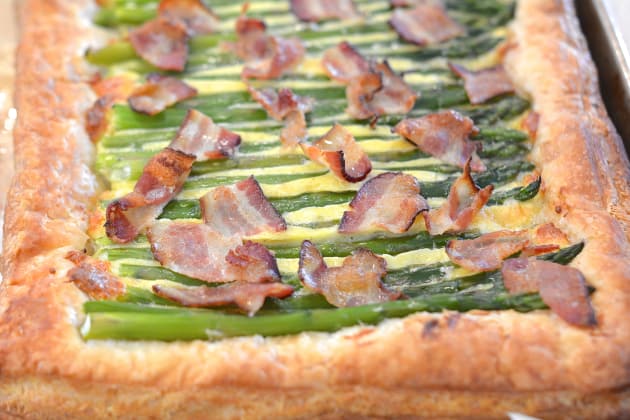 The best way to eat this is fresh out of the oven. The cheese is nice and gooey and the pastry is still fluffed up so it shatters when you bite into it. I like to make this as an appetizer for Easter dinner and serve it in little squares, or as something to nibble on before Mother's Day brunch. And at least once a year I serve it as a light family supper al fresco. No matter how you do it just remember to make it your own and don't take it all too seriously. When asparagus season arrives you know that more of the fresh, local vegetables in your area are soon to follow.
Ingredients
1 sheet Frozen Puff Pastry, Thawed and rolled out to an 11x17 rectangle
1 pound Asparagus, Washed and trimmed
1 cup Shredded Swiss Cheese
1 cup Grated Parmesan Cheese
2 large Egg Yolks
1/4 cup Light Cream
1/2 teaspoon Kosher Salt
4 ounces Crumbled Cooked Bacon, About 4 strips
Directions
Preheat the oven to 400°F. Line a rimmed baking sheet with parchment paper and set aside.
On a lightly floured surface roll out the puff pastry and prick it all over with fork tins. Place it on the lined baking sheet and bake it for 10 minutes, or until lightly golden brown. It won't be fully baked at this point, but it will be firmed up. Remove it from the oven and allow it to cool while you make the filling.
Bring a large pot of water to a boil and cook the asparagus for about 3 to 4 minutes, or until it can be easily speared with a fork. Drain the asparagus and immediately run it under freezing cold tap water to stop the cooking. Drain well.
In a large bowl, whisk the cheese, egg yolks, cream, and salt. Spread this mixture on the baked pastry leaving a 1-inch border around the edges. Arrange the asparagus on top in one even layer. Dot it evenly the crumbled bacon. Bake the entire tart for 20 minutes, or until the pastry is a deep golden brown and the filling has puffed up. Allow it to cool for 10 minutes, then cut into squares and serve.
Recommended
Tags: Baking, Baked, Appetizers, Brunches, Breakfasts, Bacon, Asparagus, Family Meals and Snacks, Mother's Day, Easter