Vegan Chocolate Cookies
Erin D. | Texanerin Baking
These vegan chocolate cookies are also whole grain, gluten free, and absolutely addicting. Erin even has built in portion control – you can quarter or triple the recipe with no issues!
I know a lot of people try to avoid sweets after the holidays, but I still crave dessert. The only problem is that after a full month of nearly constant cookie baking, I'm far too lazy to make anything involved. The simpler, the better – and if it's kind of healthy? Bonus!
These vegan and gluten-free chocolate oat balls are the perfect remedy for those of us who want something a little sweet after the holidays. They really only take 5 minutes to make and you don't even need to turn on the oven. I made something similar last year after the holidays, these chocolate hazelnut fudge bites, and was excited to try an almond version.
As written, the recipe yields 28 balls but I usually only make a fourth. If I made the full recipe, I'd probably eat 9 of them, get a stomachache, and then be sad for the rest of the day. I'm all for recipes with built-in portion control!
These chocolate oat balls are pretty dietary friendly. If you use certified gluten-free oats, they're gluten-free. They're also dairy-free and vegan, as long as you use dairy-free chocolate. If you're not vegan and don't want to use maple syrup, honey would probably work just as well (though I haven't tried it and can't guarantee it). And hey, they're 100% whole grain because of the oats so you're getting your fiber, too!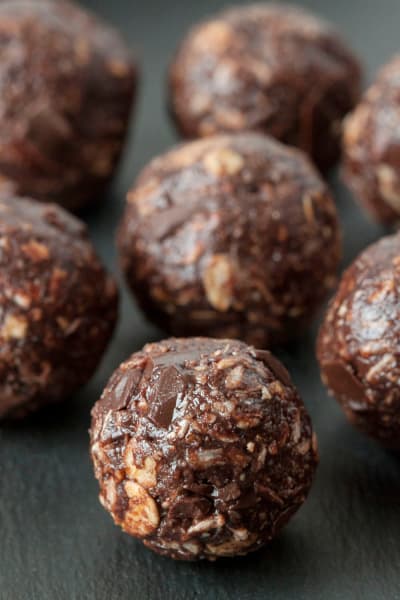 If almond butter isn't your thing, use whatever nut butter you like. Just make sure to use the natural kind that's just nuts and salt! If you use commercial peanut butter, like Skippy or Jif, which is much firmer than natural peanut butter, your mixture will be too dry and crumbly to form into balls.
I originally made these chocolate oat balls without the added chopped chocolate and while they were good, more chocolate flavor is always better. Feel free to omit the chocolate chunks!
If you're in more of a lemony mood, these gluten-free coconut balls are almost guaranteed to brighten your day! And if you want something completely fruit sweetened, try these gluten-free peanut butter fudge balls. Both recipes are incredibly quick and easy to make and are relatively healthy as far as sweets go!
Ingredients
1 cup Rolled Oats, (If gluten-free, use certified gluten-free oats)
1 cup Coconut Flakes
1/4 cup Unsweetened Cocoa Powder
3/4 cup Natural Almond Butter
6 tablespoons Pure Maple Syrup
1 teaspoon Pure Vanilla Extract
1/4-1/2 cup chips Semisweet Chocolate, Or dark chocolate, finely chopped (marked vegan as required)
Directions
In a medium mixing bowl, stir together the oats, coconut flakes, and cocoa powder.
Add the almond butter, maple syrup and vanilla.
Stir in the chocolate.
Roll into 1" balls.
Refrigerate in an airtight container for up to 5 days.
Recommended
Tags: Gluten Free, Vegan, Cookies, Chocolate, Almonds, Maple, Desserts, Snacks, Healthy, Whole Grain, No Bake