Reader Appreciation Giveaway from 360 Bakeware
Amber Bracegirdle | Bluebonnet Baker

We're so grateful, everyday, for the time you take to read Food Fanatic. Thanks to 360 Bakeware, we're able to say thank you with some amazing prizes!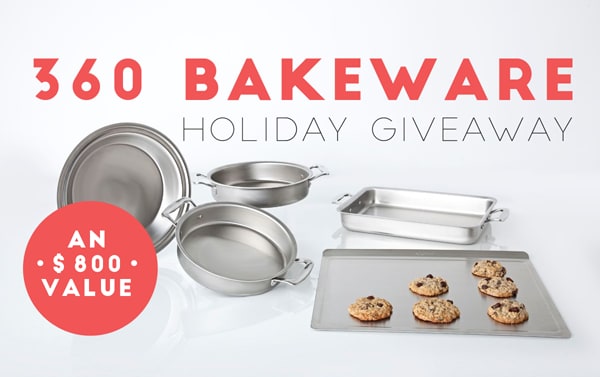 Happy December, Food Fanatics!
December is the month for giving - whether it's Christmas, Hannukah, or Kwanzaa, this is the time of year we show appreciation for those we love through gift giving.
We're super excited today to be sharing with you an incredible giveaway for a slew of 360 Bakeware products valued at $800.00!
We're not kidding when we say this is some of the nicest bakeware we've ever encountered. Each piece is constructed of triple-ply stainless steel. They're solid without being heavy.
Our favorite thing, though? So many of the pieces have handles! Handles on cake pans and bread loaf pans. How genius is that?
We're saying thank you - thank you to each reader, each baker and cook that takes time to stop by, comment, and try the recipes on Food Fanatic.
From us and our contributors, thank you for an amazing year.
Happy holidays!
Win the following 360 Bakeware Goodies:
This giveaway (provided by 360 Bakeware) is now over. The views and opinions expressed by contributors on Food Fanatic are based entirely upon the contributor's experiences with 360 Bakeware products.
Check out all the fantastic sites participating in this event!
My Baking Addiction | The Little Kitchen | Confessions of a Cookbook Queen | Food Fanatic | Cookies & Cups | The Baker Mama | Dine and Dish | Glorious Treats | Buns In My Oven
---
Disclosure:This giveaway was sponsored by 360 Cookware. It is not affiliated with Pinterest, Instagram or Twitter.

Tags: Giveaways, 360 Bakeware