Apple Hand Pies
Julie Grice | Savvy Eats
Apple hand pies are made with fresh apples, maraschino cherries and apple butter, all wrapped in a flaky buttery pie crust. Completely irresistible!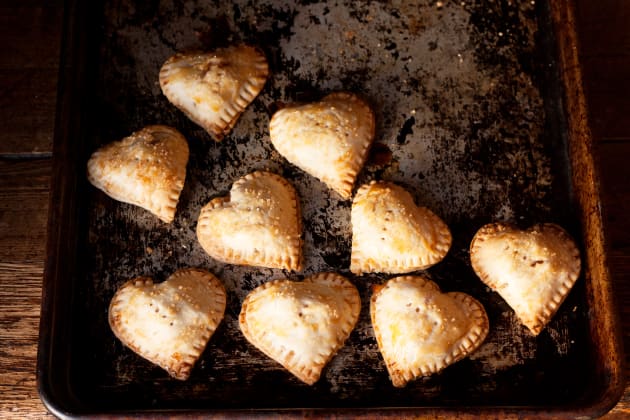 When it comes to apple pie recipes, I look for a few specific things. First, the pie must have a high crust-to-filling ratio (or crumble-to-filling ratio, if you prefer crisps). And if there are pictures attached, I'm looking for a super-flaky, buttery-looking crust. If the crust is crummy, why bother with pie?
A few winters ago, I set out to find the very best pie crust possible. I tried all-butter crusts, all-shortening crusts and everything in between. The winner was a crust that used one-quarter shortening and three-quarters butter...but not by much. Since I rarely keep shortening around, I usually fall back on the close second-place winner: an all-butter crust that is still relatively easy to handle, and very flaky.
So that's my standby pie crust. But while the crust may stay the same, the fillings I use rarely do. For apple pie recipes, I want ones where the filling is made with fresh apples and lots of cinnamon, nutmeg and allspice. The peeling and dicing might feel a little tedious, but if the reward at the end is a pie filling chock-full of fruit flavor and apple pieces with a little texture to them, I consider it to be well worth it.
For these hand pies, a little apple butter goes a long way in helping to thicken the pie filling and adds a little sweetness so you can cut back on the sugar. Basically, adding those few tablespoons is a win-win! I also added some homemade maraschino cherries to add a little variety to the apple pie filling. If you choose to make your own cherries instead of buying them at the store, set aside a few jars for the holidays - they make a great host or hostess gift.
Psst: Since you only need a few tablespoons of apple butter, you'll have most of a jar left. Try using the rest in grilled cheese or on a flatbread!
Ingredients
For the Crust:
2 cups All-Purpose Flour
1 cup Unsalted Butter, Cold
1 tablespoon Granulated Sugar
1 teaspoon Salt
6 tablespoons Water, Cold
For the Filling:
6 cups Apple, Peeled and chopped, a mix of sweet and tart is best
1/4 cup Brown Sugar
1/4 cup Granulated Sugar
1 tablespoon Cornstarch
1/2 cup Maraschino Cherry, Drained
2 tablespoons Apple Butter
1/4 teaspoon Salt
For the Assembly:
1 Egg, Beaten
1/4 cup Turbinado Sugar
Directions
Pulse the flour, butter, sugar and salt together in a food processor until the pieces of butter are the size of small pebbles. If you don't have a food processor, you can also use a pastry cutter or two knives to work the butter into the dough.
Work in the water, one tablespoon at a time, until there are no dry spots left and the dough sticks together. You may not need all of the water.
Divide the dough into two equal-sized pieces. Pat each one into a 3/4"-thick disk, and wrap in plastic wrap. Chill for at least 20 minutes.
Meanwhile, preheat the oven to 375°F.
Sauté the apples in the brown sugar over medium-low heat. Cook, stirring often, until the apples are tender.
Whisk the granulated sugar and cornstarch together in a small bowl, then stir the sugar and the remaining filling ingredients into the apples. Cook, stirring occasionally, until most of the liquid is evaporated, about 5-6 minutes. Remove from the heat.
Roll one disk of the pie dough to a 1/8" thickness. Cut the dough into the size and shape you would like your hand pies to be. Three-inch pies are typically a good size. Circles or squares work well, or you can use a cookie cutter. When choosing a shape, make sure not to choose anything with sharp corners or small appendages (snowflake cookie cutters, I'm looking at you), as they will be difficult to fill.
Spoon 1 1/2 - 2 teaspoons of filling into the center of a cut pie piece, leaving ¼" border at the edges. The exact amount of filling you need will vary depending on the size and shape of your pies.
Brush the edge of the pie with a little beaten egg, and cover with another piece of crust. Use a fork to seal and crimp the edges closed. Repeat with the remaining dough (keep one of the disks in the refrigerator until you are ready to use it so that the dough doesn't get too soft) and filling.
Arrange the pies on a greased cookie sheet. Brush the tops with beaten egg and sprinkle with the raw sugar.
Bake at 375°F for 15-20 minutes, or until the pies are golden-brown.
Notes
You may have some extra filling left. Use it to make more hand pies within a week, or spoon it over pancakes, waffles, oatmeal or ice cream.
Recommended
Tags: Bottom of the Jam Jar, Canning, Preserving, Baking, Desserts, Snacks, Baked, Apples, Fall