Weekly Meal Plan: Warm & Wonderful Comfort Food
Christina Lane | Dessert for Two

Comfort food is exactly what you need as the cooler weather hits. A little something savory and delicious to keep you warm and cozy!
A week of comfort food is in order. While summer isn't quite over, the nights are beginning to be cooler. It's all I can do to keep myself from cranking the oven and baking meal after meal of dinners that warm the house.
My favorite way to heat the house has always been baking and cooking. Here's a meal plan to get you from Monday through Friday with warm, stick to your ribs meals.
Monday:
In keeping with the Meatless Monday routine, Monday's baked dish is the Pioneer Woman's Mexican Rice Casserole. Chock full of veggies, bubbling with cheese, and just plain good! It makes great leftovers for lunch, too.
12 Servings
14 Ingredients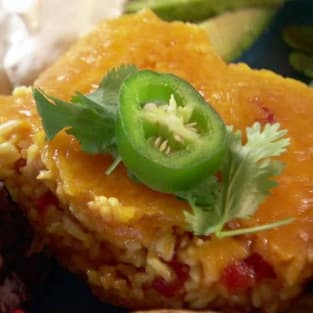 Tuesday:
Tuesday could use a little French twist, couldn't it? This easy baked endive wrapped in ham and covered with a warm, gooey cheese sauce is perfect.
Wednesday:
How about breakfast for dinner on Wednesday? This sweet berry French toast bake can be put together in the morning before work, rest all day in the fridge, and then baked for dinner.
Fry up a few pieces of bacon on the side, and you have a great sweet and salty dinner.
10 Servings
10 Ingredients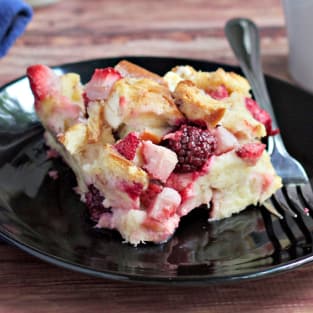 Thursday:
Thursday is a great night for Italian food! If you have a few eggplant lingering the garden, this is the perfect use for them. And even if you have kiddos that can be picky eaters, the best way I know to disguise a vegetable is to make it crispy and cover it in cheese. Heck, even an adult that doesn't like eggplant would love this dish!
6 Servings
15 Ingredients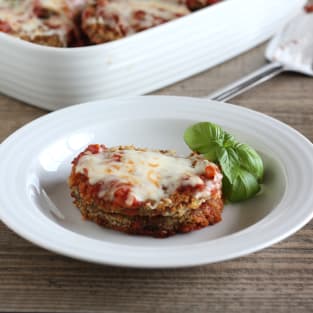 Friday:
Sweet, sweet Friday! Resist the urge for takeout, and start your slow cooker on Friday morning. This cheesy, spicy crockpot pulled chicken sandwich is better than anything you can get in a restaurant. Plus, it's quicker, too! I've made this recipe many times, and can attest to its cheesy powers. I've never met a man who didn't love it either!
12 Servings
14 Ingredients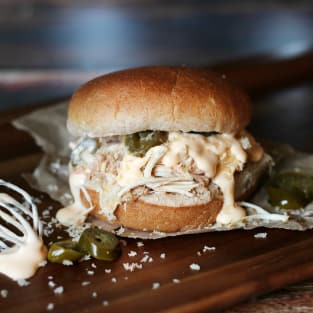 Tags: Meal Plans, Comfort Food