Pumpkin Mojito
Dan George | Mantitlement
This pumpkin mojito is seasonally festive and refreshing too. Pumpkin and mint make one amazing combination!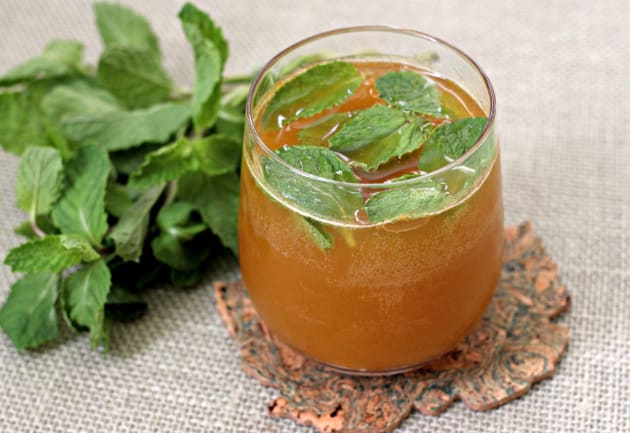 Who says mojitos are just for the summer? This Pumpkin Mojito with a homemade pumpkin simple syrup is sure going to change your mind about that.
It's that time of year again, the weather is changing from too hot to too cold and everyone is starting to break out their pumpkin recipes.
Pumpkin bread, pumpkin cupcakes, pumpkin pancakes – anything pumpkin.
I'm breaking out the pumpkin too, but not for baking, for cocktails!
Mojitos are one of my favorite summertime drinks. The fresh mint mixed with lime juice and of course the rum is a perfect hot summer day sipping beverage.
I like the whole process that goes into making a mojito too. Picking the fresh mint and muddling with the lime juice, adding in mostly rum and a splash of seltzer. Being outside and drinking mojitos is also a must, definitely a drink to have while sitting on your deck or patio – even better by a pool.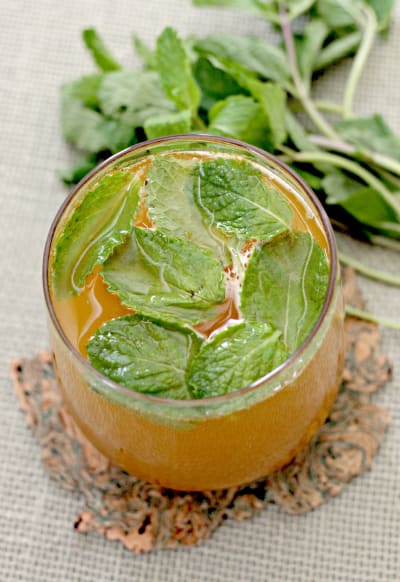 But as we're getting into Fall, I was trying to come up with a way to keep the mojito alive - and the best way to do that is with pumpkin!
I made an easy simple syrup recipe, the same one I use to make my regular mojitos, and just added some pumpkin puree.
The rest was easy, muddle up the lime juice with mint leaves and the rum in the bottom of a cocktail shaker, add in the pumpkin simple syrup and shake. Top of with seltzer and you have a pumpkin mojito!
You can use light or dark rum in this drink, whichever you prefer but just make sure you're using a good quality rum.
There are also no outdoor requirements for this pumpkin mojito – in your kitchen is just fine. Although outside by a fire pit on a cool night doesn't sound bad either!
It's #PumpkinWeek on Food Fanatic! Follow along all week for fantastic new ways to use pumpkin, and a chance to win amazing prizes from Le Creuset!
Ingredients
8 Mint Leaves, Extra for garnish if desired
2 ounces Good Quality Rum
1 teaspoon Fresh Lime Juice
2 ounces Pumpkin Simple Syrup
Sparkling Seltzer Water, For topping
Directions
Add the mint leaves, lime juice and rum to the bottom of a cocktail shaker and muddle with the end of a wooden spoon until the leaves are bruised.
Pour in your pumpkin simple syrup, add some ice and shake well.
Strain into a glass and top with seltzer.
Add extra mint leaves for garnish.
Recommended
Tags: Cocktails, Drinks, Pumpkin, Pumpkin Week, Easy, Party Food, Rum