Healthy Chicken Burritos
Steph S. | ::steph chows::
Healthy chicken burritos made with slow cooked chicken and whole wheat wraps. They're full of amazing flavor and crunchy veggies too.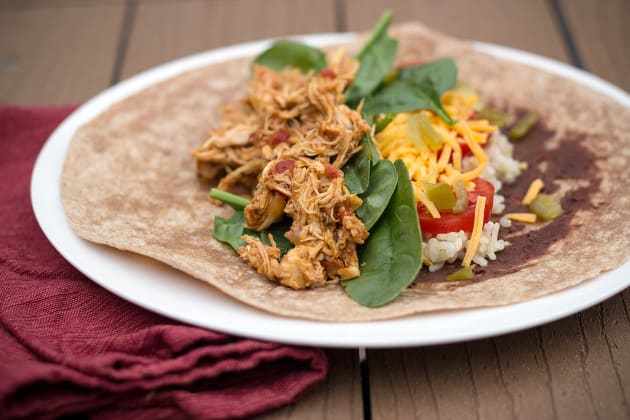 Gas station burritos! Confused much? You should be, but let me explain. There is this AMAZING authentic Mexican place by my work. It makes the best burritos, tacos, and my favorite chicken tortilla soup EVER. There is only one small catch… it's INSIDE a gas station! Sketchville much? Not one bit, and the line out the door might be a giveaway.
Seriously though, how could you not love super authentic Mexican food you can pick up while you're also filling up your gas tank? One thing I always gravitate towards on the menu is their shredded chicken burritos. The chicken! It's SO tender, so flavorful. Every bite makes me happy.
Don't get me wrong, I get my fill at this place, but sometimes I'm craving some seriously tender chicken on the weekends when I'm nowhere near work. So what's a girl to do? Fire up the slow cooker and make the most tender chicken around!
I'm not so sure why I fought the slow cooker for so long. I guess it's because I typically like my meats JUST barley cooked, rare for me please! So the thought of something stewing for HOURS… no thanks. But I take back all the nasty things I said about the slow cooker, this kitchen gadget may be my new best friend for no-prep meals!
Toss three things in the pot, cover, cook, done, CHOW! I did this on a Sunday when I was too busy running around with errands, doing laundry, and generally getting myself into trouble to spend hours in the kitchen. I got home and dinner was ready and waiting for us. The only down side, you ask? I think it drove my dog bonkers having to smell chicken cooking all day… sorry pup!!
Try my healthy chicken burritos with this homemade Chipotle rice recipe and vegetarian refried beans. Holy delicious!
Ingredients
For the Burrito Filling:
2 pounds Boneless Skinless Chicken Breast
1 1 ounce packet Casa Mexicana Chicken Chipotle Tacos Seasoning Mix
16 ounces Salsa, Use your favorite
4 Burrito Sized Whole Wheat Tortillas
2 cups Brown Rice, Cooked
For Topping:
Shredded Cheddar Cheese
Baby Spinach
Chopped Tomatoes
Pickled Jalapeños
Black Bean Spread
Directions
Place chicken breasts into slow cooker.
Sprinkle with seasoning packet and then cover with salsa.
Cook on high for 4 hours.
Using two forks, shred chicken and mix with sauce.
Serve wrapped in tortillas with cooked brown rice and choice of toppings.
Recommended
Tags: Healthy, Healthy Eating, Slow Cooker, Burritos, Lunches, Easy Dinners, Tex Mex, Mexican, Slow Cooked, Whole Grain