Grape Jam
Tracy R. | Sugarcrafter
Grape jam is the perfect homemade companion to your afternoon PB&J. This simple spread is worlds beyond any store-bought version.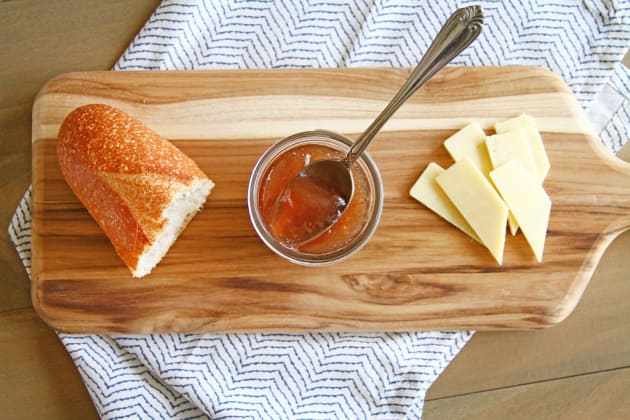 While many are still trying desperately to hold on to the last fleeting moments of summer, I am wholeheartedly embracing the beginnings of autumn. It's my favorite time of the year, when the weather begins to turn and the mornings become cool and crisp, the days grow shorter, and the leaves begin to prepare for one last brilliant show of color before they're whisked away with the coming of winter.
It's also harvest time, and that means putting up the last of the summer's bounty. The end of the season's fruits and vegetables are abundant - particularly the large variety of apples grown around here, which are just now coming into season - but grapes are plentiful in late August and September as well.
Visits to local wineries are always a delight, and tasting local wines and cheeses is a wonderful way to spend an afternoon. Some of the estates even allow you to pick your own grapes, which are perfect for making homemade grape juice, jams and jellies, and even grape pie, a local specialty.
While one of the most popular varieties of grapes are Concords with their intoxicating scent, there are many more types of grapes to choose from. The grapes used in the making of this jam are called Rosabellas, a grape most often used in the making of blush wines, such as white zinfandels. I had no idea until a lovely, lengthy conversation with the farmer I bought them from. If you never have, I encourage you to visit a farmers market and ask a farmer about what they grow. It's fascinating and fun to watch their passion.
You can certainly use this recipe with any variety of grape you please, or cobble together a variety of grapes for a more complex flavor. Last year, I blended two very different types of grapes together for a grape jam that tasted out of this world. Feel free to add a pinch of your favorite spices as well, or even a bit of wine!
'Tis the season for putting up. Get ready with some apple pie filling and spiced cranberry sauce too.
Ingredients
2 pounds Grapes, Any variety
1/4 cup Lemon Juice
1 3/4 ounces Powdered Pectin
6 cups Granulated Sugar
Directions
Run the grapes through a food mill to quickly separate the grapes from their skins and seeds.
Pour the milled grapes and lemon juice into a large sauce pan. Bring to a boil and then let simmer, stirring frequently.
Prepare your canning supplies. Bring the temperature of the glass jars up by processing them in hot water for several minutes, and heat a few cups of water in a small saucepan for the lids.
Stir in the pectin until dissolved. Bring back to a boil, and then add in the sugar all at once. Boil hard for a minute longer.
Skim off any foam and ladle the hot jam into the hot jars, leaving 1/4″ headspace.
Place the lids and bands on top, screwing on the bands just until fingertip-tight. Place the full jars back into the boiling water and process 10 minutes.
Remove from the water and place the jars on a towel. Let the jars cool. The seals should suck down (you'll hear a popping noise as they do). Makes 5-6 eight-ounce jars.
Recommended
Tags: Jams, Canning, Preserving, Grapes, Summer