Avocado Cookies
Steph S. | ::steph chows::
Avocado cookies are gluten free and healthy, but don't let that stop you. It's our new favorite cookie!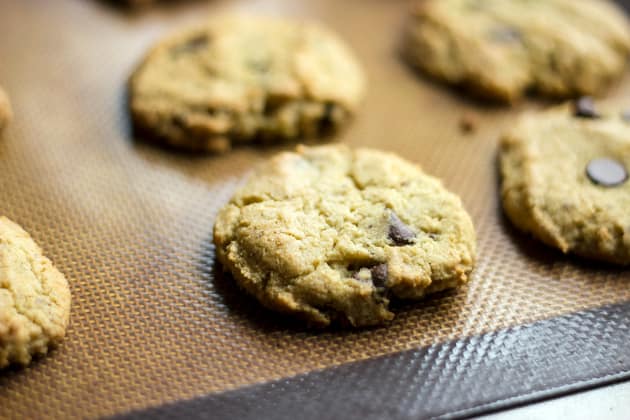 This recipe for avocado cookies was inspired by my good friend, Beth. After discovering she had a gluten allergy, I felt the need to remake some of my favorite recipes sans the gluten. These took a few tries to perfect, but I'm oh-so-very happy with the results!
A first attempt used a small amount of corn meal… unfortunately it created some super gritty cookies. NOT a good thing, so don't try it! This recipe uses a combo of brown rice and garbanzo bean (also known as chickpea) flours that lend to a perfect chewy texture. Seriously, no one is going to notice the lack of gluten.
I recently made a batch of these to share amongst a limo full of ladies celebrating Beth's upcoming nuptials. Wine tour anyone?? Of course I had to bring cookies… what were you expecting, strippers? I'd choose cookies over them any day! Oh, and back to my original point, they all loved them and couldn't tell they were gluten free or contained avocado!
About that whole avocado thing - I'm using it instead of using a full amount of butter. Seriously AMAZING. These have more sugar and fat then my typical recipes, but I think you'll all agree they are fabulous.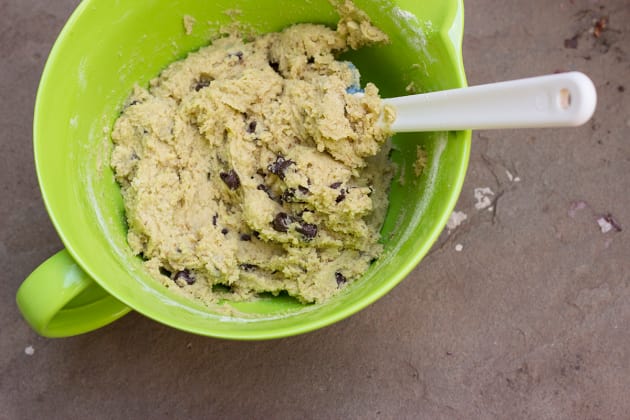 Got a friend who is gluten free and vegan? Never fear, I've also made these using Earth Balance spread instead of butter, and they're perfect. Simply substitute it cup for cup with butter and you're ready to rock and roll!
The words gluten free and vegan scare a lot of people, but honestly, there's no reason for it. Lots of things we eat are naturally those two things - especially avocados. I happen to think avocados are fantastic in sweet things, like Erin's avocado ice cream, but they're also fabulous in unexpected places like avocado pasta too.
Ingredients
1 cup Brown Rice Flour, Plus 2 tablespoons
1/3 cup Garbanzo Bean Flour
1/2 teaspoon Baking Soda
3/4 teaspoon Baking Powder
dash Salt
1/4 cup Butter
1/3 cup Avocado, Mashed, no chunks
1/2 cup Brown Sugar
1/2 cup Sugar
1 tablespoon Ground Flax Seed, Mixed with 2 tablespoons water
2 teaspoons Pure Vanilla Extract
1/2 cup Semisweet Chocolate Chips, Or roughly chopped dark chocolate
Directions
Combine brown rice flour, garbanzo bean (chickpea) flour, baking soda, baking powder and salt in a medium bowl. Whisk together to evenly mix.
In a separate bowl beat together butter and avocado until well combined, then add the sugars, flax seed mixture, and vanilla. Beat together to combine until the ingredients are well incorporated.
Add the dry ingredients to the wet ingredients and mix well.
Add the chocolate chips and stir to distribute evenly, then refrigerate the cookie dough overnight.
When ready to bake, preheat the oven to 350°F.
Scoop the cookie dough and place evenly on a baking sheet, flattening them slightly with your hand or the back of a spatula.
Bake for 15 minutes (more or less) depending on your desired consistency - if you bake them too long, they only stay chewy for a bit before becoming crunchy.
Recommended
Tags: Healthy, Cookies, Baking, Baked, Gluten Free, Gluten Free Baking, Desserts, Snacks