Pan Roasted Chicken with Peach Blueberry Sauce
Mary Kay DeSola | Homemade Cravings Updated
Pan Roasted Chicken with Peach Blueberry Sauce is a summer supper you can feel good about feeding the family. The sweet sauce amps the whole meal up a notch.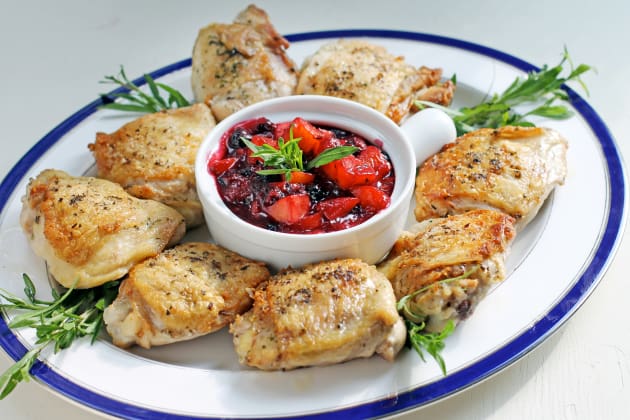 The hazy days of summer mean lazy cooking, and I want a nice meal without too much work. Chicken thighs make for a quick cooking meal, and I've added a sauce with my favorite summer fruits to fancy them up for Sunday Supper.
Chicken thighs are my new go-to dinner these days; they are inexpensive, tender and juicy - and my kids love them! If you can't bear to turn on the oven, these chicken thighs can also be made on the grill, but I love the crispiness of the skin that comes from pan roasting. You can also use chicken breasts, but will need to add time to the roasting to ensure they cook through.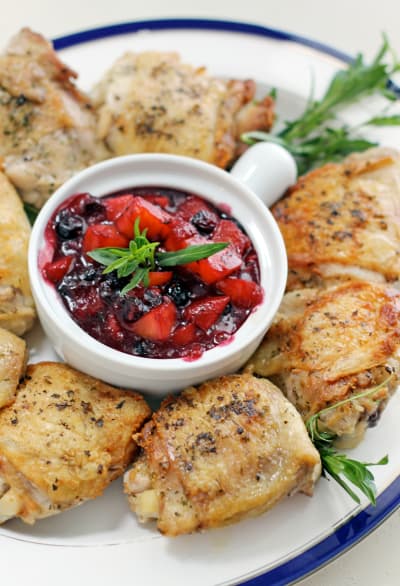 You may normally think of peaches and blueberries for pies,
jams
, and ice cream toppings, but I love the sweetness with roasted chicken, and the tarragon gives it just enough savory. Of course I wouldn't blame you if you wanted to try this on top of ice cream, it would be delicious!
Tarragon is one of my favorite herbs. I've been using it to make
Chicken with Tarragon Cream Sauce
forever, but last summer I decided to try something a little different and made Peach Tarragon Muffins. They turned out so well, I decided to try it in this dish.
I topped the chicken with an herb blend called Parisian Bonnes Herbes from
The Spice House
that I adore. The blend includes tarragon, chervil, basil, dill, chives and white pepper. You can used dried tarragon as a replacement if you don't want to search out a blend.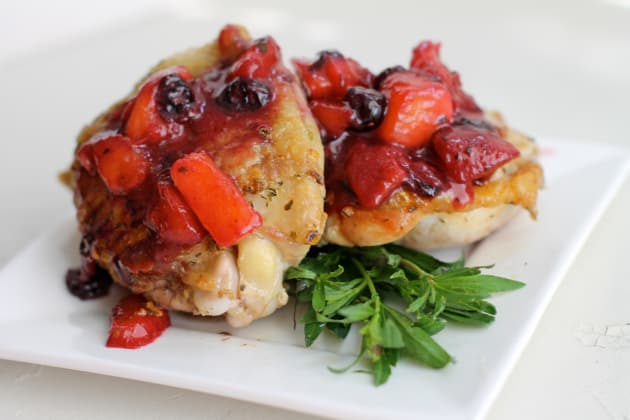 Commonly used in French cooking, tarragon has a similar taste to anise and not everyone is a fan. If you are not into tarragon, basil is also an acceptable substitute.
Ingredients
For the Chicken:
2 tablespoons Olive Oil
2 teaspoons Dried Tarragon, Or Parisian Bonnes Herbes
Salt and Pepper, To taste
For the Peach Blueberry Sauce:
1 tablespoon Butter
2 Peaches, Peeled, pit removed and diced
1/2 cup Blueberries
pinch of Sugar
1 tablespoon Fresh Tarragon, Minced
1/8 teaspoon Salt
Directions
For the Chicken:
Heat oven to 350°F.
In an oven proof skillet, heat olive oil over high heat until shimmering.
Season chicken skin evenly with herbs and salt and pepper to taste.
Place chicken thighs skin side down in skillet.
Cook 10 minutes until skin is crisp and golden.
Place pan in the preheated oven and bake 15 minutes until cooked through.
For the Sauce:
Melt butter in a small sauce pan over medium heat.
Add peaches and cook 3 minutes until they begin to soften.
Add blueberries, cook another 2 minutes.
Stir in sugar, tarragon and salt.
Serve hot over chicken.
Recommended
Tags: Sunday Suppers, French, Dinners, Chicken, Chicken Thighs, Peaches, Blueberries, Sauces, Baked, Sauteed, Simmered, Summer