Coconut Banana Bread Pudding
Kate Donahue | Food Babbles Updated
Coconut Banana Bread Pudding is full of tropical flair, but still comforting and warm. Serve it on a cooler summer night with a big dollop of vanilla ice cream.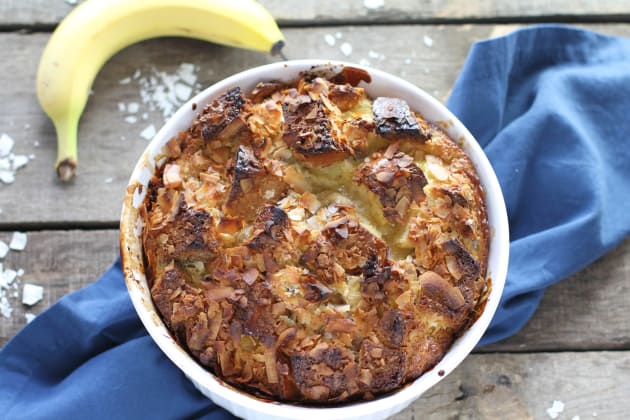 Comfort food is one of those things that brings different foods to mind for different people. For me, a bowl of macaroni and cheese is the ultimate comfort food. Especially when I'm making my Horseradish Cheddar Macaroni & Cheese. It's a little spicy, a whole lot creamy, cheesy and satisfying.
Sometimes comfort food is more on the sweet side.
If sweet is what I'm looking for, this Seven Layer Bars Recipe is always a quick fix. They're easy to make, filled with chocolate and marshmallows just like classic s'mores.
If I have a little more time on my hands or company coming over, bread pudding is the recipe that pulls me in and wraps its warm arms around me.
In the cool winter and autumn months, my Maple Bread Pudding Recipe is what I'm making. Made with toasty waffles, bacon, pecans and maple syrup it's sure to warm you up as a special dessert or even as decadent breakfast. Come on, there are waffles and bacon in there! Total breakfast material.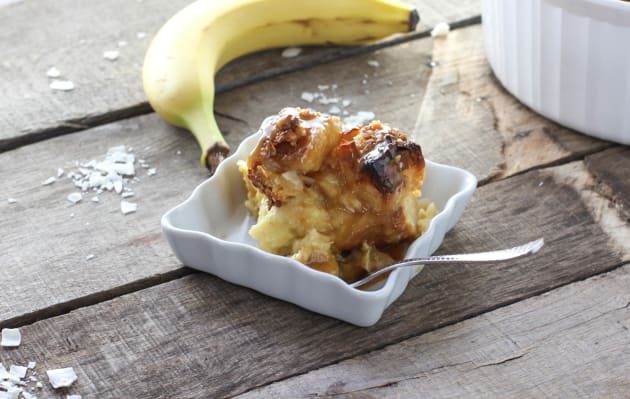 But once these warmer months roll around, comfort food often takes on a different meaning. This coconut banana bread pudding has on its flowy sundress and is headed for a warm, sandy beach with a pina colada in hand. Bread pudding with tropical flair!
Crusty bread soaks up coconut milk and eggs, creating a sweet custard that is filled with fresh bananas and coconut flakes. Once baked, the top gets golden brown and the coconut toasts, which adds a lovely nutty flavor to the mix.
The finishing touch is a drizzle of salted caramel, which makes this bread pudding fall firmly on the dessert side of things. Though this could fall in nicely as the decadent, sweet star of your weekend brunch table if you're looking for something extra special. No matter when you choose to serve this dish, you'll want to grab a spoon and dive right in to this coconut banana bread pudding.
Ingredients
1 loaf French Bread, day old - cut or ripped into bite-sized pieces
8 large Eggs
1 1/4 cups Coconut Milk
1 1/4 cups Heavy Cream
1 cup Granulated Sugar
1 teaspoon Pure Vanilla Extract
2 large Bananas, sliced
1 cup Unsweetened Coconut Flakes
1/2 cup Salted Caramel
Directions
Place bread pieces in a 2-quart round or 9-inch square glass baking dish sprayed with nonstick cooking spray. Set aside.
In a large bowl, whisk together eggs, coconut milk, heavy cream, sugar and vanilla extract. Pour over bread pieces. Cover with plastic wrap and refrigerate overnight.
Preheat oven to 350°F. Remove dish from refrigerator and uncover. Gently fold in banana slices and 3/4 cup coconut flakes. Drizzle 1/4 cup salted caramel over top of bread pudding and sprinkle remaining coconut flakes on top.
Bake in preheated oven for 45 minutes or until center is set and no longer liquidy. If top begins to brown too quickly, place a piece of foil gently on top as a shield.
Remove from oven and serve immediately drizzled with remaining salted caramel.
Recommended
Tags: Desserts, Baking, Baked, Bread Pudding, Coconut, Bananas