Blueberry Flax Muffins
Steph S. | ::steph chows:: Updated
Blueberry flax muffins are a healthy, wholesome way to get breakfast on the table. Use any berry you like, but definitely make these today!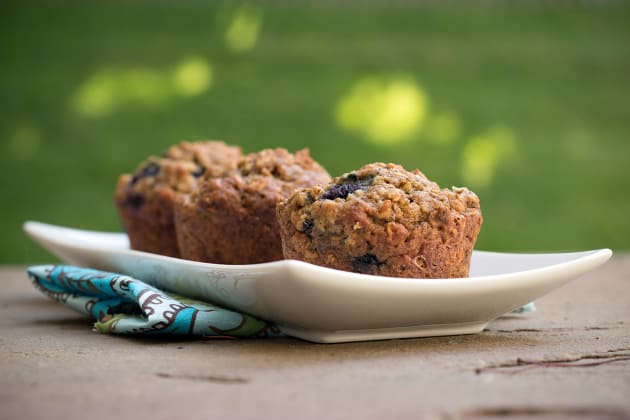 Looking for another awesome breakfast or easily portable snack idea? I bring to you blueberry flax muffins! Whole grain, no added fat, and they taste amazing to boot. These are not the sugar and fat laden bombs you find in your local coffee shop.
No, thank you! These are honest to goodness fill you up with fiber and flavor muffins. Yeah, I said fiber - don't give me that look - when a baked good is made right, you aren't going to be able to tell it's good for you.
I have a slight obsession with muffins… I can't help myself. So when I came up with this recipe, I knew I had to share it with you all. Don't like blueberries? That's ok, you can add whatever fruit that suits your fancy.
I've pretty much made these with every variety of berry and stone fruit that I've picked at a local farm. Don't you agree fruit you pick with your own hands somehow always tastes better?? Maybe it's just me!
Curious about the flax seed meal? They make for a perfect nutty flavor boost. You can buy them pre-ground in a little package, or if you are feeling frisky you can buy them whole and send them for a whirl in a coffee bean grinder.
A little time saving note for you, yogurt comes perfectly portioned in six ounce containers, but so does apple sauce! I always have 4 ounce (half a cup) portioned snack-size all natural applesauce on hand. One less thing to measure, just pop the top and add to your mixing bowl. Back to that yogurt, don't feel like you have to use blueberry yogurt, just like the fruit, any variety will work great.
If you're like me one muffin isn't going to fill you up until lunch time, so I love pairing this with my banana oat smoothie recipe or my raspberry green monster recipe. Eating healthier never tasted so good!
Ingredients
1 1/4 cups Whole Wheat Flour
1 cup Quick Oats
1/4 cup Ground Flax Seed
1 teaspoon Baking Powder
1 teaspoon Baking Soda
pinch of Salt
6 ounces Blueberry Nonfat Yogurts
1/4 cup Brown Sugar
1/4 cup Granulated Sugar
1/2 cup Unsweetened Apple Sauce
1 large Egg
1 teaspoon Pure Vanilla Extract
1 1/2-2 cups Blueberries
Directions
Preheat over to 375°F.
In a medium bowl mix together the whole wheat flour, quick oats, flax seed meal, baking powder, baking soda, and salt.
In a small bowl mix together yogurt, brown sugar, granulated sugar, unsweetened applesauce, egg, and vanilla extract.
Add 1 1/2-2 cups blueberries (fresh or frozen) to the dry mix and stir to distribute evenly.
Add the dry ingredient mixture to the wet ingredients. Stir until just incorporated, don't over-mix.
Bake in greased muffin pan for 25 minutes.
Recommended
Tags: Healthy, Healthy Eating, Muffins, Breakfasts, Brunches, Whole Grain, Easy, Baking, Baked, Blueberries, Flax