Paleo Ice Cream with Raspberries and Cacao Nibs
Kate Donahue | Food Babbles
Paleo Ice Cream to cure the cravings of your sweet tooth. With raspberries and cacao nibs, it's truly something special.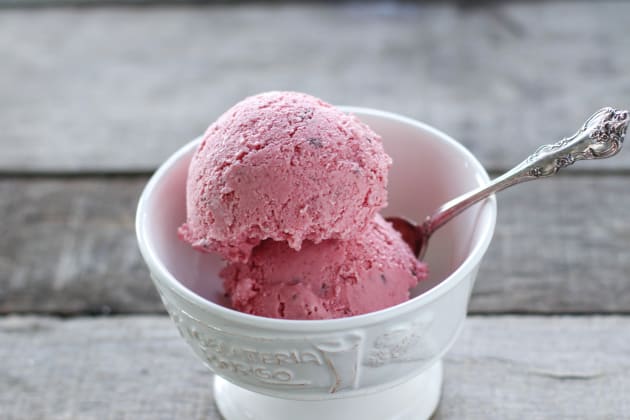 Life is all about balance. Balancing work and play so that you don't become a stressed out, workaholic mess. Balancing family time with a few moments to yourself so that you don't feel like you're so busy taking care of others that you forget to take care of yourself. Balancing decadent treats with a healthy diet so that you don't have trouble with weight and the inevitable health issues that most definitely come with overindulgence.
Writing a dessert and baking blog, you probably can imagine that I truly have to try to strike that delicate balance between indulgence and leading a healthy lifestyle. Sometimes that's a thing I struggle with because I love diving into full-octane sugary sweets. However, working in the medical field keeps me centered and reminds me why I can't give into that temptation all the time.
I do my fair share of partaking in those treats but in "real life" I eat very healthy. I am a person who loves food and food need to taste good to keep my interest. Healthy vegetables, fruits, lean meats and seeds are what I enjoy in my day-to-day. But that doesn't mean my sweet tooth stops gnawing at me.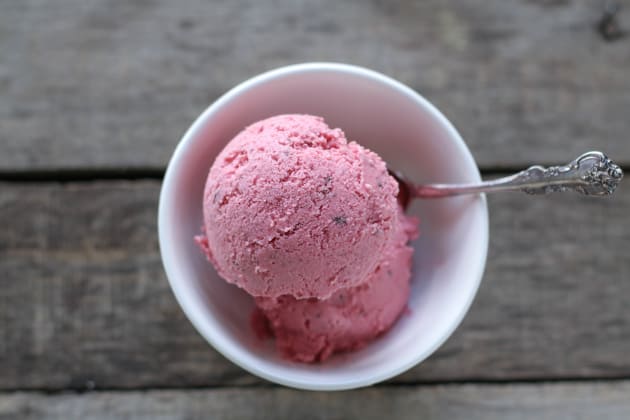 My favorite sweet treat is Triple Berry Chia Pudding. With three different kinds of berries, healthy chia seeds and no added sugar this is always an indulgence that tastes great while doing something great for my body. I feel good about serving it to my children too! They have no clue they're having something that's good for them. They just think it's a sweet treat.
On our home, another favorite treat is ice cream! Sure, sometimes that means cream, sugar and chocolate but most times we go for something that tastes no less decadent while still being a "good for you treat," like this Paleo Raspberry Chocolate Chip Ice Cream.
Smooth, creamy coconut milk and raspberries blend together with chocolatey cacao nibs while getting a touch of sweetness from potassium-rich bananas. Ready to eat in a half an hour with only 5 minutes of activity on your part, this is an ice cream recipe that won't send you into a sugar coma but will definitely quiet your cravings for something sweet. 
Need something savory to start? Try Italian sausage and cauliflower rice or spaghetti squash with walnut-carrot sauce - both are Paleo recipes sure to make the whole family happy.
Ingredients
1 13.5 ounce can Full Fat Coconut Milk
1 13.5 ounce can Light Coconut Milk
2 Bananas, frozen
1 cup Raspberries
pinch of Sea Salt
Directions
In a blender, blend together both coconut milks, bananas, raspberries and salt until smooth.
Transfer to an ice cream maker and churn for 20 minutes.
Add cacao nibs and continue churning for 5 minutes more.
Enjoy immediately or freeze in an airtight freezer-safe container. 
Notes
If enjoying from freezer, allow to sit on counter for 10 minutes to softened a bit before enjoying.
Recommended
Tags: Ice Cream, Frozen Treats, Frozen, Raspberries, Chocolate, Paleo, Coconut