Banana Split Fudge
Aimee Shugarman | Shugary Sweets Updated
Banana Splut Fudge is all the fun of the ice cream treat, in a bite-sized fudgey treat. A new twist on the summer classic!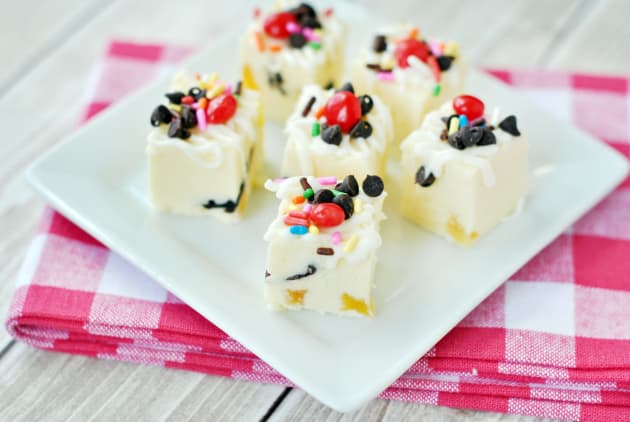 Growing up we had "Dairy Queen Fridays" throughout the summer. This was a regular thing in our house, and if you were home you got to choose your favorite treat.
I rarely chose anything new. 99.99% of the time I asked for a Heath Blizzard. Even to this day, if I step into a DQ, I order a Heath Blizzard.
What does that have to do with today's recipe you might be thinking?
Well, my dad ALWAYS ordered a Banana Split. Occasionally he would change it up and order a Banana Split Blizzard. And I ALWAYS tried a few bites (or a dozen). It was one of my favorite flavor combinations. The sweet ice cream with pineapple, strawberries, chocolate, whipped cream, nuts. And of course a cherry on top!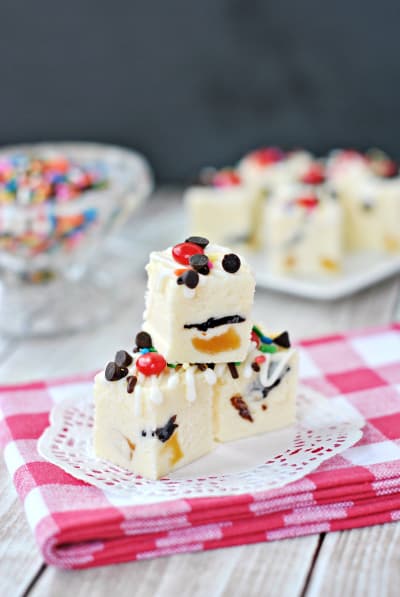 Today's recipe brings me back to those summer nights with my family. One bite of these and you will get all those great flavors in a "no melt" treat. Between the dried, chopped pineapples and cherries to the sweet banana pudding mixed in, these bites of fudge are awesome!
This fudge WOULD have been better with a red M&M candy on top, but the day I went to make these the bag of candy was missing.
So for the "look" I topped each one with a cinnamon red hot. DO NOT eat the red hot with the fudge. LOL. Totally changes the flavor, haha! My husband took these to work and his coworkers were quite confused. I guess I should have removed all the "garnishes" before letting them leave the house. My bad! Red hots and Banana splits do not mesh well. Just sayin'.
Looking for more fun fudge recipes? Check out my peanut butter banana fudge recipe! It's a delicious show stopper! If you're more in the mood for something citrusy, give the Lemon Meringue Fudge a try!
Ingredients
2 1/2 cups Granulated Sugar
3/4 cup Unsalted Butter
pinch of Salt
1 cup Heavy Cream
1 Instant Banana Cream Pudding Mix, 3.4 ounce box
11 ounces White Chocolate Chips, 1 package
7 ounces Marshmallow Fluff, 1 jar
3 ounces Dried Cherries, chopped
1/2 cup Dried Pineapple, chopped
1/2 cup White Chocolate, melted
Sprinkles, for garnish
Mini Semisweet Chocolate Chips, for garnish
m&m's Milk Chocolate M&Ms, red, for garnish
Directions
In a large saucepan, add sugar, butter, salt, and heavy cream. Heat over medium high and bring to a boil, stirring constantly. Once boiling, continue to stir and boil for a full 4 minutes (a good rolling boil). Remove from heat.
To a large mixing bowl, add white chocolate morsels, marshmallow cream and pudding mix. Pour hot sugar mixture over this. Using an electric mixer, beat until chocolate is melted and creamy (about 1 minute).  Fold in dried cherries and pineapple.
Pour into an 8-inch square baking dish that is lined with parchment paper. Refrigerate for 3 hours, or overnight.
Cut into 64 bite sized pieces.
In a small microwave safe dish, melt white chocolate morsels for 30 seconds, stir and heat an additional 30 seconds until creamy. Drizzle over fudge pieces and add sprinkles and mini chocolate chips immediately. Store in an airtight container in the refrigerator for up to two weeks. ENJOY!
Recommended
Tags: Homemade Candy, Candy, Fudge, Desserts, Party Food, Bananas, Cherries, Pineapples, Homemade Gifts