Chicken Quinoa Salad
Allison Ruth | Some the Wiser Updated
Chicken Quinoa Salad made with pure maple syrup and delicious balsamic vinegar. Full of flavor, healthy eats perfect for summer!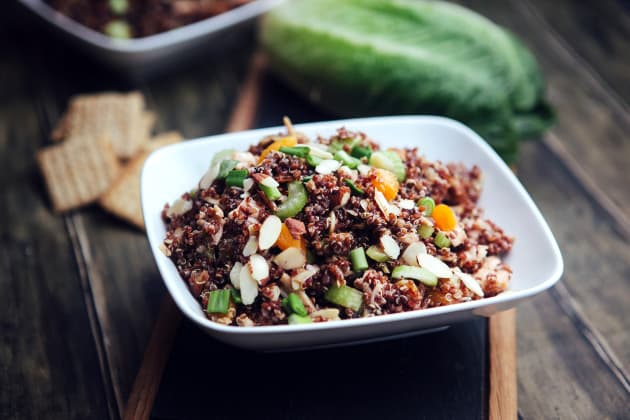 As the weather starts to warm up, it gets more and more difficult to spend a lot of time in the kitchen. Not only is it uncomfortable to labor near a hot stove in warm weather, but the fresh air and sunshine keep calling me outdoors to the garden and the park and the patio.
This simple and delicious Maple Balsamic Chicken Quinoa Salad is my solution to the warm weather kitchen dilemma!  It doesn't require much time in the kitchen and no time near a hot stove, but I still end up with a hearty, flavorful meal that even the kids enjoy.
I particularly like the flexibility of a chicken salad like this one. While I've never been a parent to make more than one meal to accommodate picky eaters, I am always willing to adapt dinner to my kids' tastes. That means that some of us eat this chicken quinoa salad in a bowl with a slice of crusty bread or crackers on the side. Some of us eat it in a lettuce wrap, while others prefer it in a pita or tortilla. As for me, I like it just about any way.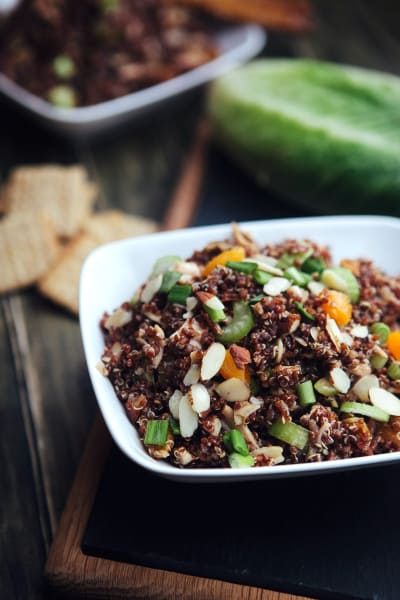 Using Red Quinoa combined with a simple sweet-and-sour dressing gives this chicken salad a unique flavor. As the sun continues to shine around here and the days warm up, I'm looking forward to sharing this salad throughout the barbecue and picnic season ahead. It's a fun, unique, delicious twist on a classic chicken salad with the healthy addition of quinoa.
Quinoa sometimes gets a bad rap as being bitter. Make sure you rinse it well before cooking. Rinsing quinoa removes the layer of saponin. That's where all the bitterness lies. Wash it away and all you're left with is the perfect nuttiness of the quinoa seed.
Looking for more quinoa to love? Try our Quinoa Burrito Bowl and Summer Quinoa Salad, full of yummy roasted vegetables!
Ingredients
1 2/3 cups Quinoa, rinsed (red)
1/3 cup Extra Virgin Olive Oil
1/3 cup Balsamic Vinegar
1/3 cup Pure Maple Syrup
1 cup Dried Apricots, chopped
1 cup Slivered Almonds, raw
4-5 Scallions, thinly sliced
2 ribs Celery, thinly sliced
1 teaspoon Sea Salt
6 ounces Chicken Breast, cooked and chopped (rotisserie or canned works well)
Directions
Cook quinoa according to package instructions. Cool completely.
In a small bowl, whisk together oil, vinegar, and syrup to create the dressing.
Add 3/4 cup of the dressing to the quinoa. Stir in the apricots, almonds, scallions, celery, salt, and chicken.
Refrigerate overnight or for at least 6 hours.
Just before serving, stir in the remaining dressing and season to taste with salt.
Serve cold or at room temperature. 
Recommended
Tags: Family Meals and Snacks, Quinoa Salads, Salads, Healthy Eating, Healthy, Summer, Leftover Rotisserie Chicken, Easy